60 Minute Sweet Dough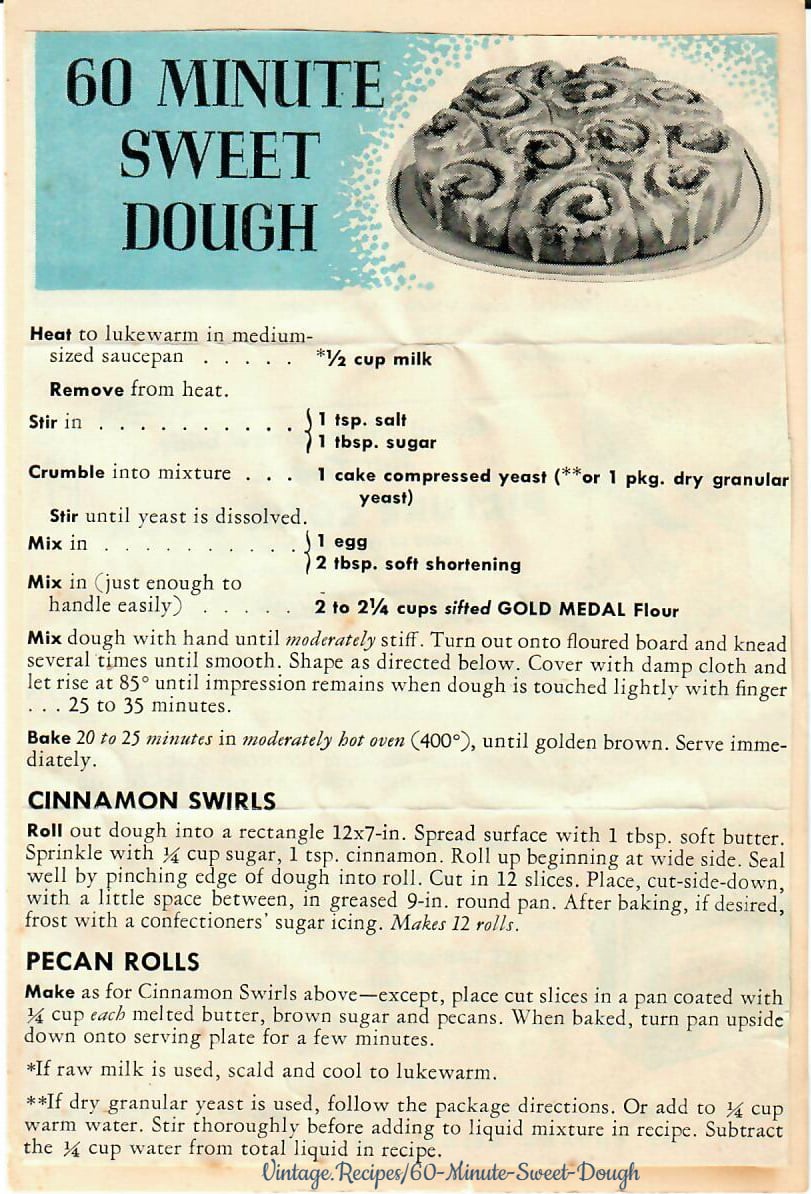 A vintage clipped recipe from Gold Medal Flour for 60 Minute Sweet Dough. This dough is made with milk, salt, sugar, yeast, egg, shortening, and Gold Medal Flour.
Print Recipe
Ingredients
1/2

cup

milk

1

teaspoon

salt

1

tablespoon

sugar

1

cake

compressed yeast

or 1 package dry granular yeast

1

egg

2

tablespoons

soft shortening

2 to 2 1/4

cups

sifted Gold Medal Flour
Method
60 Minute Sweet Dough
Heat to lukewarm in medium-sized saucepan 1/2 cup milk. Remove from heat. Stir in 1 teaspoon salt and 1 tablespoon sugar. Crumble into mixture 1 cake compressed yeast (or 1 package dry granular yeast). Stir until well dissolved. Mix in 1 egg and 2 tablespoons soft shortening. Mix in (just enough to handle easily) 2 to 2 1/4 cups sifted Gold Medal Flour.

Mix dough with hand until moderately stiff. Turn out onto a floured board and knead several times until smooth. Shape as directed below. Cover with damp cloth and let rise at 85-degrees until impression remains when the dough is touched lightly with finger 25 to 35 minutes.

Bake 20 to 25 minutes in a moderately hot oven (400-degrees), until golden brown. Serve immediately.
Cinnamon Swirls
Roll out dough into rectangle 12×7-inches. Spread surface with 1 tablespoon soft butter. Sprinkle with 1/4 cup sugar, 1 teaspoon cinnamon. Roll up beginning at wide side. Seal well by pinching edge of dough into roll. Cut in 12 slices. Place, cut-side down, with a little space between, in greased 9-inch round pan. After baking, if desired, frost with confectioners' sugar icing. Makes 12 rolls.
Pecan Rolls
Make as Cinnamon Swirls – except place cut slices in a pan coated with 1/4 cup each melted butter, brown sugar, and pecans. When baked, turn pan upside down onto a serving plate for a few minutes.
Print Recipe
Share by Email
Pin Recipe
Notes
* If raw milk is used, scald and cool to lukewarm.
** If dry granular yeast is used, follow the package directions. Or add to 1/4 cup warm water. Stir thoroughly before adding to liquid mixture in the recipe. Subtract the 1/4 cup water from the total liquid in the recipe.