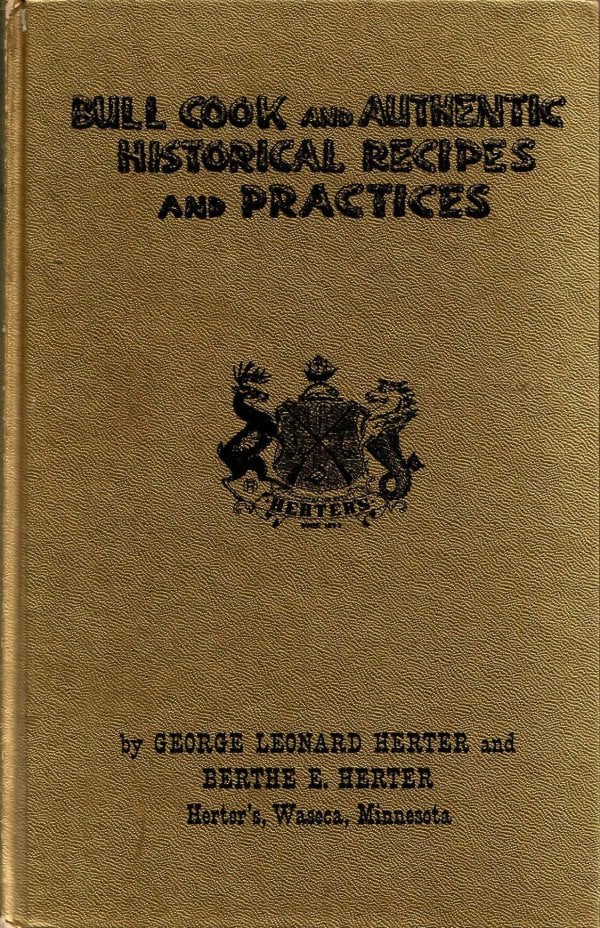 Bull Cook and Authentic Historical Recipes and Practices is definitely one of the most unusual volumes. I would be hard pressed to call it a cookbook, but it does contain recipes alongside the historical anecdotes from the authors.  While I am uncertain if the book can be classified as a cookbook, I am certain that it is the most unusual collection of cookery that I have acquired during my years of collecting cookbook. That being said, if like vintage cookbooks, especially the odd ones, or little bits of history and trivia about food and recipes (even though some of the facts may be a little embellished), a George Herter "cookbook" is for you. Volume One was first published in 1960 by George Leonard Herter and his wife Berthe E. Herter, although I don't know if Mrs. Herter would ever list her authorship of the book on her resume. 
From what I have discovered about George Herter, he must have been quite the character.  Apparently, he was able to spin a great story. He used his raconteur skills in his professional life with Herter's Inc., a hunting and fishing mail-order catalog company located in Waseca, Minnesota. Being in the business of publishing his own catalogs, George Herter self-published his books and of course sold them through his catalog. 
Volume One of Bull Cook and Authentic Historical Recipes and Practices contains the following sections:
Meats
Desserts
How To Dress Game
Wine, Beer, and Liquor
Helpful Hints
In the third paragraph of the book, Herter states "For your convenience I will start with meats, fish, eggs, soups and sauces, sandwiches, vegetables, the art of French frying, desserts, how to dress game, how to properly sharpen a knife, how to make wines and beer, how to make French soap, what to do in case of hydrogen or cobalt bomb attack. Keeping as much in alphabetical order as possible."  I appreciate Herter's attempt to alphabetize his very random thoughts, but I wish he would let the reader know what alphabet he is using. For instance in the Wine section, he discusses Loganberry Wine, then several Gooseberry wines, followed by Peach Wine, Apricot Wine, Pear Wine and then Apple Wine or Cider; please let me know what alphabet he was using if you should happen to know. 
One section that I find particularly interesting is Herter's discussion of cocktails, including their origins (or at least Herter's version of their origin) and their recipe.  In many instances, his portrayal of their origins are as I have read elsewhere, but many times Herter will give the "original" recipe which of course differs from what you would be served to you by a Mixologist. For instance, Herter credits Thomas Louis Witcomb as the originator of the Old Fashioned, which aligns with other sources that I have found.  Herter's description of the recipe is as follows: "Take a shot glass and put a half level teaspoon of brown sugar in the bottom. Add three drops of dandelion stem juice or Angostura Bitters if dandelions are not available. One large jigger of rye or bourbon whiskey. Thomas usually used rye. Put two lumps of ice, just enough to cool the whiskey a bit. A half slice of orange was placed on the edge of the glass as decoration but rarely used. The brown sugar is really what makes an Old Fashioned.  As the years went by the fancy dandies that know nothing about serious drinking added white sugar instead of brown, put lemon peel, maraschino cherries, chunks of pineapple and even Peychaud bitters into Old Fashioneds. All of these things merely make an Old Fashioned into a very poor punch and not an Old Fashioned at all. Thomas Witcomb knew what he was doing."
In addition to the Old Fashioned, in Volume One Herter writes about and includes the recipes for the Original Highball, Doc's Prescription, Ward 8, Manhattan Cocktail, an Authentic Mint Julep, Sazerac, Original Cocktail, Tom and Jerry, Bloody Mary, Tom Collins, Ramos Gin Fizz, authentic Martini, Daiquiri, Hurricane, and the Margarita. Most of Herter's research for the first volume must have been conducted in New Orleans. Many of the pictures and side stories have a New Orleans connection.  Herter mentions Gallitoires, Cafe Du Monde, Pearl Oyster Bar, Antoine's, the Original Old Absinthe House, Arnaud's, Broussard's and the Roosevelt Hotel.  Recipes that have roots in New Orleans include the Ramos Gin Fizz, Hurricane, New Orleans Pralines, Hush Puppies, Oysters A La Rockefeller, and Brabant Potatoes. The pictures, stories, and recipes from outside of New Orleans are from the Western United States, mainly California, Washington, and Nevada – specifically Las Vegas. 
I found the inscription to the first owner of Volume One interesting:
Brabant Potatoes
Ingredients
3 boiled potatoes, boiled with their skins on
1 level tablespoon of finely chopped parsley
1 level tablespoon of butter
2 level tablespoons of rendered beef suet
1/8 level teaspoon of celery salt
1/16 level teaspoon of white pepper
1 level teaspoon of white vinegar
Method
Remove the skins fro the potatoes. Cut them into half-inch squares. Put the 2 level tablespoons of rendered fat suet into a frying pan and melt over a medium heat. Put in the diced potatoes and fry them in the beef suet for about two minutes or until they are about half brown. Turn them all the while. Now remove the potatoes from the frying pan and pour out any remaining beef suet from the pan and wash the pan. Put the pan back over medium heat and put 1 level tablespoon butter into the pan and melt. Put the diced potatoes back into the pan and lightly fry for just a few minutes until light brown in color. Now add the 1 tablespoon of chopped parsley, and 1 teaspoon of white vinegar. Turn the potatoes and sprinkle with 1/8 level teaspoon of celery salt and 1/16 teaspoon of white pepper. Serve at once while good and hot. 
Volume Two – Bull Cook Authentic Historical Recipes and Practices; Plus Famous Restaurants and Night Clubs of the World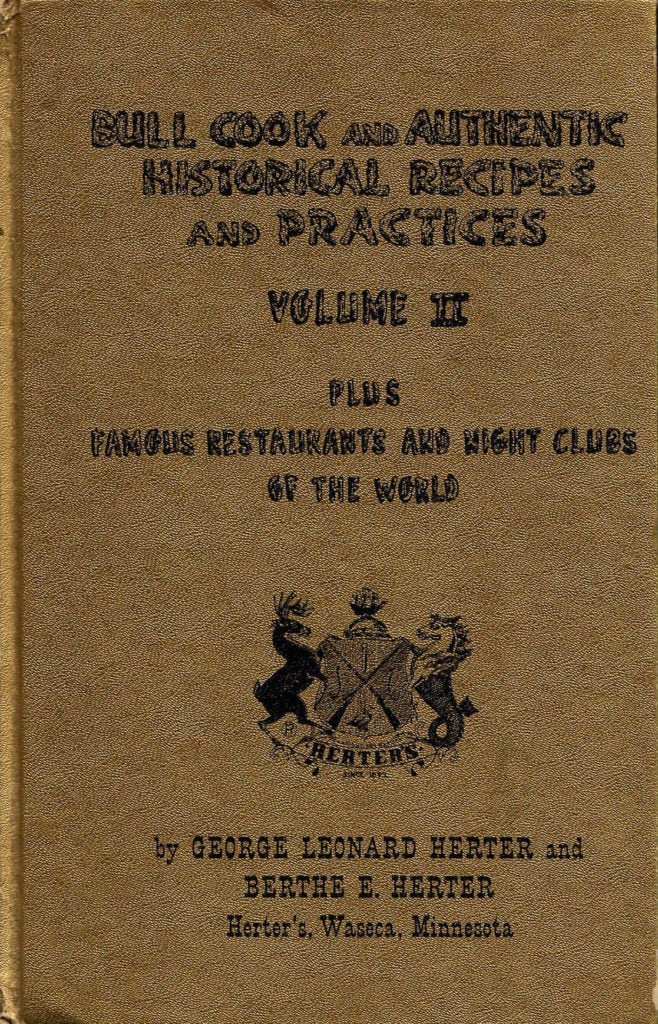 Volume two was first published in 1968 and is very much like the original volume.  Volume two is much larger than one, 752 pages compared to 352 for volume one. My best guess is that George Herter collected more stories during his travels to collect enough knowledge to create Volume Two, with an additional section of "Famous Restaurants and Night Clubs of the World."  Mr. Herter was before his time; today he would have been a world-class travel and food blogger!  The sections of the second volume are:
Meat
Fish and Sea Foods
Eggs and Cheese and some Italian Cooking
Main Dishes
Vegetables
Sandwiches
Soups and Sauces
Wine, Beer, and Liquor
Restaurants
Miscellaneous
Again, I don't know how Herter organized this book because he discusses restaurants and includes their menus in the "non-restaurant" sections of the book. I think the book would be better titled "Famous Restaurants and Night Clubs of the World, and the dishes they are famous for".  Most of the restaurants featured in the book are from outside the United States, but Herter does review a few restaurants in St. Louis and Chicago, all with an international theme. 
The volumes are quite interesting to look through and read. The reader will not only learn (or remember) a little bit about how our lives were simpler in the 1960s while gaining a few bits of knowledge for the next trivia night, with a nice collection of recipes thrown in as a bonus. Volume One has been reprinted, so there is no excuse for you not to own a copy!
Author: Herter, George Leonard and Berthe E.
Add a little RETRO to your Christmas…
The above items are available on Amazon.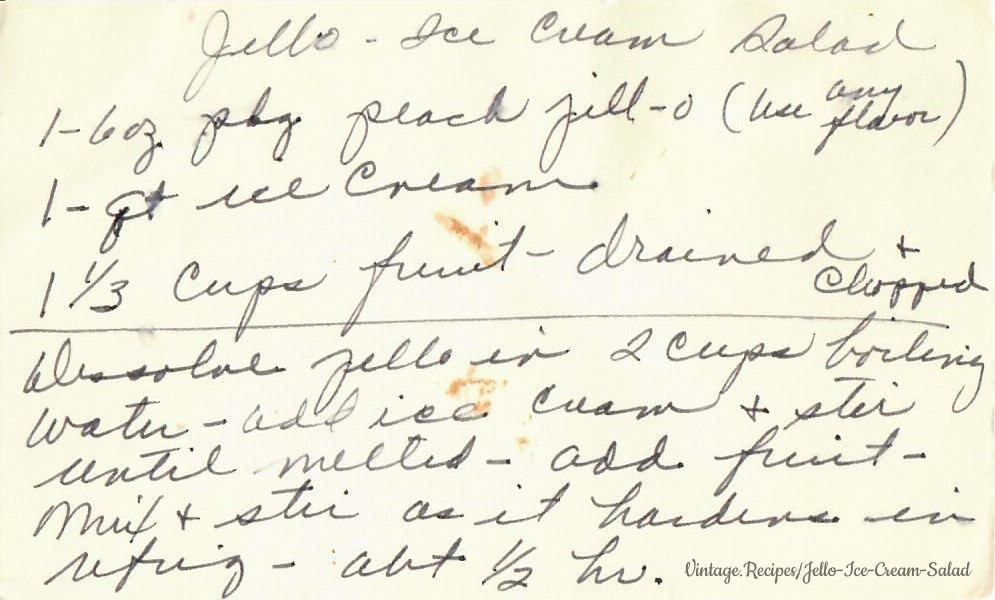 Jorgensen
A vintage handwritten recipe card for a Jell-O Ice Cream Salad, make this recipe with Jell-O, ice cream, and chopped fruit. This recipe is great with peaches.
Read More »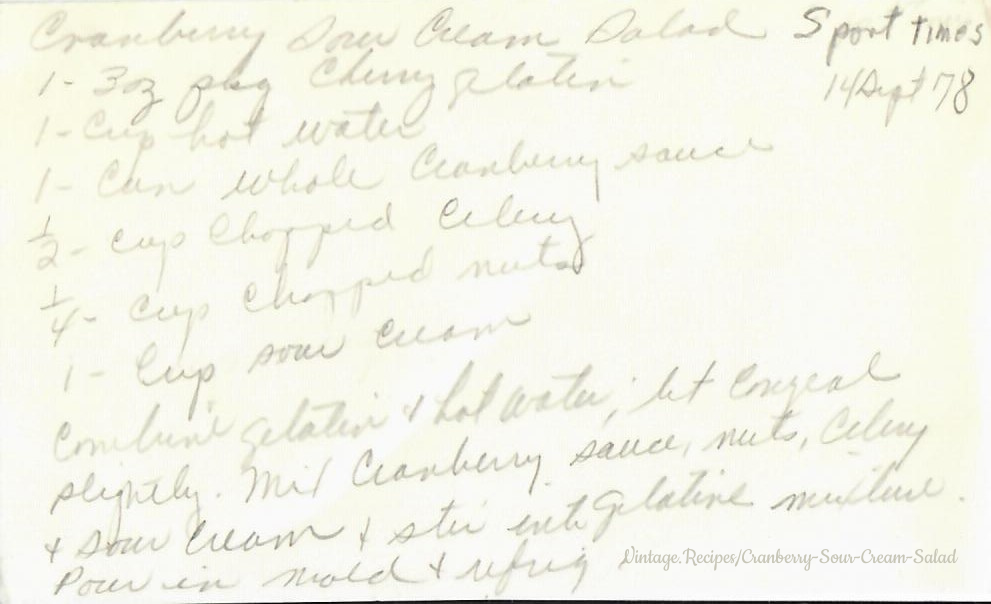 Jorgensen
A vintage handwritten recipe card for a Cranberry Sour Cream Salad made with Cherry Jell-O, whole cranberry sauce, celery, nuts, and sour cream.
Read More »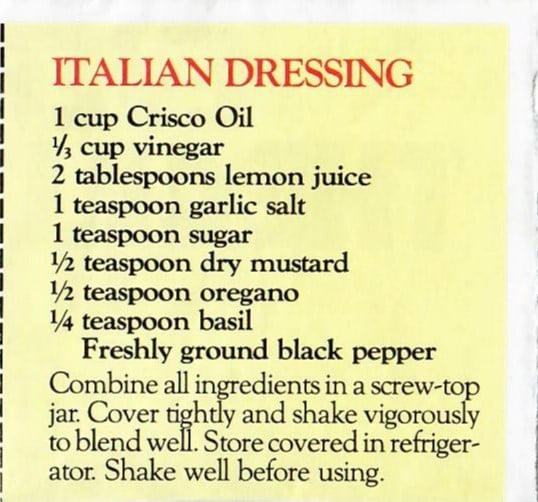 Dressings
A vintage clipped recipe from Crisco Oil for Italian Dressing made from Crisco OIl, vinegar, lemon juice, salt, sugar, dry mustard, oregano, basil, and pepper.
Read More »