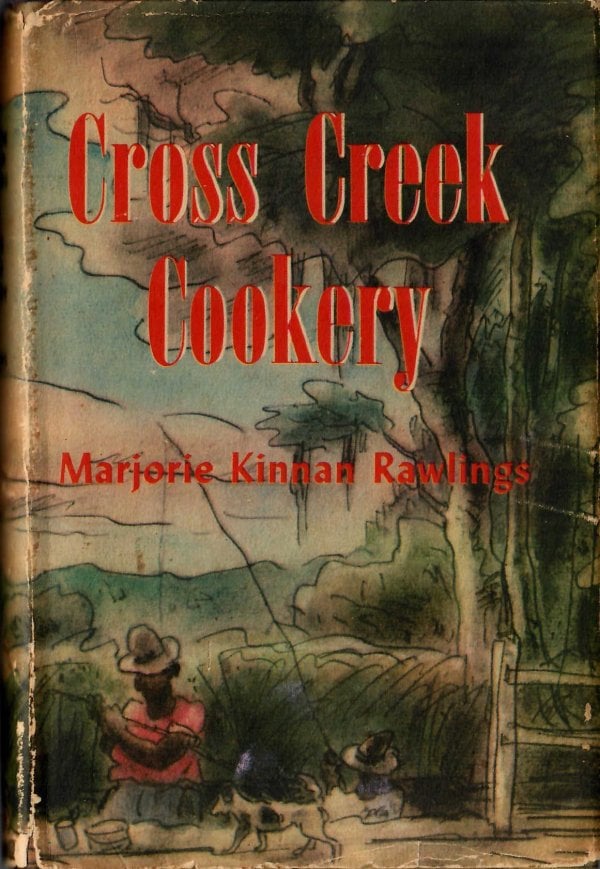 Originally published in 1942 by the Pulitzer Prize-winning author Marjorie Kinnan Rawlings, Cross Creek Cookery was a complimentary publication to her book Cross Creek, published in 1942.  In Cross Creek, Mrs. Rawlings writes about her life on a 72-acre orange grove in rural central Florida. In chapter 17 of Cross Creek – "Our Daily Bread" – Mrs. Rawlings writes about the culinary aspects of Cross Creek,  but she does not include any detailed recipes in her original manuscript.  After the success of Cross Creek, readers started requesting her recipes, so she published Cross Creek Cookery, a collection of her favorite recipes.  
According to the dust jacket, the original price of the book was $2.50. The summary on the dust jacket also states that Mrs. Rawlings "has bound together her recipes by delightful little vignettes in the true Rawlings style." At the beginning of each section of recipes, Mrs. Rawlings includes a few paragraphs discussing the section and a few of her favorite recipes in the section.  With many recipes, she also includes a few words about the recipe's history or the main ingredient in the recipe.  
As you can see by the color dust jacket and title page pictured below, the Florida painter Robert Camp provides various illustrations for Cross Creek Cookery.  The same image that appears on the dust jacket is also printed on the linen cover of the original printing. Images of seafood, livestock, game, Florida landscapes, interior drawings, and of course, sketches of various "characters" from Cross Creek are sprinkled throughout the cookbook.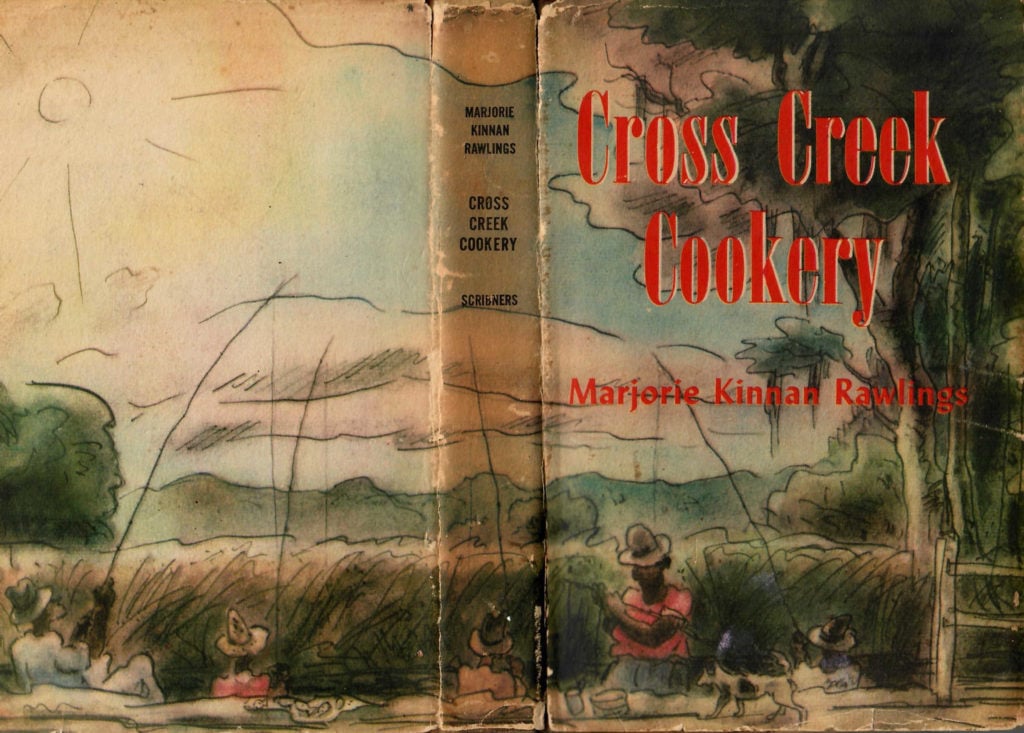 Cross Creek Cookery is a great cookbook featuring simple recipes, with simple ingredients from a time and place much simpler from present-day, constantly connected lives.  A perfect addition to your cookbook library, there are reasonably priced, non-collector, first editions available as well as a 1996 paperback reprint.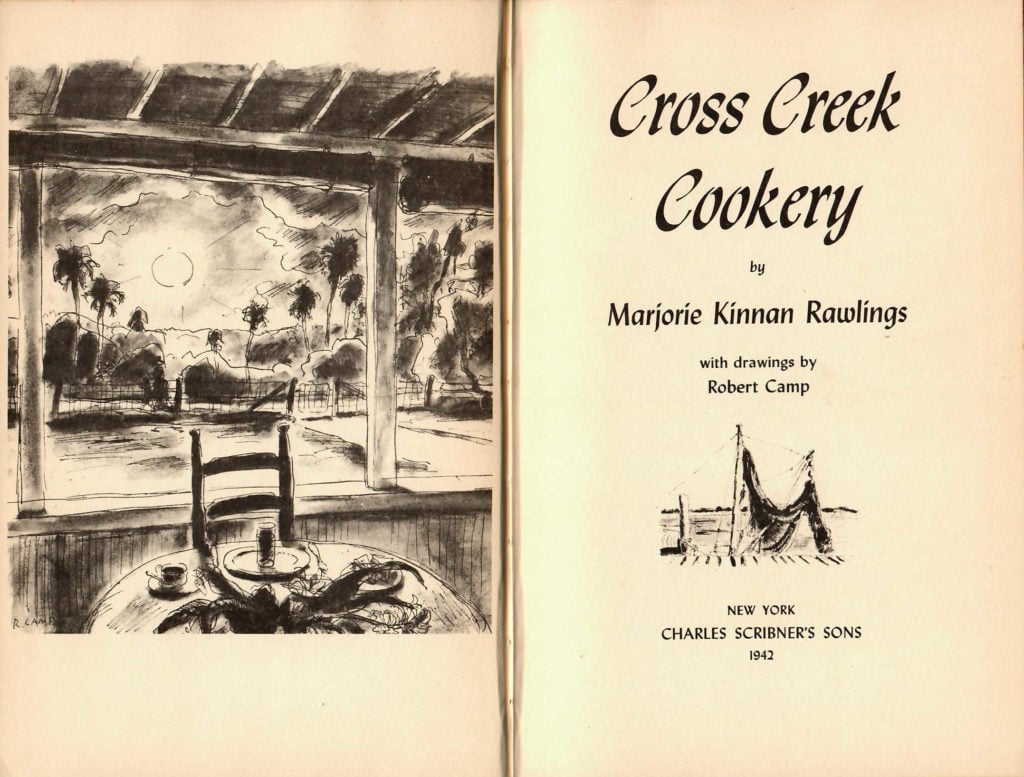 Books by Marjorie Kinnan Rawlings from Amazon
Crab A la Newburg, Cross Creek
The original owner of the cookbook made notes only on the recipe for Crab A la Newburg.  The notes are for the measurements to double the recipes, along with the word "mushrooms."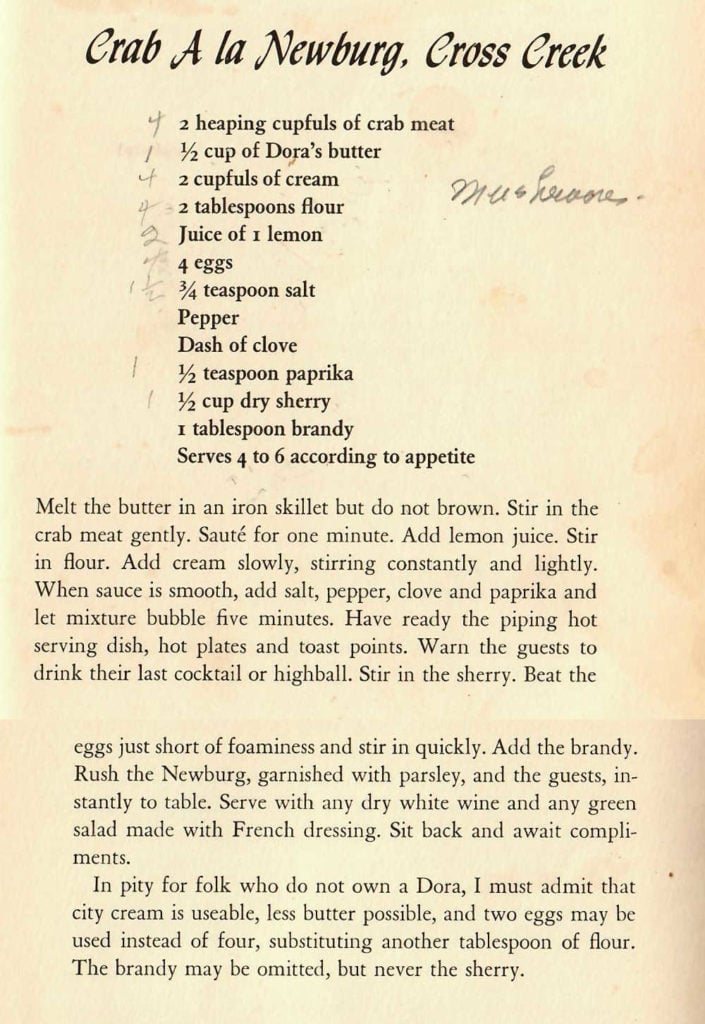 Ingredients
2 heaping cupfuls of crab meat
1/2 cup of Dora' butter
2 cupfuls of cream
2 tablespoons flour
Juice of 1 lemon
4 eggs
3/4 teaspoon salt
Pepper
Dash of clove
1/2 teaspoon paprika
1/2 cup dry sherry
1 tablespoon brandy
 
Serves 4 to 6, according to appetite
Method
Melt the butter in an iron skillet but do not brown. Stir in the crab meat gently. Saute for one minute. Add lemon juice. Stir in flour. Add cream slowly, stirring constantly and lightly. When the sauce is smooth, add salt, pepper, clove, and paprika and let the mixture bubble for five minutes. Have ready the piping hot serving dish, hot plates, and toast points. Warn the guests to drink their last cocktail or highball. Stir in the sherry. Beat the eggs just short of foaminess and stir in quickly. Add the brandy. Rush the Newburg, garnish with parsley, and the guests instantly to the table. Serve with any dry white wine and any greed salad made with French dressing. Sit back and await compliments. 
In pity for folks who do not own a Dora, I must admit that city cream is usable, less butter possible, and two eggs may be used instead of four, substituting another tablespoon of flour. The brandy may be omitted, but never the sherry. 
---
Poke Weed Salad
Strip the leave and skin from the shoots. Wash well. Boil whole for fifteen minutes or until tender in salted water. Drain. Place on toast and cover with rich cream sauce. Serve with crips breakfast bacon and with a tart jelly if desired. This too makes a complete meal and has a delightful flavor, with a slight taste of iron. I imagine the dish is rich in minerals. 
Pokeweek is a plant native to North America, considered by some as a pest species. As the plant ages, it becomes poisonous to humans, so the leaves and shoots must be harvested in the spring or early summer when the plant is edible with proper cooking. 
---
Swamp Cabbage – Hearts of Palm

Author: Marjorie Kinnan Rawlings
Publisher: Charles Scribner's Sons, New York
Add a little RETRO to your kitchen…
The above items are available on Amazon.