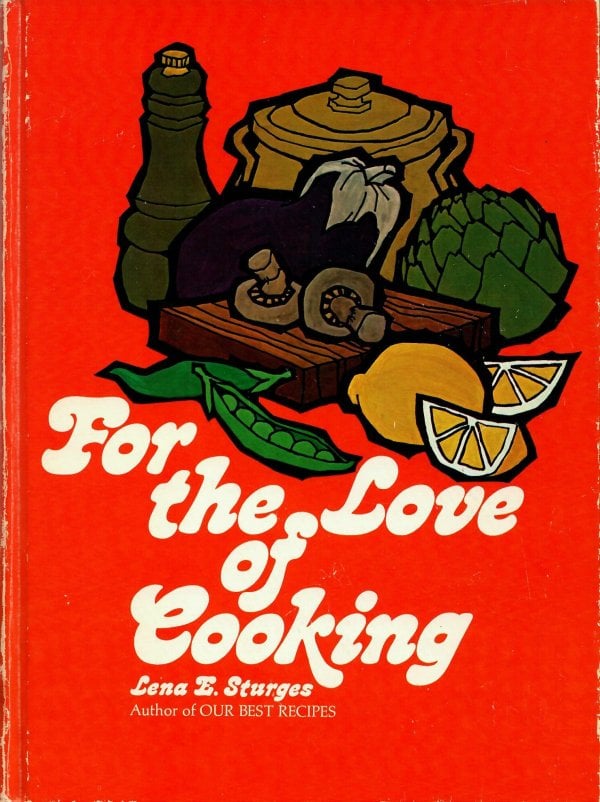 For the Love of Cooking was published in 1975 by Oxmoor House, a division of The Progressive Farmer Company, which also owns the Southern Living franchise.  Written by Lena E. Sturges, the longtime food editor for the Southern Living magazine and its publications. Lena E. Sturges was the first Food Editor for Southern Living, from its start in 1966 and served in that position until her retirement in the mid-1970s.   Lean E. Sturges is also credited with other Southern Living cookbooks such as Southern Living's Our Best Recipes, The Breads Cookbook, Cakes Cookbook, Southern Country Cookbook, and the Fish and Shellfish Cookbook.  For the Love of Cooking is considered the sister publication to Southern Living's Our Best Recipes that was first published in 1971. 
In the introduction, Ms. Sturges writes about her childhood in Texas. Her love of cooking came naturally during her childhood when she and her sister would draw straws to see who would wash dishes or help their mother cook.  Lena says that she would do anything to get out of washing the dishes, so she was a natural for helping her mother, who loved to garden more than cook, in the kitchen. She then tells several stories about food and her childhood. She ends in the introduction with good advise for all cooks, new or old: "Cooking can be a joy, but you must be willing to make some sacrifices, face a few failures, and start all over again. Most importantly, take time with your cooking; table as many pains in making a batch of cookies or a loaf of bread as you would in stitching a needlepoint pillow."
Sections of the cookbook include:
Appetizers, Snacks, and Sandwiches
Beverages
Breads
Cakes and Frostings
Candies and Confections
Casseroles
Cookies and Small Cakes
Desserts
Eggs and Grains
Fish and Shellfish
Meats
Pies and Pastry
Poultry and Dressing
Salads and Salad Dressing
Sauces
Soups, Stews, and Chowders
Vegetables
Index
Ms. Sturges marks recipes through the cookbook with an asterisk to indicate that the recipe is a "budget recipe." Here are a few recipes that I found interesting a reading the cookbook:
Cranberry Christmas Punch
1 (3-ounce) package cherry-flavored gelatin
1 cup boiling water
1 (6-ounce) can frozen lemonade, undiluted
3 cups cold water
1 (32-ounce) bottle cranberry juice cocktail
Ice rings or cubes
1 (28-ounce) bottle ginger ale, chilled
Dissolve cherry gelatin in boiling water. Stir in lemonade; add cold water and cranberry juice cocktail. Pour punch over ice. Pour in ginger ales. 
Yield: 25 servings. 
Shrimp Creole
1/2 cup salad oil
1 cup sliced green pepper
2 1/2 cups sliced onion
1 cup diced celery
1/2 cup chopped celery leaves
1/4 cup chopped parsley
1 (1-pound) can of tomatoes
1/2 cup chili sauce
1/2 cup seedless raisins
3/4 cup slivered, blanched almonds
1/2 teaspoon thyme
1/2 teaspoon curry powder
1/2 teaspoon salt
1/2 teaspoon black pepper
1/2 teaspoon cayenne pepper
2 bay leaves
2 1/2 pound shrimp, cooked
Cooked rice
Heat oil in a large skillet. Add green peppers, onion, celery, and celery leaves. Cook over low heat until the onion is transparent, but not browned. Add remaining ingredients except for shrimp and rice. Simmer gently for 1 hour, stirring occasionally to prevent sticking. Add cooked shrimp and heat through. 
Serve over rice
Yield: 12 servings. 
Praline Pie
1/3 cup butter or margarine
1/3 cup firmly packed brown sugar
1/2 cup chopped pecans
1 lightly baked 8-inch pie shell
1 (3 1/4 – ounce) package butterscotch pudding and pie filling mix (not instant)
2 cups milk
1 cup prepared whipped cream
Pecan halves
Combine butter and brown sugar in a saucepan; cook and stir until sugar melts and mixture bubbles vigorously.  Remove from heat and stir in pecans. Spread mixture over bottom of pie shell. Bake at 425-degrees for 5 minutes or until bubbly. Remove from oven.
Combine pudding mix and milk in a saucepan; cook and stir over medium heat until mixture comes to a full boil. Remove from heat. Cool 5 minutes, stirring once or twice. Spoon into pie shell over nut layer. Chill until set. Garnish with prepared whipped topping and pecan halves before serving. 
Yield: one 8-inch pie.