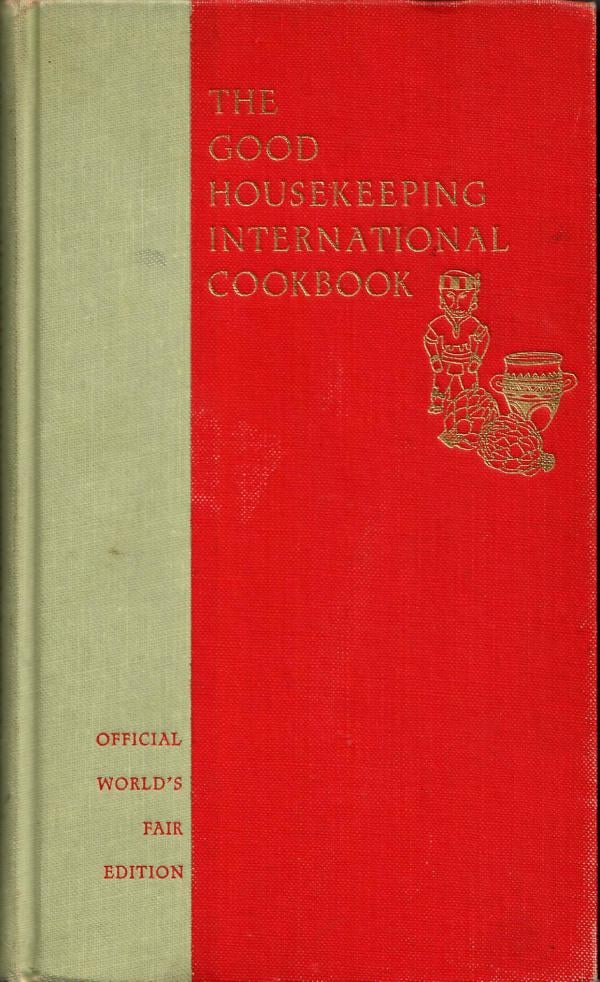 Official World's Fair Edition
In celebration of the 1964 World's Fair, held in New York, Good Housekeeping published a cookbook containing recipes originating from all parts of the world.  Each recipe was adapted to American standards and by the Foods and Cookery staff of the magazine.  The editor says that this cookbook "can take you on exciting travels to many lands.  Do not be afraid to try new flavors and strange combinations.  Among them, you are sure to find new delights and increase your stature as a cook and hostess.  
The cookbook is organized by geographic region, then divided into countries:
Europe
Austria
Belgium
Czechoslovakia
Denmark
England
Finland
France
Germany
Greece
Holland
Hungary
Ireland
Italy
Norway
Poland
Portugal
Soviet Union
Spain
Sweden
Switzerland
Yugoslavia
Middle East
Arabia
Israel
Lebanon
Turkey
Far East
Ceylon
China
Hong Kong
India
Indonesia
Japan
Korea
Malaya
Pakistan
Thailand
Africa
Egypt
Guinea
Morocco
South Africa
Sudan
Caribbean Island
Haiti
Jamaica
Puerto Rico
Virgin Islands
Oceania
Australia
Hawaii
New Zealand
Philippines
Polynesian Islands
North America
Canada
Mexico
Panama
United States of America

Tennessee Brunswick Stew
Boston Clam Chowder
Barbecued Chicken
Chili Con Carne
New England Boiled Dinner
Creamy Alaskan Salmon
Spoon Bread
Shrimp Creole
Blueberry Muffins
Caesar Salad
Coleslaw
De-Luxe Cheesecake
Pecan Pie
Lemon Meringue Pie
Brownies
South America
Argentina
Bolivia
Brazil
Chile
Colombia
Peru
Uraguay
Venezuela
Author: Good Housekeeping
Publisher: Harcourt, Brace & World, Inc
Add a little RETRO to your Christmas…
The above items are available on Amazon.
Official World's Fair Edition
In celebration of the 1964 World's Fair, held in New York, Good Housekeeping published a cookbook containing recipes originating from all parts of the world. Each recipe was adapted to American standards and by the Foods and Cookery staff of the magazine. The editor says that this cookbook "can take you on exciting travels to many lands. Do not be afraid to try new flavors and strange combinations. Among them, you are sure to find new delights and increase your stature as a cook and hostess. The cookbook is organized by geographic region, then divided into countries:
Europe
Austria
Belgium
Czechoslovakia
Denmark
England
Finland
France
Germany
Greece
Holland
Hungary
Ireland
Italy
Norway
Poland
Portugal
Soviet Union
Spain
Sweden
Switzerland
Yugoslavia
Middle East
Arabia
Israel
Lebanon
Turkey
Far East
Ceylon
China
Hong Kong
India
Indonesia
Japan
Korea
Malaya
Pakistan
Thailand
Africa
Egypt
Guinea
Morocco
South Africa
Sudan
Caribbean Island
Haiti
Jamaica
Puerto Rico
Virgin Islands
Oceania
Australia
Hawaii
New Zealand
Philippines
Polynesian Islands
North America
Canada
Mexico
Panama
United States of America

Tennessee Brunswick Stew
Boston Clam Chowder
Barbecued Chicken
Chili Con Carne
New England Boiled Dinner
Creamy Alaskan Salmon
Spoon Bread
Shrimp Creole
Blueberry Muffins
Caesar Salad
Coleslaw
De-Luxe Cheesecake
Pecan Pie
Lemon Meringue Pie
Brownies
South America
Argentina
Bolivia
Brazil
Chile
Colombia
Peru
Uraguay
Venezuela