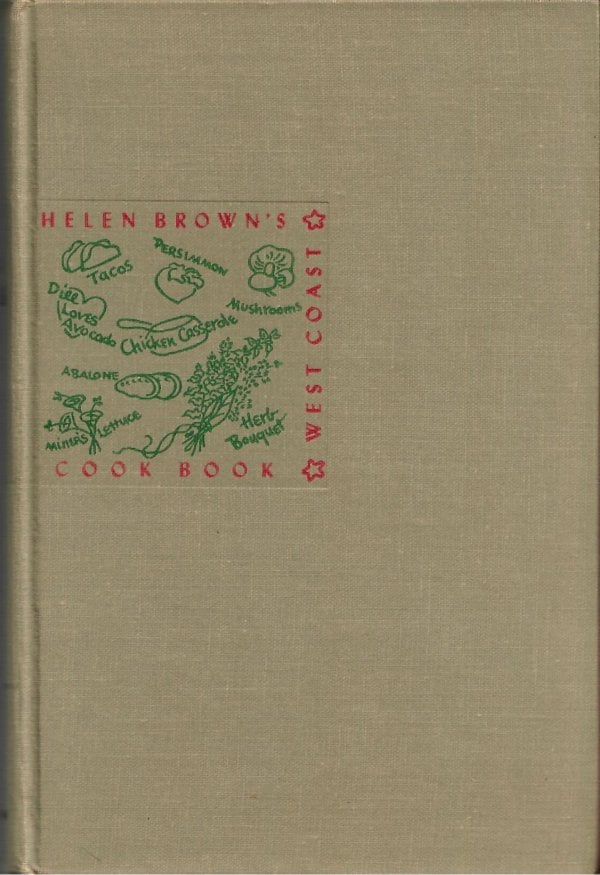 Helen Brown's West Coast Cookbook was originally published in 1952 by Little, Brown & Company, the images that are included here are from the 1956 reprint; there was also a Knopf cooks American reprint in 1991. This is a fantastic regional cookbook that explores the culinary history and traditions of the three Pacific states of California, Oregon, and Washington. Mrs. Brown divides the recipes into three groups. The first group is comprised of the recipes brought to the region by the early settlers, the pioneers who settled the Northwest Territory, and the Spaniards and Mexicans who settled into California. The second group of recipes is attributed to the fruits, vegetables, and game that is native grow abundantly in the region. The third type of recipe is a collection of recipes that West Coast cooks have made their own; whether by the unique technique used to create the dish or a new way to serve an old familiar food. 
This is more than a cookbook, Mrs. Brown has given us a synopsis and history of West Coast Cookery.  Along with many recipes, Mrs. Brown gives the reader a history of how the dish was created, a fact about the main ingredient in the recipe, or a tip on how best to cook an item native to the region.  In fact, there are a few sections of this cookbook where there are no recipes, just a discussion of the various uses and origins of the ingredient she is discussing; this is certainly the case in the sections covering Cheese, Fruits, Game, Herbs & Spices, and Wine. Mrs. Brown starts each recipe with a narrative about the recipe, followed by the method, lastly listing the ingredients, and any variations that are possible.
You never know what you will find in a previously owned cookbook; the original owner was nice enough to let us know where and when she purchased this cookbook.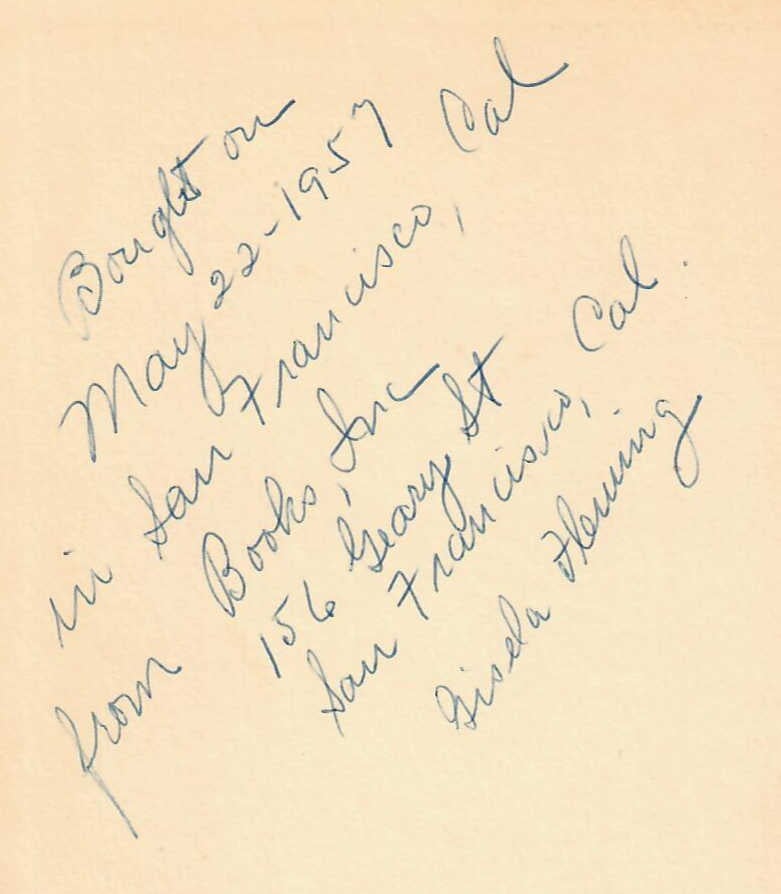 The back cover of the cookbook has an image imprinted on it, the image features different items than the one on the front cover: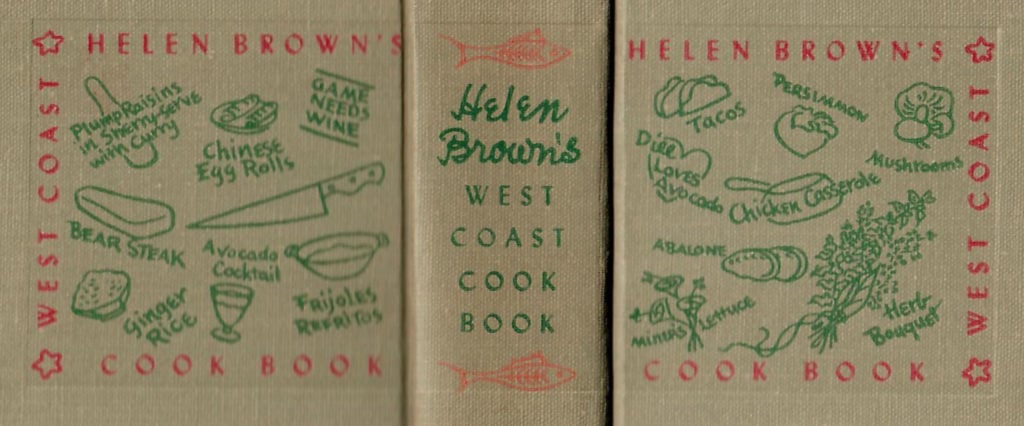 Here are a few recipes that I think you will enjoy from the cookbook; from these examples, you can see examples of Mrs. Brown's tips and  historical references:
Blue Fox Gnocchi
This recipe is found on page 97 –
The Blue Fox Restaurant in San Francisco is one of the most popular Italian restaurants in California. this is their recipe for gnocchi, give exactly as the proprieters, Maro Mondin and Piero Fassio, wrote it for this book. Try it and you'll know why to eat at the Blue Fox is to east supremely well.
Every Thursday the small familylike Roman restaurants instead of serving ravioli or spagetti serve gnocchi as the paste course. In fact all of Northern Italy considers this dish as a festive paste course to be served at family gatherings. Most people believe that his paste should only be served just as butter and parmeggian cheese, but some like it served just as raviolis are, with a good meat gravy and cheese.
Ingredients
4 1/2 pounds large baking potatoes
1 pound flour
2 egg yolks
1 cube butter (1/4 pound)
Method
"Boil potatoes until cooked, skin them, put through a ricer on a large baking board, add butter, egg yolks, and flour a little at a time, knead lightly as for making bread until mixture is pliable (secret is not to work the dough too much). Flour board again, take a small piece of the dough at a time, and roll into a sticklike effect; then cut in pieces the size of a half thumb, indent each piece with your finger to make a small indentation. Put each piece (or gnocchi) on a towel that has been floured so they will not stick together. When a large pot of salted water comes to a boil put in the gnocchi a few at a time; as soon as gnocchi come to the top (about 10 minutes) drain – lay on a large platter with butter and parmeggian cheese." – Serves about 12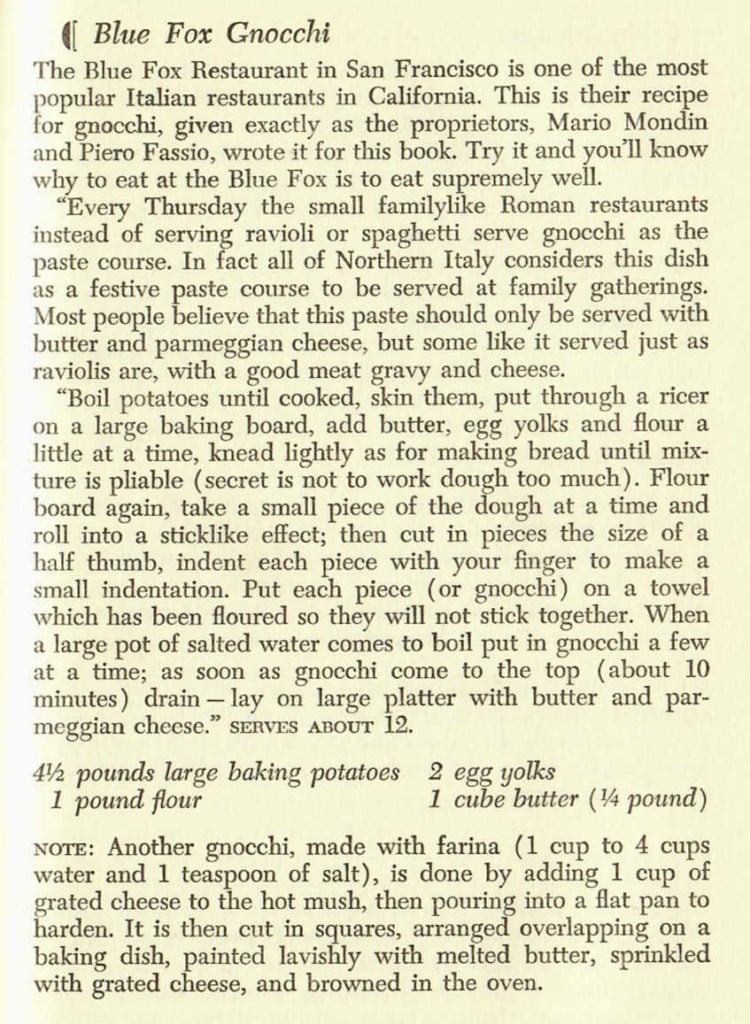 Almond Soup with Corriander
This recipe is found on page 331 –
Almond soup was being made in England before Sir Francis Drake discovered "New Albion," but it took West Coast cooks to devise this version – a superior one, we like to think.
Ingredients
1 cup blanched almonds
3 cups chicken stock
1 small onion
1/2 bay leaf
1/2 teaspoon ground coriander
1 cup heavy cream
4 egg yolks or 2 tablespoons flour and 2 tablespoons butter
Salt and Pepper
Almond Flavoring (optional)
Method
Pound one cup of blanched almonds in a mortar, or put them through a meat grinder, using the finest knife. (Blanch them by covering them with cold water and bringing them to a boil. Drain and put in a bowl of cold water. Rub them between the hands, and they will practically skin themselves.) Add 3 cups of chicken stock (an old Los Angeles recipe uses veal stock, so suit yourself), a small onion, and 1/2 a bay leaf, and simmer gently for a half hour. Remove and discard onion and bay leaf, add 1/2 teaspoon of ground coriander (more if it isn't fresh from the grocer's self), and a cup of heavy cream. Bind with the yolks of 4 eggs, or, if that is too much for the budget, with 2 tablespoons each of butter and flour, made into a roux. Taste for seasoning, and if you wish, add 2 or 3 drops of almond flavoring. Strain, or not, and garnish with grated orange rind. This soup is quite as good served cold as hot, so think of it as a substitute for Vichyssoise ubiquitous in the West, too! Serves 6.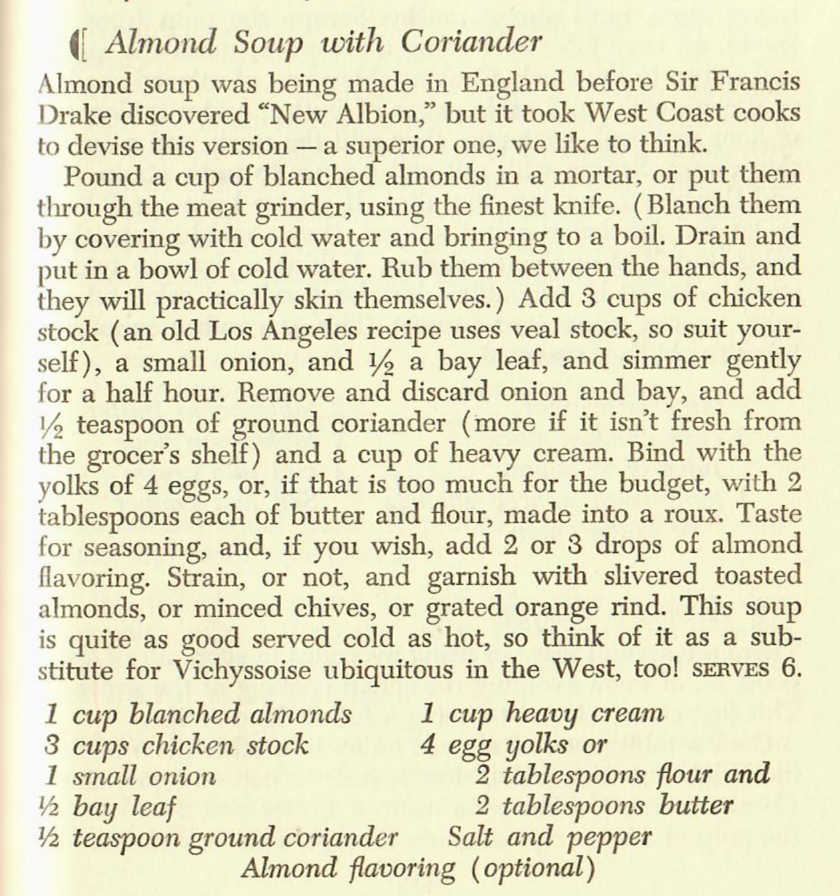 Artichokes Barigoule
This recipe appears on page 359 –
This may not be our recipe, but we've liked it ever since the Palace started serving it. It appears on one of their menus dated 1879.
Ingredients
4 artichokes
4 slices bacon
1/4 cup minced shallots
1/2 cup minced mushrooms
1 tablespoon minced parsley
Salt and Pepper
Nutmeg
1/2 cup stock or wine
Olive oil
Method
Trim and boil 4 artichokes for 5 minutes, drain, and remove chokes, then put in cold acidulated water (1 tablespoon of lemon juice or vinegar to a quart of water). Make a forcemeat with 4 slices of minced bacon, 1/2 cup of minced shallots, 1/2 cup of minced mushrooms, a tablespoon of minced parsley, salt, pepper, and a little nutmeg. Stuff the artichokes, tie a string around each to keep the filling in, and brown on all sides in olive oil. Add 1/2 cup of stock or wine, or a combination of the two, cover, and bake until tender. Remove strings before serving to four persons.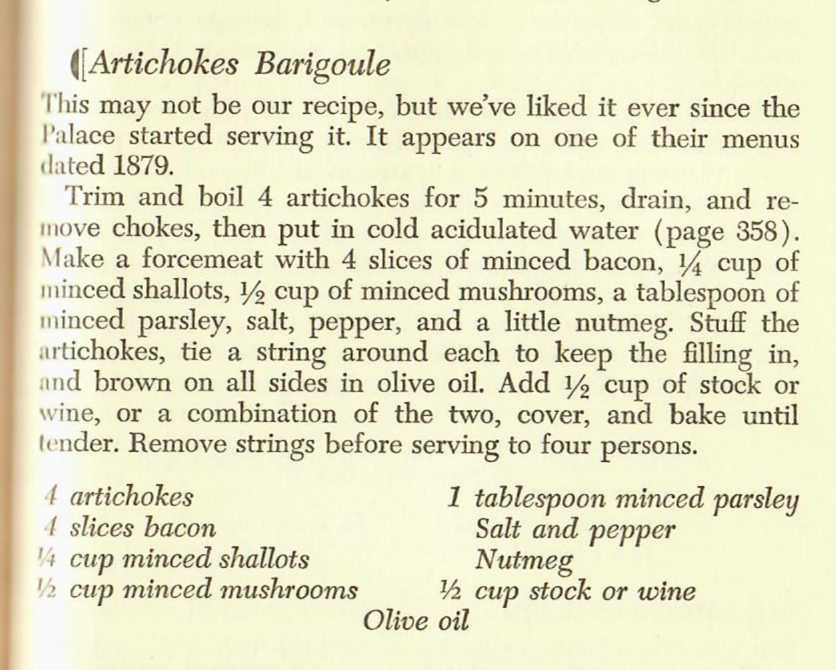 Estofada
This recipe appears on pages 275 & 276 –
The early Californians liked their stews highly seasoned, but the American ladies who adopted their dishes often kept their names but not their seasonings. This come from a cook book written in the '80's (1880's), and is typical. It sas 'Use two pounds of beef ribs or mutton. A chicken is best.'
Ingredients
3 pounds meat or 1 small chicken
1/4 cup fat
2 onions
2 green peppers
1 clove garlic
1/2 teaspoon thyme
2 tablespoons vinegar
1/2 cup raisins
1/2 cup green olives
2 cups canned tomatoes
4 slices toast
Method
So brown the meat, 3 pounds of stewing meat, or a small disjointed chicken. Use 1/4 cup of fat, and brown with 2 onions and 2 green peppers (left whole, the recipe says, but better quarter them), a little garlic (one clove, crushed), thyme (1/2 teaspoon), vinegar (2 tablespoons), raisins (1/2 cup, seeded or seedless), olives (1/2 cup, green cut from their stones), and a few tomatoes (2 cups, canned). Four slices of toast are also added for thickening, and the whole is cooked to a salubrious stew. Serves 6 to 8.
Cookbooks by Helen Brown available on Amazon
Here is a listing of the cookbook sections and the recipes contained in each section:
Appetizers

Cypress Pint Abalone Cubes; Oregon Cheddar Pennies; Cheese Danieto; Jack Snacks; Langlois Loaf; Quesadillas; Rumaki, or Chicken Livers with Water Chestnuts; Trader Vic's Fried Chicken Livers; Coquille Clam Jam; Empanadas; Guacamole; Castellar Tarragon Liver Pate; Sebastopol Piroshki; Sandwich Notes; Shrimp Wun Tun; Curried Shrimp Puffs; More Ideas for Appetizers

Aspics

Altivo Avocado Aspic; Mushroom and Sour Cream Mousse; Molded Guacamole; Tomato Aspic with Dill; Wine Aspic for Meat, Poultry,  Game, or Fish

Barbecuing and Charcoal Grilling
Bread

Almond Bread; Nugget Bread; Bunuelos; Clam Pone; Corn Crisps; Sunday Coffeecake; Dough Gods; Bandon Cranberry Bread; Date Bread; Lumber Camp Doughnuts; Dutch Babies; Pioneer Flapjacks; Orange Pecan Bread; Pan Relleno; Jolly Boys; Wild Blackberry or Blueberry Muffins; Green Onion Balls; Visalia Ripe Olive Bread; Philpy; Oregon Raised Prune Bread; Walnut Rum Rolls; Fly Away Rolls; West Coast Roll-ups; Vancouver Cream Scones; Sourdough Biscuits; Tortillas; Tortillas de Harina (Flour Tortillas); Waffle Notes

Cheese
Chocolate
Desserts

Chinese Almond Cakes; Burnt Almond Cream; Rolled Almond Wafers; Almond Roca Rum Pie; Linda Vista Deep Dish Apple Pie; McGinties; Apple Dessert Notes; Avocado Mousse; Berkeley Banana Fritters; Washington State Blackberry Roll; Bonanza Blintzes; California Brandy Balls; All-California Golden Cake; Chocolate Rum Icing; Kay's Icing; Soused Camembert with Almonds; Crepes or Thin Pancakes; Cherry City Shortcake; Oregon Torte; Cranberry Sherbet; Billy Goats; Sour Cream Date Pie; Figs Fresno; Filbert Macaroons; Salem Filbert or Almond Torte; Fried Cream; Guava Shells with Cream Cheese; Ice Cream Notes; Lemon Cake-Top Pudding; Lemon Butter Tarts; Los Angeles Lemon Pie; Fresh Lime Pie; Alison's Orange Caramel Custard (Pudin de Naranjas); Baked Orange Custard; Almond Stuffed Peaches; San Dimas Orange Marmalade Souffle; Pears Pacifica; Placerito Persimmon Pie; Persimmon Pudding; Oriental Seed Cookies; Brandied Squash Pie; Strawberries Romanoff; Strawberry-Almond Butter; Strawberry-Almond Fritters; Walnut and Orange Torte; San Gabriel Wine Gelatin

Eggs

Eggs Astoria; Chinese Egg Rolls; Eggs Foo Yung; Frittata; Huevos con Queso; Huevos Rancheros; Olive Eggs; Artichoke Omelet; California Omelet; Mexican Omelet; Pisto Omelet; California Oyster Omelet; Browned Scrambled Eggs with Avocado; Tarragon Eggs with Lobster

Entrees

Alvarado Bacon and Cheese Pie; Cassoulet Carpinteria; Chili con Carne; Chiles Rellenos; Curry; West Coast Meat Curry; West Coast Fish Curry; Blue Fox Gnocchi; Enchiladas; Tacos; Tamales; Tamale Pie; Tostados; Polenta; Fried Rice with Pork; Chinese Ginger Rice; Risotto; Wild Rice with Chicken Livers; Wild Rice Notes; Spaghetti Sauce; Chicken Liver Spaghetti Sauce; Lasagna Lagunita; Spaghetti Notes; Sukiyaki

First Courses

Artichokes Santa Anita; Aptos Artichoke Cocktail; Armada Avocado Cocktail; Avocado San Andreas; Del Mar Crab Cocktail; Crab and Avocado Cocktail; California Fruit Cocktail; Garbanzo Hors d'Oeuvre; Marinated Herring with Sour Cream; Becky's Chopped Liver; Stuffed Mushrooms San Juan; Stuffed Mushrooms Tarragon; Walla Walla Mushroom Cocktail; Scallop Cocktail; Oranges with Rosemary; Bremerton Salmon Rolls; Shad Roe Carquinez; Garlic Shrimp Curry (cold); More Ideas for First Courses

Fish and Shellfish

Abalone; Abalone Steaks; Paul's Stuffed Abalone; Abalone and Pork; New Albion Abalone Fritters; Baked Albacore; Barracuda Anacapa; Clams; Geoduck; Grilled Mud Clams; Clam Hash; Coos Bay Clam Cakes; Winchester Bay Clam Souffle; Baked Clams Elizabeth; Copalis Clam Pie; Quick clam Ramekins; Fried Razor Clams; Boiled Cod with Oyster Sauce; Crabs; Barbecued Crabs; Broiled King Crab Legs; Crab Legs Palace Court; Crab Louis; Pacific Cracked Crab; Tarantino's Deviled Crab; Dan & Louis' Fried Jumbo Crab Legs; Gobey's Crab Stew; Crab Notes; Willamette Spiced Crawfish; Frogs Legs Castellar; Grunions; Lobsters; Stuffed Lobster Bok Quan; Chinese Garlic Lobster; Mussels, Fisherman's Style; Oysters; Hangtown Fry; Barbecued Oysters; Oysters Paulette; Pickled Oysters; Portland Oyster Rabbit; Prescott's Olympia Pan Roast; Oysters Kirkpatrick; Treasure Island Oyster Loaf; Oyster Notes; Rockfish en Papilotte; Barbecued Sablefish Steak; Salmon; Baked Whole Salmon, Washington Style; Rogue River Grilled Salmon Steak; Salmon Mayonnaise; Salmon Bonneville; Salmon Notes; Sand Dabs Meuniere; Sand Dabs or Rex Sole in Paper; Sand Dab Notes; Puget Sound Skewered Scallops; Scallop Notes; Sculpin Serisawa; Barbecued Sea Bass; Fillet of Sea Bass with Almonds; Bass with Bean Sprouts and Ginger; Baked Shad Sacramento; Cantonese Shrimp Balls with Chinese Peas; Broiled Garlic Shrimp; Celestial Shrimps with Walnuts; Chinese Fried Shrimps; Shrimp Tempura; Shrimps Nob Hill; Shrimps Victoria; Columbia River Smelts; Fillet of Sole King Edward; Fillet of Soe Santa Monica; Tarantino's Sole en Papilotte; Stuffed Squid; Steelhead Baked in Paper; Baked Sierra Trout; Poodle Dog Trout; Tuna; Cioppino; Escabeche de Pescado; Fish Mariposa; Turbans of Fish, Olivos

Foreign Cookery

Chinese Cookery
Other Foreign Cookery

Italian Cookery
French Cookery
Scandinavia Cookery
Japanese Cookery

Fruits

Wild Fruits and Berries; Brandied Fruits; Dried Fruit; Apples; Notes on Apples; Apricots; Dried Apricot Notes; Avocados; Berry Pie; The Loganberry and Other Western Berries; The Cherimoya; Cherries; Oranges and Other Citrus Fruits; Orange Notes; Cranberries; Cranberry Notes; Dates; Date Notes; Figs; Dried Fig Notes; Fresh Fig Notes; Feiojas; Granadillas; Guavas; Jujubes; Loquats; Mangoes; Melons; Papayas; Peaches; Peach Notes; Pears; Persimmons; Persimmon Notes; Pineapples; Pomegranates; Pomegranate Notes; Prunes; Rhubarb; Raisins; Sapotes; Tuna;

Game

Game Notes

Deer; Elk; Antelope; Bear; Mountain Sheep; Mountain Goats; Wild Boar; Wild Rabbits; Sage Hens; Wild Ducks; Wild Geese; Wild Turkey; Pheasant; Patridge; Quail; Grouse; Other Game;

Barbecued Antelope Steaks; Roast Saddle of Antelope; Bear Ragout with Red Wine; Bear Notes; Ojai Dove Stew; Roast Doves; Notes on Doves and Pigeons; Ducks Pressed a la Paul; Wild Ducks with Olives; Boca Chica Roast Wild Duck; Notes on Wild Duck; Roast Shoulder of Elk a la Don Becker; Grilled Elk Steaks; Roast Wild Goose; Clackamas Pheasant Casserole; Pheasant with Cream Gravy; Pheasant Mateo; Roast Pheasant; Pheasant Notes; Roast Quail Alameda; Quail Notes; Rabbit Paprika; San Fransicso Rabbit Stew; Wild Rabbit with Wine; Rabbit Notes; Braised Venison, Sour Cream; Charcoal-broiled Venison Steaks; Napa Venison Hash; Roast Haunch of Venison with Chestnuts; H.D.'s Siskiyou buck Stew; Venison Hamburgers; Venison Liver; Venison Notes; Salmis of Game

Herbs and Spices
Meat

Beef Stew with Olives; Beef with Oyster Sauce; Braised Beef with Red Wine; Braised Short Ribs Zinfandel; Braised Oxtails; Carne a la Vinagreta; Carpetbag Steak; Grenadin de Beouf, Grand Veneur; Grenadine of Beef Flintridge; "Lawry's" Roast Beef; Portland Popover Pudding; Mexican Beef with Oranges; Olive Pot Roast; Pot Roast Californian; Steak Solera; Spanish Steak; Japanese Broiled Meat; Steak with Oyster Blanket; Brains Benicia (Stuffed Peppers); Ham and Ham Notes; Ham Inglenook; Ham Steak with Cherries; Ham and Oyster Pie; Ham Vina Blanca; Broiled Lamb Kidneys with Herbs; Simi Kidney Saute; Kidney Notes; Barbecued Lamb Steaks; Roast Lamb with White Wine and Olives; Breast of Lamb, California Style; Frontera Braised Lamb Shanks; Braised Leg of Mutton, Oyster Stuffed; Saddle of Mutton Spokane; Char Siu (Chinese Roast Pork); Chinese Spareribs; Roast Pork and Beans Palo Alto; Mexican Roast Loin of Pork; Pork Notes; Chorizo; Sausage Pudding; Sausage Notes; Sweetbreads Jessica; Sweetbread and Oyster Pie; Tongue; Braised Tounge Tulare; Tripe; Menudo; Tripe and Oysters; Tripe with Green Peppers; Wilapa Veal Stew; Albondigas; Chinese Meat Balls (Jar Yook Tun); Oregon Coast Meat Balls; Seattle Swedish Meat Balls; Puchero; Estofada; Yeung Dong (Stuffed Mushrooms); Vitella Tonnato

Nuts

Almonds; Filberts; Pine Nuts;

Olives and Olive Oil

Garlic Olives; Olive Notes

Pickles and Preserves

Cherry Olives; Northwest Chutney; Bodega Dill Beans; Spiced or Pickled Eggs; Preserved Kumquats; Onions Tiburon;

Poultry

Arroz Con Pollo; Breast of Chicken, Palace; Chicken and Chestnuts; Chi Bow Gai (Chicken in Paper); Chinese Chicken Wings with Ginger; Chicken Casserole St. Helena; Chicken Lomas del Rio; Chicken Marangot; Mexican Chicken Cazuela; Chicken Saute with Artichokes; California Chicken Tarragon; Chicken Raphael Weill; Chicken Portola; Chicken Notes; Chicken Liver Ring; Chicken Livers with Pineapple, Chinese Style; Chinese Pressed Duck; Duck with Olives; Duck with Oranges; Chinese Squab with Asparagus; Squab Felipe; Turkey; Barbecued Turkey Steaks; Broiled Baby Turkey; Turkey Cabrillo; Mole de Guajolote (Turkey Mole); Walnut-Fattened Turkey; Notes on Stuffing

Salads

Abalone Salad; Avocado Salad; Bean Sprout Salad; Caesar Salad; Celery Victor; Chestnut Salad; Almond Cucumber Salad; Cold Cucumbers, Chinese Style; White Cucumber Salad; Fruit Salads and Fruit Salad Plates; Mixed Green Salad; Lichi Nut Salad; Mexican Salad (Ensalada); Olympia Oyster Salad; Sweetbread and White Grape Salad; California Potato Salad with White Wine; Balboa Salad; Zucchini Vinaigrette; Salad Notes; Langlois Dressing; Avocado Salad Dressing; Green Goddess Dressing; Corte Madera Sour Cream Salad Dressing; Wine French Dressing;

Sauces

Blue Cheese Sauce for Steaks; Herb Barbecue Sauce; Hottish Barbeque Sauce; White Barbecue Sauce; Cherry Sauce for Meat; West Coast Cocktail Sauce; Lemon Tartare Sauce; Lemon-Wine Steak Sauce; Mexican All-Purpose Sauce; Green Olive Sauce; Marinade for Game; Orange-Ginger Sauce; Oxnard Orange Sauce for Duck; Raisin-Almond Sauce; Alki Point Shrimp Dip; Salsa; Vermouth Basting Sauce; Walnut Fish Sauce; Yerba Buena Sauce

Soups

Abalone Chowder; Chinese Abalone Soup with Chicken or Pork; Almond Soup with Coriander; Santa Cruz Artichoke Soup; Avocado Bisque; Avocado Summer Soup; Avodaco Soups in Brief; Jellied California Borscht; Oakland Chestnut Soup; Tillamook County Soup; Oregon Cherry Soup; Don Far Tong (Chicken and Cress Soup); Cazadero Chicken Liver Soup; Chicken Tarragon Soup; Clam Wine Soup; Pismo Cream of Clam Soup; Pacific Clam Chowder with Rice; Clam Soup Notes; California Claret Soup; Dungeness Crab Bisque; Iced Curry Soup; Deep Sea Consomme; Wine Fish Chowder; Gazpacho; El Centro Green Pepper Soup; Cream of California Herbs; Mussel Soup; Essence of Mushroom; Onion Soup with Wine; Cream of Ripe Olive Soup; Dan & Louis Oyster Stew; Oysterville Bisque; Richmond Beach Chicken and Oyster Stew; Voyageur's Split Pea Soup; Joe Meek's Pumpkin Soup; Bay Shrimp Stew; Grant Street Soup; Jellied Sherry Consomme'; Venison Soup; Ying's Variety Soup; Winter Melon Soup; Fruit Soups

Vegetables

Artichokes; Boiled Artichokes; Artichokes Barigoule; Artichoke Ring; Artichokes in White Wine; Artichoke Cups; Stuffed Artichokes; Artichoke Notes; Asparagus; Asparagus Vinaigrette; Tin How Asparagus; Asparagus San Fernando;  Asparagus with Chicken Liver Sauce; Barbecue Beans; Black Bean Rodriguez; Frijoles Refritos; Frijoles Notes; String Beans with Celery; String Bean Notes; Bean Sprouts; Broccoli with Ripe Olives; Broccoli Salinas; Broccoli with Soy and Almonds; Brussel Sprouts with Walnuts; Cabbage; Dilled Cabbage with Sour Cream; Red Wine Cabbage; Cardoons; Carrots Quan Dai; Cauliflower Notes; Brentwood Braised Celery; Celery with Tarragon; Chayote; Chinese Peas; Chinese Peas with Water Chestnuts; Squaw Corn; Corn in the Open; Dasheen; Eggplant Notes; Barbecued Eggplant; Stuffed Eggplant with Minced Clams; Baked Hominy Grits; Leeks with Bacon; Mushrooms Corvallis; Mushroom Pie; Russian River Mushrooms in Sour Cream; San Joaquin Mushroom Custard; Nopal; Nopales; Lodi Onions; Onion Pie with Almonds; Shasta Onions with Almonds; Onion Notes; Peas; Peppers; Potatoes; Cattle King Potatoes; Fried Potatoes Mexican; Hash Browned Potatoes with Almonds; Patio Potatoes; Portland Potatoes; Potatoes Santa Monica; Puffed Potatoes; Sheepherder's Potatoes; Potato Knishes; Potato Notes; Baked Pumpkin and Ginger; Colache; Salsify with Herbs; Chinatown Spinach; Creamed Spinach, Prime Rib; Spinach Cielita; Spinach Timbales with Ripe Olive Sauce; Spinach with Anchovies; Squash; Acorn (Winter) Squach with Rum; Summer Squach in Cream; Marin County Zucchini; Zucchini with Mushroom and Sour Cream; Zucchini with Green Onions; Squash Suggestions; California Candied Sweets; Spanish Sweet Potatoes; Yam Almond Balls; Tomatoes; Broiled Tomatoes with Green Olives; Ranch Tomatoes; Water Chestnuts

Wine

Champagne; Appetizer Wines; Dessert Wines
Publisher: Little, Brown & Company, Boston
Add a little RETRO to your Christmas…
The above items are available on Amazon.