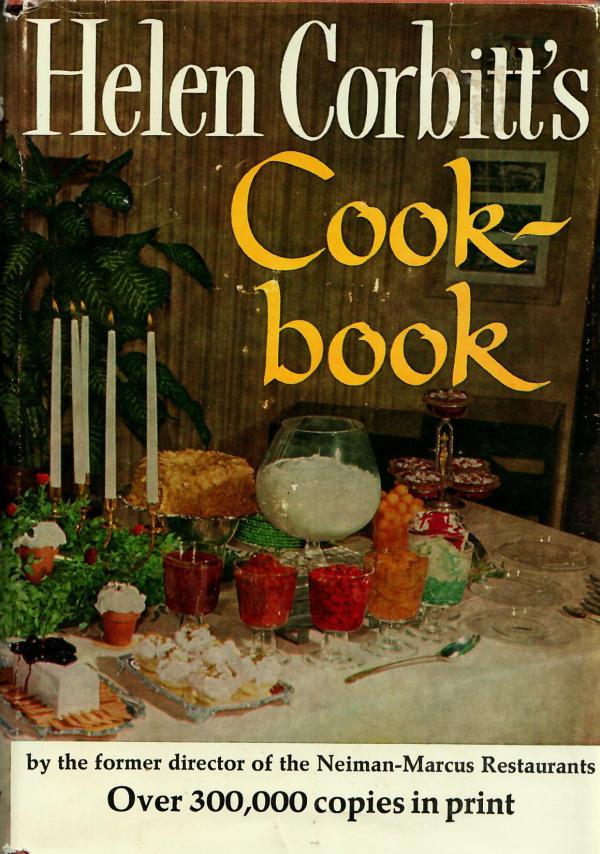 Helen Corbitt, the Grand Dame of Texas Cookery, published her first cookbook – Helen Corbitt's Cookbook in 1957.   After eight years of persuasion by Neiman Marcus' Stanley Marcus, Helen became the director of Neiman Marcus' food services.  The Helen Corbitt's Cookbook is a compilation of recipes she developed over her years of work in the food industry and Neiman Marcus.   During Helen's career, she worked at Skidmore College, Presbyterian Hospital in New Jersey, Cornell Medical Center, University of Texas, Houston Country Club, Garden Room at Joske's, the Driskell Hotel in Austin, and finally Neiman-Marcus.  
Helen states, "in these days of shortcuts, mixes, and packaged meals, I hope you will forgive me for taking you back to the kitchen.  These recipes are as I have used them.  I have made these recipes simple enough for the employee of my kitchens – they should work in yours.  Have fun!"
Chapters in the cookbook include:
Explanations Are in Order!
That Something Before
Soups
Salads and Their Dressings
A Chicken in Every Pot
Dressings for Fowl
If It Swims
Meats
The Sauce to Meat
Vegetables, Plain, Fancy, and Garden
And then Potatoes
And Rice
And What to Serve on Friday
Breads
Just Desserts
That Party Punch – and Cookies
Parties
This and That
Cooking Terms, Measurements, The Emergency Shelf
Index
In addition to her cookbook, Ms. Corbitt also edited and wrote the section titled "Typically Texan Mexican Recipes" of the cookbook Mexico Through My Kitchen Window, published in 1961.
Ms. Corbitt is also the author of Helen Corbitt Cooks For Company, published in 1974.  The volume contains entertaining tips, recipes, and menu ideas for various functions and parties.  Of course, Ms. Corbitt includes a menu for a Traditional Thanksgiving Dinner, which we feature in our Cookery Article about Traditional Thanksgiving Menus. In the post we feature Helen Corbitt's Cornbread Dressing, Scalloped Onions and Almonds, and Ambrosia recipes; check out the post to see these Thanksgiving Dinner recipes.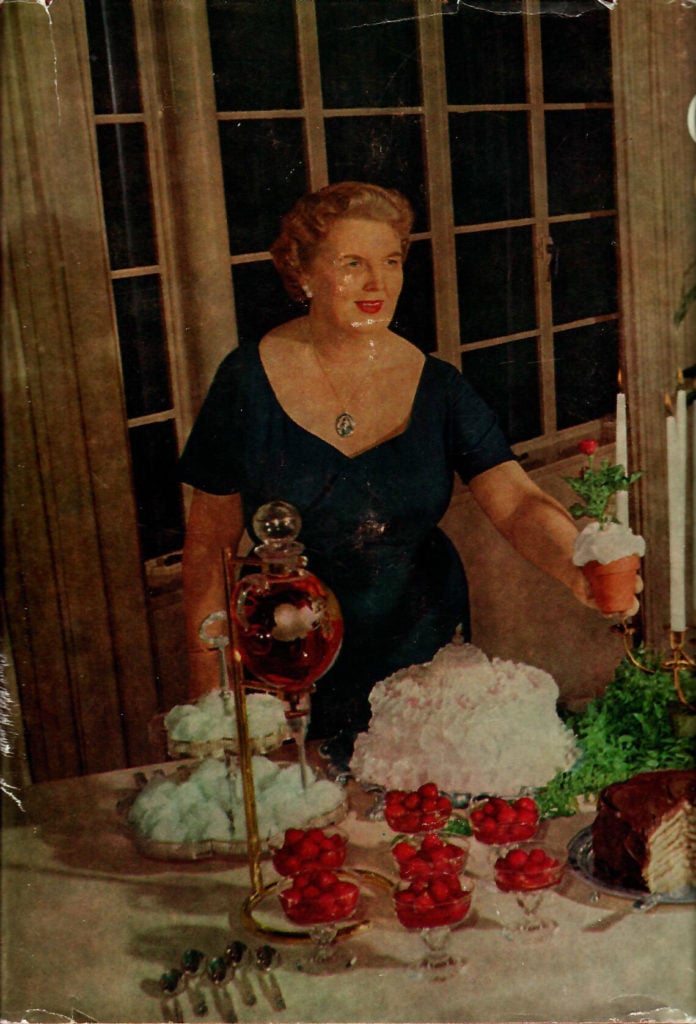 Helen Corbitt Recipes         
Some of Helen Corbitt's most famous recipes are included in this cookbook.  Her cornbread and cornbread dressings are classics as are her Chicken Salad with Poppy Seed Dressing.  In fact, "Helen Corbitt Chicken Salad with Poppy Seed Vinaigrette" is still on the menu at the Neiman Marcus Zodiac Room.  The "Texas Corn Bread" recipe can be found on page 237, the "Chicken Salad Supreme" recipe can be found on page 60, and the "Poppy-Seed Dressing" recipe can be found on pages 47 and 48.  
Texas Corn Bread 
"A better than best cornbread comes from a Texas ranch, straight from the pretty wife of a West Texas lawyer who rances on the side.  She makes it for the ranch hands.  I have adapted it for my own use, and yellow cornmeal sales have increased." 
Ingredients
1 cup yellow cornmeal
1/2 cup flour
1 teaspoon salt
Mix thoroughly; then add without mixing:
1 cup buttermilk (sour milk or half sour cream and milk)
1/2 cup sweet milk
1 egg
1 tablespoon baking powder
1/2 teaspoon soda
1/4 cup melted shortening
Method
Grease the muffin pans or corn-stick pans well and heat.  Stir up the mixtures thoroughly and pour into the hot pans.  Bake at 450-degrees until done.  The bread will be moist and brown on the bottom. 
Chicken Salad Supreme
Ingredients
2 1/2 cups diced cold chicken
1 cup celery, chopped fine
1 cup sliced white grapes
1/2 cup shredded browned almonds
2 tablespoons minced parsley
1 teaspoon salt
1 cup mayonnaise
1/2 cup whipping cream, whipped
Method
Combine and serve in lettuce cups with thin slices of chicken on top, garnished with stuffed olives, sliced thin, or chopped ripe olives.  
This same mixture can be made into a mold that is delicious.  
Use the same eight ingredients, plus:
1 1/2 tablespoons gelatin
4 tablespoons water
1/2 cup chicken stock
Mix the chicken, celery, grapes, almonds, parsley, and salt.  Soak gelatin in the cold water for 5 minutes and dissolve in hot chicken stock.  When cold, add mayonnaise and whipped cream.  Stir until thick and fold in the chicken mixture.  Pack in individual molds or large ring.  Serve garnished with your favorites – artichoke hearts for instance. 
Poppy-Seed Dressing
"I would like to tell a story of dressing designed for fruits.  Where it originated I have no idea; I remember having it served to me in New York so many years ago I hate to recall.  Rumors extend hither and yon that I created it; I hasten to deny this, but I did popularize it when I realized that on the best grapefruit in the whole wide world (Texas grapefruit) it was the most delectable dressing imaginable.  Today there is hardly a restaurant or home in Texas that does not have some kind of poppy-seed dressing.  The recipe I use has been in demand to the point of being ludicrous and, strange as it may seem, the men like it – a few even put it on their potatoes.  So here it is!"
Ingredients
1 1/2 cups sugar
2 teaspoons dry mustard
2 teaspoons salt
2/3 cup vinegar
3 tablespoons onion juice
2 cups salad oil – but never olive oil (I use Wesson)
3 tablespoons poppy seeds
Method
Mix sugar, mustard, salt, and vinegar.  Add onion juice and stir it in thoroughly.  Add oil slowly, beating constantly, and continue to beat until thick.  Add poppy seeds and beat for a few minutes.  Store in a cool place or refrigerator, but not near the freezing coil. 
It is easier to make with an electric mixer or blender, using medium speed, but if your endurance is good, you may make it by hand with a rotary beater.  The onion juice is obtained by grating a large white onion on the fine side of a grater, or putting in an electric blender, then straining.  (Prepare to week in either case.)  If the dressing separates, pour off the clear part and start all over, add the poppy-seed mixture slowly, but it will not separate unless it becomes too cold or too hot.  It is delicious on fruit salads of any kind but has a special affinity for grapefruit, and in combinations where grapefruit is present.  One of my most popular buffet salad bowls at the Houston Country Club, where I was the manager, was finely shredded red cabbage, thinly sliced avocado, and haves of fresh grapes with poppy-seed dressing, but then as I said before, poppy-seed dressing fans like it on anything. 
Popovers
Helen Corbitt's Popovers is one of her most famous bread recipes.  With just 5 ingredients, this recipe is simple and a sure crowd pleaser!
Ingredients
1 cup sifted all-purpose flour
1/2 teaspoon salt
2 eggs
7/8 cup milk
1 tablespoon melted butter
Method
Mix the flour and salt.  Beat eggs until light, add milk and butter and add slowly to the flour.  Stir until well blended.  Beat 2 minutes with rotary beater if by hand, or 1 minute with an electric beater.  Heavily butter muffin tins or custard cups and put in the oven to get hot.  Fill the cups one third.  Bake 20 minutes at 450-degrees, then reduce heat to 350-degrees and bake 15 minutes more.  Don't peek!  Serve hot with marmalade.  
Dixie Pecan Pie
Selma Streit, who was the beloved Director of Scottish Rite Dormitory at the University of Texas, gave me my frist Southern recipe, for Pecan Pie. I have used it ever since.
Ingredients
3 eggs
2 tablespoons sugar
2 tablespoons flour
2 cups dark Karo
1 teaspoon vanilla extract
1/4 teaspoon salt
1 cup pecan meats
Method
Beat the eggs until light. Mix the sugar and flour. Add to the eggs and beat well. Add Karo, vanilla, salt, and pecans. Pour into uncooked pie shell and bake at 425-degrees for 10 minutes; reduce heat to 325-degrees and finish baking – about 45 minutes. 
Publisher: The Riverside Press Cambridge
Add a little RETRO to your Christmas…
The above items are available on Amazon.