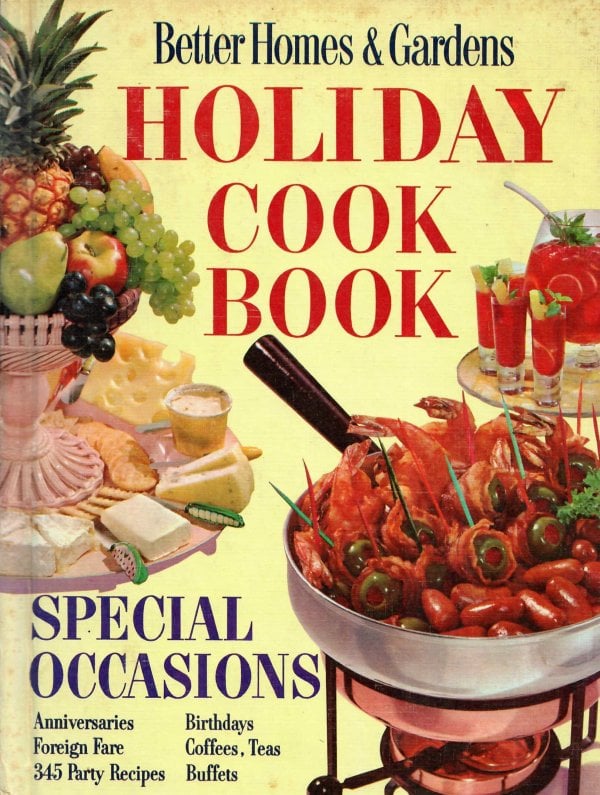 The Holiday Cookbook from Better Homes and Gardens was originally published in 1959, the cover image pictured here is from the 10th printing in 1970. The cookbook is divided into two major sections – Holidays and Special Days, and Special Occasions; each section is then divided into subsections along with recipes for dishes customarily prepared for the occasion. Each section begins with helpful hints and suggestions for the occasion or the main dish that the BH&G editors suggest be prepared for the event. 
Sections, Events & Recipes
Holidays and Special Days

New Year's Eve

Quick Dips
Appetizer Ham Ball
Rio Grande Dip
Parmesan Cheese Snack
Clam Cheese Dunk
Goobersnap
Curried Wheat Snacks
Scramble
Crisp Rye curls
Stuffed Edam
Stuffed Mushrooms
Sizzling Ripe Onions
Burger Canapes
Herbed Chips
Tomato Consomme
Brazilian Chocolate
French Chocolate
Hot Cranberry Punch
Holiday Eggnog
Eggnog
Pineapple Wassail
Hot Pineapple Cider
Sunshine Toddy

February Days

Valentine Cake
Strawberry Hearts
Frozen Valentine Rounds
Gelatin Heart Cutouts
Pink Meringue Hearts
Washington Pie
Glaze and Chocolate Spiral Trim
Cherry Chocolate Cookies
Chocolate Chiffon Pie
Red Cherry Pie
Plain Pastry
Lincoln Log
Chocolate Glaze

St. Patrick's Days

Tomato Refresher
Cheese Straws
Corned-beef Dinner, Irish Style
Perfect Apple Pie
Emerald Isle Dessert Cups

Easter

Spring Salad Bowl
Parsleyed New Potatoes
Cloverleaf Rolls
Easter Basket Desserts
Easter Bonnets
Lemonade Angel Dessert
Strawberry Shortcake
Perky Platter Trims
Eggs in Toast Cups
Toast Blintzes
Oven Bacon
Pink Cereal
Jiffy Hot Cross Buns
Hot Cross Buns
Blueberry Breakfast Bread
Easter Braid
Sugar Glaze
Hopping Bunnies
Pineapple Turnover Biscuits

Halloween

Gingersnaps
Caramel Apples
Hot Mulled Cider
Gingerbread Boys
Gingerbread
Sugared Nuts
Spice Layer Cake
Brown-Sugar Frosting
Lollipop Clowns
Popcorn Owls or Spooky Cats
Goblin Frosties
Little Ghosties
Peanut Pumpkins

Thanksgiving

Foil-wrapped Roast Turkey
Roast Stuffed Turkey
Frozen Stuffed Turkey
Herb Stuffing
Oven-fried Turkey
Roast Chicken
Roast Rock Cornish Game Hens
Giblet Gravy
Mushroom Wild Rice
Browned Rice
Apple-Pineapple Slaw
Cranberry Ring
Hot Tomato Starter
Harvest Fruit Cup
Shrimp Cocktail
Speedy Shrimp Dip
Cranberry Sauce
Orange-glazed Sweet Potatoes
Creamed Onions
Pickled Beets and Onion Rings
Butternut Squash with Parmesan
Celery Oriental
Peas and Tiny Onions
Corn Bread
Pumpkin Pie
Country-Kitchen Mince Pie
Cranberry Mince Pie
Pumpkin Chiffon Tarts
Cheesecake Mince Tarts
Date-Orange Dessert
Cranberry Steamed Pudding
Hard Sauce
Orange Hard Sauce
Pilgram Hats

Christmas

Springerle
Cooky Tarts (Sandbakeleser)
Rainbow Wreaths (Berliner Kranser)
Bowknots (Fattigmann)
Rosette Cookies
Spitz
Krumkaka
Sweedish Ginger Cookies (Pepparkakor)
Noel Fruit Cookies (Lebkuchen)
Gumdrop Cookies
Sugar Cookies
Coconut Balls
Holly Hermits
Old-time Fudge
Rocky Road
Remarkable Fudge
Panocha
Toffee butter Crunch
Stuffed Dates
Divinity
Creole Pralines
Noel Brazil Loaves
Fruitcake-ettes
Fruitcake Balls
Pineapple Glaze for Fruitcake
White Fruitcake
Dark Fruitcake
Ring Fruitcake
Tutti-frutti Ring
German Stollen
French Raisin Bread
Orange Bubble Loaf
Snowball Loaf
Holiday Duckling
Orange Stuffing for Duck
Party Sweet Potatoes
Kumquat Posies
French Onion Soup
Almond Green Beans
Merrie Roast of Beef
Onion Mums
Roast Potatoes
French-fried Onion Rings
Easy Hollandaise
Pink-Grapefruit Refresher
Honey Dressing
Gala Fruit Wreath
Frosted Grapes
Cinnamon Apple Cups
Tomato-Aspic Ring
Fluffy Mayonnaise
Italian Mix Dressing
Waldorf Salad
Salad Apple Ring
Red-cabbage Toss
Rosy Fruit-cocktail Slices
Cranberry-relish Mold
Yuletide Mold
Stuffed Cinnamon Apples
Sour-cream Dressing
Noel Eggnog Pie
Golden Coconut Shell
Frozen Christmas Pudding
Cherry Candle Cake
Mincemeat Ice-cream Cake
Jack Frost Dessert
Date Bars
To-each-his-own Alaska
Chocolate Torte Royale
Twin Cream Fillings
Cocktail Pie

Special Occasions

Foreign Fare

Oriental Style Supper

Egg Rolls and Fried Shrimp
Sweet-sour Shrimp Sauce
Red Mustard Sauce
Speedy Chicken Chow Mein
Chinese Fried Rice
Oriental Salad
Mandarin Orange Dessert
Coconut Macaroons
Sukiyaki
Chawan-Mushi (Custard Soup)

Sweedish Smorgasboard

Swedish Relishes
Herring Salad (Sillsallad)
Stuffed Celery
Swedish Meat Balls (Kottbullar)
Brown Beans (Bruna Bonor)
Decorated Chilled Ham
Red-and-white Salad
Swedish Pancakes
Lingonberry Sauce
 

Tempting Buffets from India and Mexico

Mexican Fried Rice
Cheese Enchiladas
Guacamole
Chiles Rellenos
Tomato Sauce
Quick Chili Supper
Shrimp Curry
Yellow Rice

Hot Italian Suppers

Lasagne
Antipasto Tray
Italian Green Salad
Italian Spaghetti and Meat Balls
Pizza
Speedy Pizza
Italian Long Loaf

Polynesian Hospitality

Water Chestnuts with Chicken Livers
Chinese Peas with Water Chestnuts
Beach Boy Punch
Oahu Spice Dressing 
Island Spareribs
Kona Chicken in a Coconut
Trader Vic's Susu Curry Sauce
Baked Bananas
Batter-fried Shrimp
Barbecued Shrimp
Chinese Mustard
Red Sauce
Sweet and Sour Sauce

Casual Buffets, American Style

Fruit-soup Dessert
Shrimp Pinwheel Casserole
Pinwheel Biscuits
Tossed Green Salad
Chicken in Jiffy Tomato Sauce
Refrigerator Cheese Pie
Baked Beans for a Crowd
Parsleyed French Slices
Easy Chocolate Eclairs
Beef Stroganoff
Ambrosia Molds
Pink Confetti Pie

Birthdays and Anniversaries

Candyland Cake
Snowy 7-minute Frosting
Candy-peanut Rocket Cake
Chocolate Frosting
Off-to-the-moon Cake
Ship Ahoy Cake
Merry-go-round Cake
Speedy Ornamental Frosting
Mint-balloon Cake
Gumdrop-rose Cake
Tower Parfait
Rainbow Meringue Torte
Strawberry Swizzle
Chocolate Soda
Banana Splits
Minted Pineapple Sauce
Chocolate Marble SAuce
Jiffy Caramel Sauce
Neiman-Marcus Fresh Flowerpot
Big-top Strawberry Sundae
Ice-cream Clown
Ice-cream Lollipops
Anniversary Cake
Water-cress Roll-ups
Nut-bread Crescents
Wedding Bells
Golden Wedding Rings
Coconut Ice-cream Balls
Pink Punch
Frosty Golden Punch

Coffee, Tea, and Punch Parties

Coffee Brazilian
Cardamon Coffee
Cafe-au-lait
Turkish Coffee
Iced Coffee
Black-bottom Cooler
Coffee Angel Torte
Company Cheese Cake
Glitter Torte
Candy-confetti Torte
Almond-brittle Topping
Black-bottom Pie
Spicy Marble Coffeecake
Danish Kringle
Puff Pastry
Napoleons
Cream Filling
Confectioners' Glaze
Chocolate Glaze
Red Devil's Food Cake
Fudge Velvet Frosting
French Pastries
Frech Pastry Frosting
Perfect Hot Tea
Hurry-up Hot Tea
Tea for a Crowd
Hot Spiced Tea
Shrimp Bowl
Fresh-cooked Shrimp
Louis Dressing
Herb Pan Rolls
Iced Tea
Pecan Tassies
Brownies
Petits Fours
Petits Fours Icing
Banana-nut Bread
Pastry Star Tarts
Chocolate Crinkles
Polka-dot Macaroons
Frosted Molasses Creams
Stuffed-date Drops
Golden Frosting
Canapes
Hors d'oeuvres
Hawaiian Fruit Punch
Cranberry Sparkle
Rosy Punch
Raspberry Ade
Orange-blossom Cooler
Double-orange Fizz
Golden Banquet Punch
Old-fashioned Lemonade
Lime Luscious Sodas
Canape Flowerpots
Carrot-Olive Bars
Frosted Sandwich Loaf
Sandwich Loaf, Sliced-bread Style
 

Table Setting Tips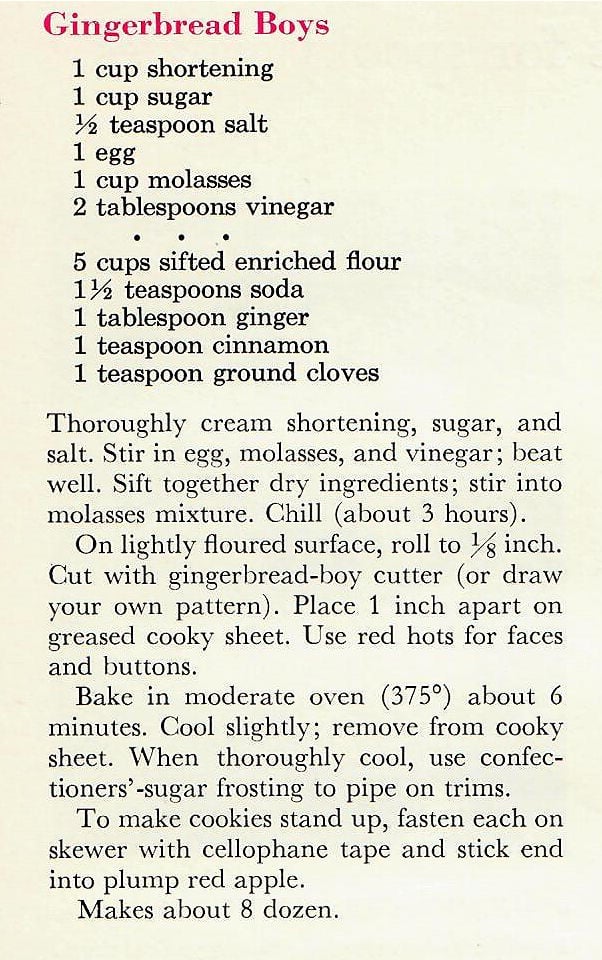 Ingredients
1 cup shortening
1 cup sugar
1/2 teaspoon salt
1 egg
1 cup molasses
2 tablespoon vinegar
5 cups sifted enriched flour
1 1/2 teaspoon soda
1 tablespoon ginger
1 teaspoon cinnamon
1 teaspoon ground cloves
Method
Thoroughly cream shortening, sugar, and salt. Stir in egg, molasses, and vinegar; beat well. Sift together dry ingredients; stir into molasses mixture. Chill (about 3 hours).
On a highly floured surface, roll to 1/8 inch. Cut with gingerbread-boy cutter (or draw your own pattern). Place 1 inch apart on a greased cooky sheet. Use red hots for faces and buttons. 
Bake in a moderate oven (375-degrees) for about 6 minutes. Cool slightly; remove from cooky sheet. When thoroughly cool, use confectioners'-sugar frost to pipe on trims. 
To make cookies stand up, fasten each on skewer with cellophane tape and stick end into a plump red apple. 
Makes about 8 dozen.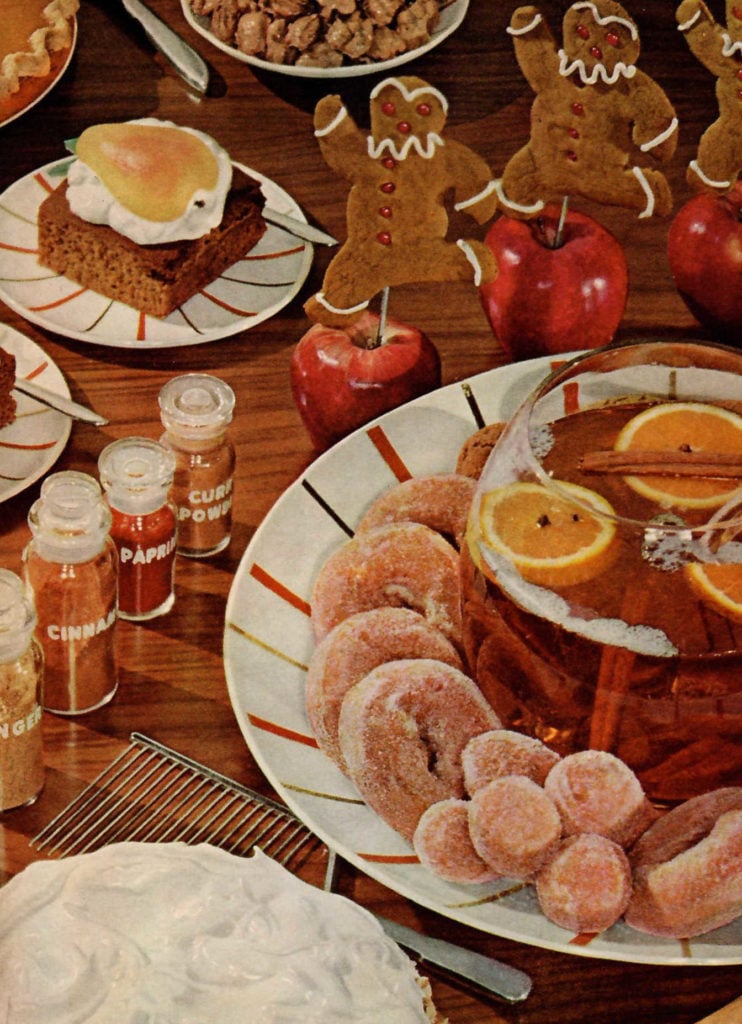 Add a little RETRO to your kitchen…
The above items are available on Amazon.