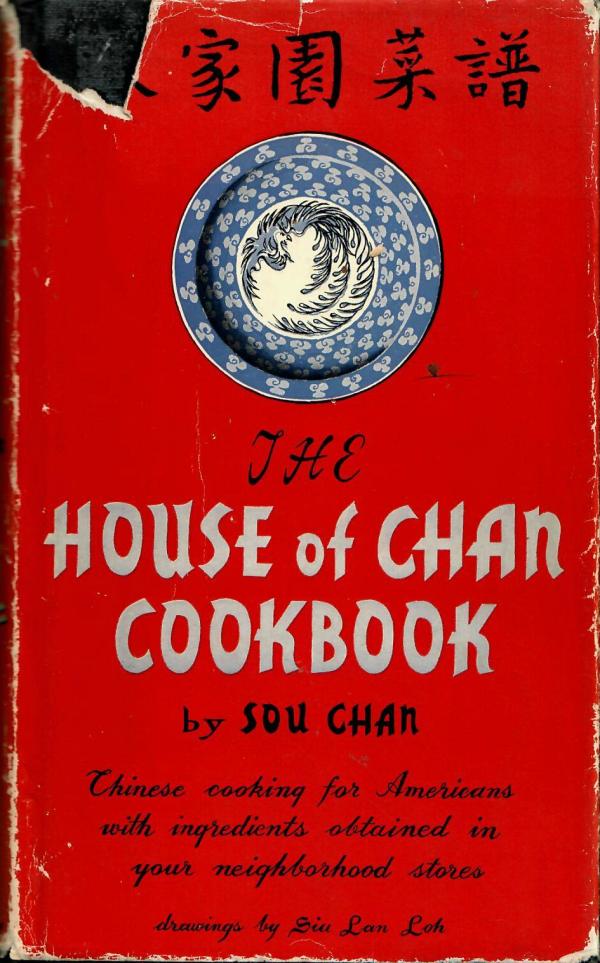 Chinese cooking for Americans with ingredients obtained in your neighborhood stores
This is a cookbook written by Sou Chan and published by Doubleday and Company in 1952.   In Chan's introduction to the book, he states that he arrived in America – Seattle, Washington in 1928 and "all my aim was in hoping someday I can run a restaurant of my own somewhere in this country".  Well run a restaurant he did, and somewhere it was — Chan opened an ran the House of Chan in 1938 at the corner of Seventh Avenue and 52nd Street in New York; just blocks away from Time Square, Radio City Music Hall, and Carnegie Hall.  
Chan's objective in writing this cookbook is to allow his friends and customers to enjoy a traditional Chinese meal at home.  Chan says that the most popular Chinese meals are adapted from family recipes and they can be replicated in American using ingredients found at most grocery stores.  Chan ends his opening remarks with "please accept my deepest hope you will get a great enjoyment out of this cookbook."
Contents include:
Introduction
Rice – First Things come First

Cantonese rice cookery methods
Chicken Fried Rice
Shrimp Fried Rice
Subgum Fried Rice

Tea – All Through the Meal

Sou Chan's favorite tea
The secret of Chinese tea flavor

Appetizers

Barbecued Spareribs
Butterfly Shrimp
Deep-Fried Chicken Livers
Egg Rolls
Savory Chicken Wings

Soups

Beef and Watercress Soup
Chicken Soup Yatka Mein
Corn Chowder with Crushed Chicken
Souffle Crab Soup

Fish and Shellfish

Flounder in Savory Sauce
Friendly Get-Together Supper
Crab Meat with Eggs
Fresh Crabs, Cantonese Style
Barbecued Shrimp
Sweet-and-Sour Shrimp

Poultry

Chicken Roasted in Salt
Chicken with Almonds
Crisp Skin Chicken
Roast Duck Chinese Style
Rive Savories Squab

Meat Recipes

Beef Curry with Onions
Beef with Ginger
Chinese Beef Stew
Baked Pork with Celery Cabbage
Sweet and Pungent Port

Egg Recipes

Eggs and Crab meat Saute
Egg Foo Young
Eggs and Shrimp Saute
Steamed Eggs and Fish

Chow Mein

Chicken Chow Mein
Chow Mein with Almonds
Shrimp Chow Mein
Chow Mein with Pineapple
Beef and Tomato Lo Mein

Chop Suey

Beef Chop Suey
Shrimp Chop Suey
Pork Subgum Chop Suey
Veal Subgum Chop Suey

Vegetables

Bok Choy
Broccoli Saute
Chinese Celery Cabbage with Shrimp
Sauteed Watercress with Port
String Beans and Eggs

Sauces

Hot Mustard Sauce
Oyster Sauce
Plum or "Duck" Sauce

Desserts and Sweets

Almond Cookies
Chestnut Balls
Chinese Peanut Candy
Gingered Pears
Preserved Kumquats

Menus

Table settings and Chinese meal planning
Luncheon, Dinner and party menus

Substitutes

Where to find unusual foods
How to use foods available in every grocery store
Publisher: Doubleday and Company
Add a little RETRO to your Christmas…
The above items are available on Amazon.