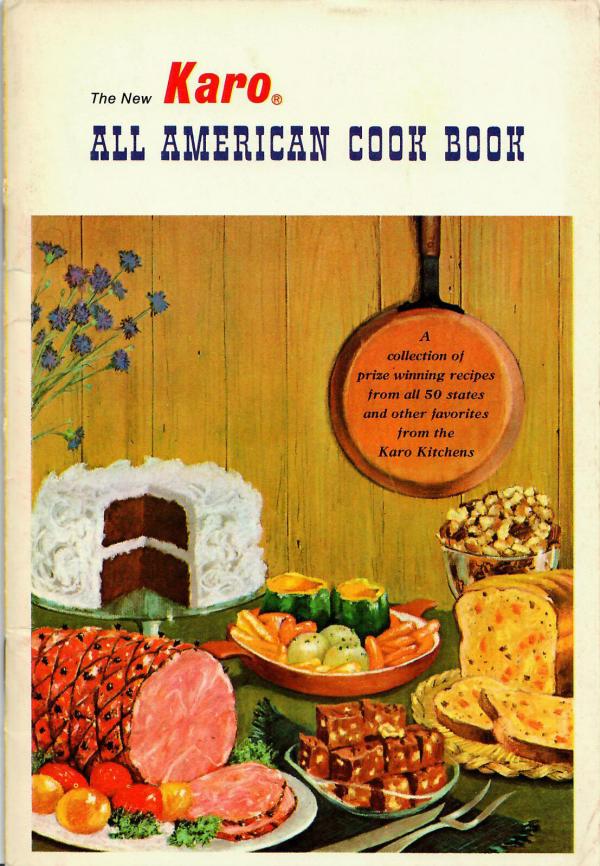 A collection of prize-winning recipes from all 50 states and other favorites from the Karo Kitchens
The New KARO All-American Cookbook is a promotional cookbook consisting of recipes using KARO syrup as an ingredient.   50 of the 86 recipes included in the cookbook have been selected from winners from the company's "Cooking with Karo" contest.  The contest had over 40,000 entries, and the top 50, one from each state, was selected to be featured in the cookbook.  The editors added additional recipes to round out the collection. 
Interesting state entries include:
Coconut Island Chicken – Hawaii
Maple Nut Pizza – California
Orange Divinity Frozen Dessert – Florida
Fruit Bars Alaska – Alaska
Apple and Spice Spareribs – Iowa
The cookbook is divided into six sections:
Main Dishes
Salads and Vegetables
Breads and Pancakes
Desserts

Cakes
Cookies
Desserts (General)
Frostings and Toppings
Pies
Sauces

Candies
Favorite Christmas Recipes
Featured recipes from the Karo Kitchen editors are:
De Luxe Pecan Pie
De Luxe Butterscotch Sauce
"No-Cook" Fondant
Divinity
The Karo editors say the "we think you'll find that Karo imparts a uniquely delicious quality to foods.  It perks up the flavor of meats and vegetables.  Karo adds texture to main dish casseroles.  It helps ingredients blend better.  Karo makes superb glazes for meats, vegetables, and barbecue sauces, and nothing beat Karo syrup in candies, cookies, and icings".  Sounds like a little Karo will solve all the world's problems!
Publisher: Karo, Best Foods