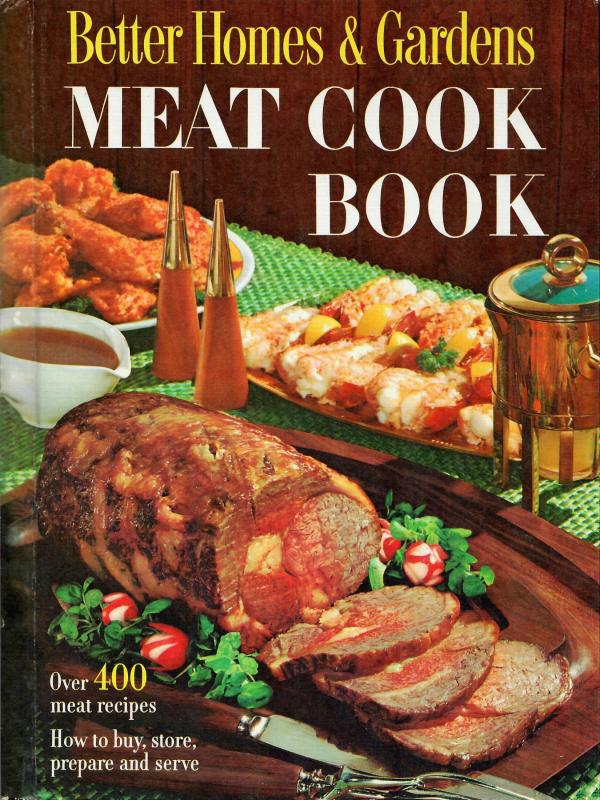 The Better Homes & Gardens Meat Cook Book contains over 400 meat recipes, along with guides on how to buy, store, prepare and serve various meats.  The Meat Cook Book is number 13 in the Better Homes & Gardens cookbook series. 
Originally published in 1959, then reprinted in 1962, 1965, and 1968, pictured above is the 1965 edition or ninth printing.  The cover was changed in the late sixties to the image of the"Beef Rib Supreme" below; this image is the cover for the 1969 and 1972 editions that I have:
Contents of the 1965 edition include:
Buying and storing meat
Meat cookery
Beef
Pork
Lamb
Veal
Variety meats
Ground meats
Frankfurters
Sausage
Canned meats
Poultry
Fish and seafood
Game
Appetizers and snacks
Casseroles and one-dish meals
Salads
Sandwiches
Sauces
Freezer
Barbecues


The 1969 and 1972 editions appear to be the same, but these editions are a little different than the earlier editions.  Most of the recipes are the same, although a few are added and deleted in the sections that I reviewed. The images of completed dishes along with the demonstration images have been updated in the new edition. With the new edition, the cookbook was reorganized, and the sections included in the updated edition are:
Meat Makes the Meal

All-American Beef
Flavorful, young, tender veal
Palate tempting pork
Ham for all occasions
Lamb puts spring into mealtime
Ever-popular ground meat served plain or fancy
Variety meats to select
Add quick-cooking fish and seafood to the menu
New ways with poultry
Carving is the difference
Brighten the budget with careful buying and storing

Meals Made With Ease

Spark mealtime with sausages and frankfurters
Meats ready to server
Color menus with planned-overs

Salads and Sandwiches

Imagination makes for savory sandwiches
Plan a meal around hearty salads

Food Fun With Action-Meals

Clambake for everyone
Barbecue is hot coals and sizzling juices
Fish fry over a blazing campfire
Chuckwagon full of western favorites
American-style luau
Evening appetizer buffet
Here are a few recipes that are included in the Meat Cook Book. 
Twin Meal Loaves
Ingredients
1 pound ground beef
1/2 pound ground pork
1/2 pound ground veal
1/3 cup chopped onion
3 tablespoons finely chopped celery
Seasonings (below)
4 slices soft bread, cubed
1 cup warm milk
2 eggs
Chili Topper
Method
Thoroughly mix beef, pork, and veal. Add chopped onion and celery. Stir in seasonings: 2 teaspoons salt, 1/2 teaspoon poultry seasoning or sage, 1/2 teaspoon dry mustard, 1/4 teaspoon pepper, and 1 tablespoon Worcestershire sauce. 
Soak cubed bread in milk; add eggs; beat with rotary beater. combine meat and egg mixtures. Form in 2 loaves. Chili Topper: Roll loaves in 1/2 cup fine dry bread crumbs. Place in greased shallow baking pan. Spread 1/4 cup chili sauce over each loaf. Pour 1/2 cup boiling water around loaves. Bake in moderate oven (350-degrees) 1 hour. Drizzle chili sauce over tops. 
Makes 8 to 10 servings. 
Rolled Rib Roast of Beef
Select boned and rolled rib roast. Place fat side up on a rack in shallow roasting pan; season with salt and pepper. Insert meat thermometer into center of roast. Do not add water. Roast uncovered in slow oven (325-degrees) to the desired doneness. Allow 30 to 32 minutes per pound for rare; 34 to 37 minutes per pound for medium; and 39 to 42 minutes per pound for well-done.  A meat thermometer will read 140-degrees for rare; 160-degrees for medium; and 170-degrees for well-done. 
Let roast stand 15 minutes to firm before carving. Three to 4 servings per pound.