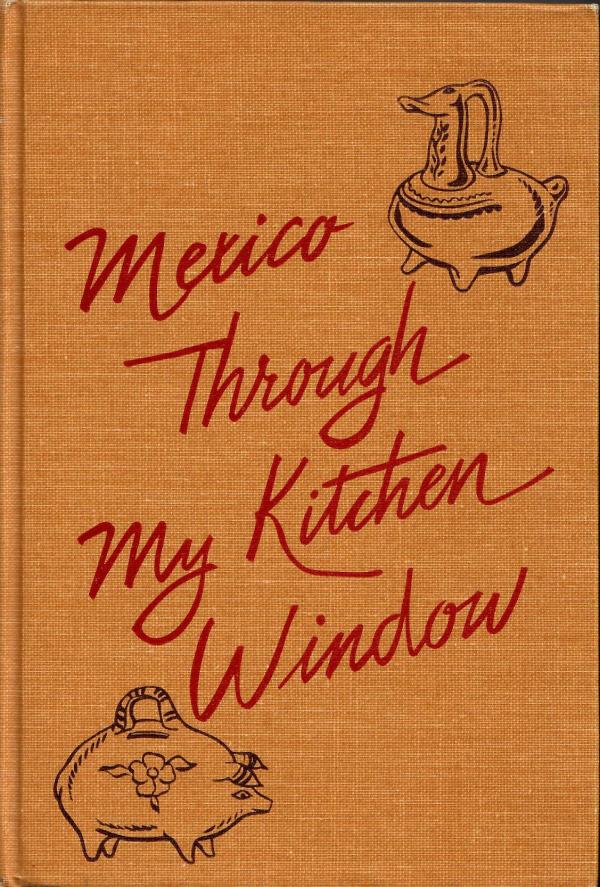 Mexico Through My Kitchen Window was written by Maria A. De Carbia along with Helen Corbitt as editor and tester in 1961.  Hellen Corbitt, the quintessential Texas cookery expert, and author of Helen Corbitt's Cookbook lends her cooking and cookbook composition knowledge to De Carbia, even writing her own section of the cookbook entitled "Typically Texan Mexican Recipes".   Maria A. De Carbia is a native of Mexico City and studied home economics in both the United States and Mexico.  
Helen Corbit states in the preface that she takes a "hands-off" approach when editing De Carbia's recipes for the American audience, admitting that the flavor combinations that she thinks may be unacceptable to her palate.  These thoughts about the flavor combination turn out to be untrue, and she admits that many times she goes back for a second taste. 
In the first section of the cookbook, Some Facts About Food In Mexico, De Carbia give a short narrative about some of the staples of Mexican Cookery –
Fresh Chilies

Chilie Serrano
Chile Cuaresmeno (Chili for Lent)
Chili Poblano

Dried Chilies

Pasilla Chile
Chile Ancho
Chile Mulato
Chipotle

Canned Chilies

Serranos en escabeche
Chiles largos en escabeche
Chipotles en vinagre
Poblanos
Mole

Beans

Black
Yellow – Canario
Brown – Bayos
Red, purple, and white

Corn
Sections of the cookbook include:
Some facts about food in Mexico
Tortillas
Appetizers
Soups
Sauces
Rice
Eggs
Fish
Meats
Poultry
Vegetables
Salads
Desserts
Pastry and Cakes
Mexican Festivals
Typically Texan Mexican Recipes (submitted by Helen Corbitt)
Tortillas – Basic Recipe
Ingredients
1/2 cup white cornmeal
1/2 teaspoon salt
1/2 cup milk
2 tablespoons cooking oil
3 eggs
Method
Mix all ingredients.
Grease and heat a small frying pan and place in it one tablespoon of the mixture, running it well so as to form a round pancake. When done on one side, turn. Keep hot and soft on a platter over hot water. They can be eaten as tortillas or used in tacos, enchiladas, etc. 
For 16 tortillas. 
Tomato and Chicken Enchiladas
Enchiladas de Tomate Rojo
Ingredients
Tortillas, basic recipe
1 package processed cheese
1 avocado
1 onion
1 cup shredded, cooked chicken
Sauce
Cooking fat
2 tablespoons minced onion
1 clove minced garlic (optional)
2 1/2 cups tomato sauce
1 tablespoon chili sauce or powder
1 tablespoon minced parsley
Salt to taste
Method
Melt fat, fry onion, and garlic; when soft add tomato sauce, chili and parsley. Season well with salt and cook gently until thick. 
Have a hot platter ready. Take each pancake and dip it in sauce, fill with some shredded chicken, and roll. Place on platter. After rolls are on the platter, pour the rest of the sauce over them. Keep warm in the oven until ready to serve (although it is advisable to make them as close to serving time as possible). Garnish with crumbled processed cheese, avocado slices, and onion rings. Instead of the chicken, any leftover meat may be used. Provolone cheese can be used instead of processed cheese. 
Serving for 8, allowing 2 tortillas per person. 
Helen Corbitt's Tamale Pie
Ingredients
2 cups yellow cornmeal
6 cups boiling water
1 teaspoon salt
1 pound ground meat (beef or any)
2 onions, chopped fine
1 clove garlic
Chicken fat or oil
1 teaspoon salt
2 tablespoons chili powder
Pinch red pepper
2 cups canned tomatoes, mashed
Method
Cornmeal Mush – Stir meal in boiling water (salted) until it begins to thicken. Cook slowly for 30 minutes. 
Fry the meat, onions, and garlic until golden brown in chicken fat or oil. Add dry ingredients and tomatoes and juice. Cook slowly for 1 hour. Line a greased pan with half of the cornmeal mush, pour meat sauce on mush, then cover with mush. 
Bake in the oven for 1 hour at 350-degrees. Serves 4 or 6. 
Author: Maria A. De Carbia, edited by Helen Corbitt
Publisher: Houghton MIfflin Company
Add a little RETRO to your Christmas…
The above items are available on Amazon.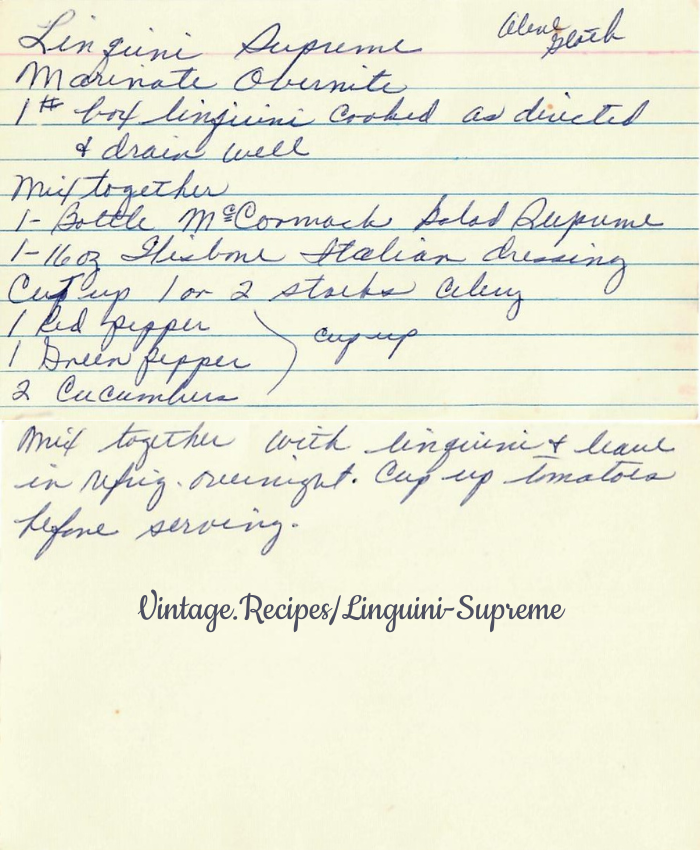 Jorgensen
A vintage recipe card for a Linguini Supreme, made with linguini, Salad Supreme, Italian Dressing, celery, red pepper, green pepper, cucumbers, and tomatoes.
Read More »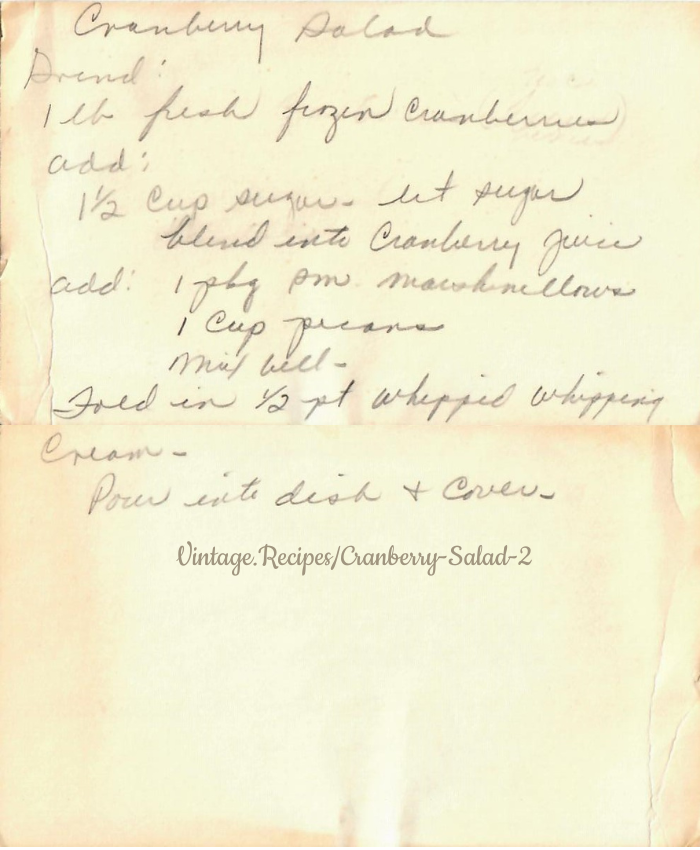 Jorgensen
A vintage recipe card for a Cranberry Salad made with fresh or frozen cranberries, sugar, miniature marshmallows, pecans, and whipped cream.
Read More »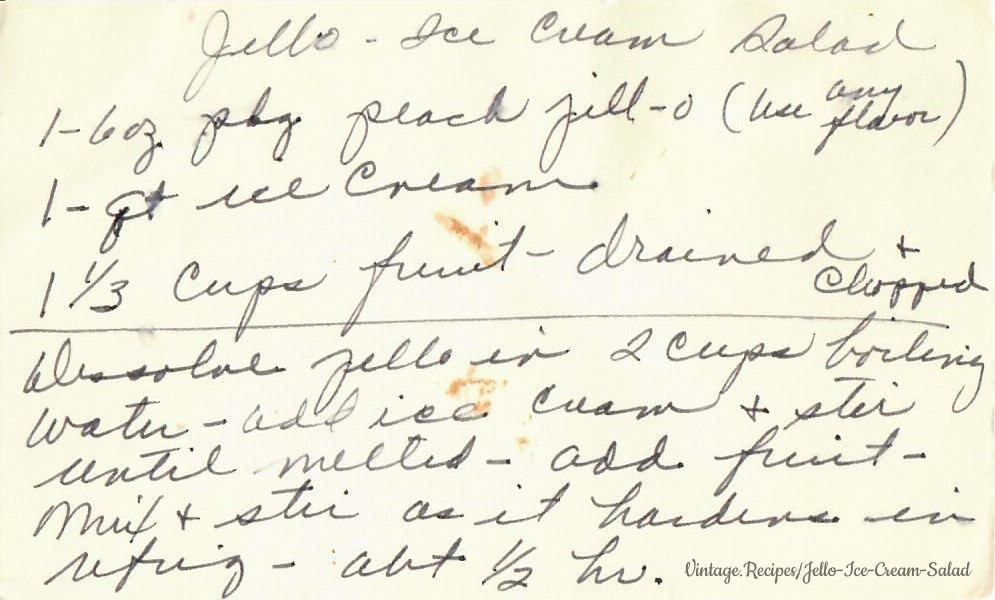 Jorgensen
A vintage handwritten recipe card for a Jell-O Ice Cream Salad, make this recipe with Jell-O, ice cream, and chopped fruit. This recipe is great with peaches.
Read More »