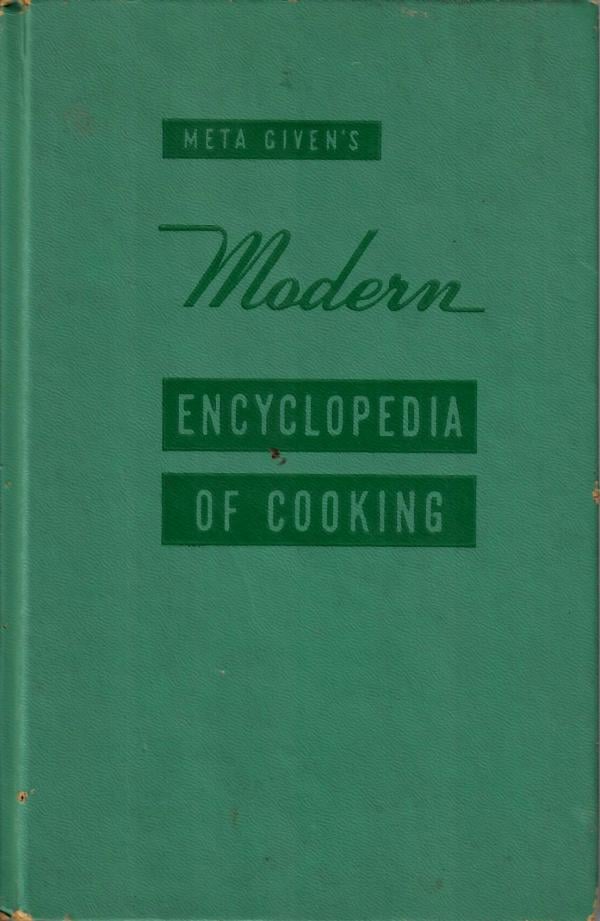 This is the two-volume set written by Meta Given. Unfortunately, I was only able to find volume one. The volume that I have is the New Revised Edition, published in 1955 from the original publishing in 1947. The first part of volume one covers an array of topics such as The Family Hostess' Creed, The Meal Planner's Creed, The Food Shopper's Creed, and the Homemaker's Handbook. After Meta finishes with the nuts and bolts of running a household in 1955, then the recipes begin. Volume one covers A-Fish. So included in the first volume are
Appetizers
Beverages
Breads
Cake
Candy
Cereals
Cheese
Cookies
Croquettes
Desserts
Eggs
Fish
The book is quite detailed and interesting; even giving a suggested daily menu (three meals a day), for the entire week, for each month of the year. The set self-proclaims that it is "A modern cookbook, complete in every detail, brings the latest developments in home economics into your kitchen for a simpler, better and richer life". I just love "The Cook's Creed":
Maintaining the health of my family depends in a large measure on the food I serve; therefore –
I will take care to prepare and cook all foods in a way to preserve a maximum of their nutrients.
My family's enjoyment of food is in my care; therefore –
I will prepare and serve all foods as appealing to the eye and palate as I can.
Stretching the food dollar is part of my responsibility; therefore –
I will take such care of foods that none will spoil. I will use left-overs with thought and skill.
Well-prepared foods and appetizing meals are creative achievements; therefore –
I shall enjoy doing that important work well.
Good food is the inalienable right of all who work; therefore –
I shall bring food to the table that satisfies and pleases my family.
– From Meta Given's Modern Encyclopedia of Cooking, Page 171
[view:volume_link=block_7]