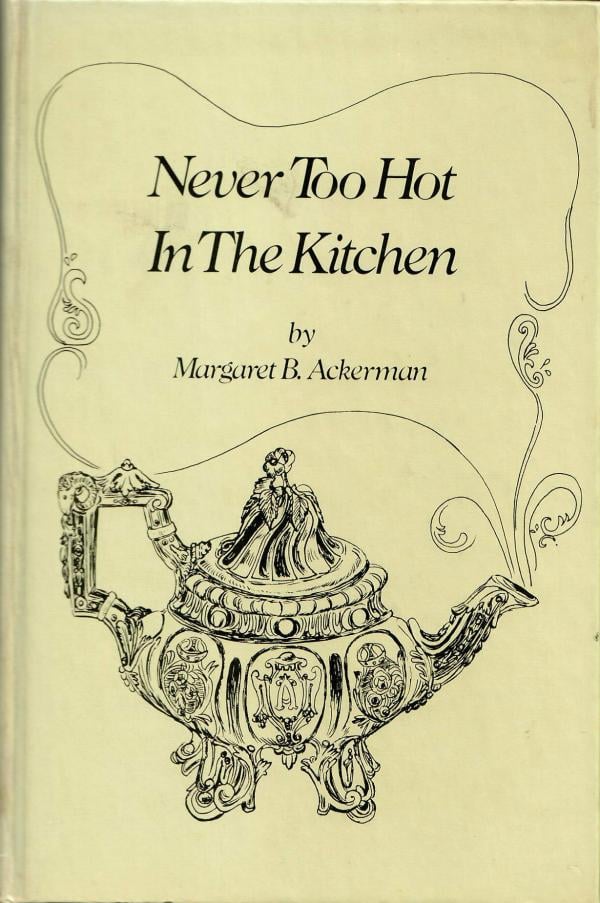 The author, Margaret Ackerman, taught eighth grade home economics in the Dallas, Texas area for thirty-two years.  After years of requests and urging from former students and friends, she opened her files of recipes she had collected for years and complied Never Too Hot In The Kitchen.  In the cookbook, Mrs. Ackerman not only shares recipes that she has gathered for years, she also shares menus and cooking suggestions.  
Included with my copy, on the inside cover, is a personalized inscription to Sally Homes from Margaret Ackerman. 
Sections of the cookbook include:
Introduction
Recipes are necessary
Appetizers
Soups 
Beverages
Breads
Meats – beef, lamb, liver, pork, poultry, and seafood
Cheese
Salads
Salad dressings
Vegetables
Desserts

Cakes
Cake icings
Creme Fraiche
Chocolate curls
Crepes
Custards
Frozen
Pies
Souffles
Tortes

Candy
Cookies
Accessories – relishes, pickles, preserves, conserves, fritters, and yogurt
Menus
Christmas potpourri
If you don't know
The recipes in the cookbook all seem to be fairly simple and well written, no doubt from 32 years of teaching 8 graders!  The first publication, which the cover image above is an example of was limited to 2,000 copies; there is a revised edition that was published in 1986 available also. 
Publisher: Taylor Publishing; Dallas, TX