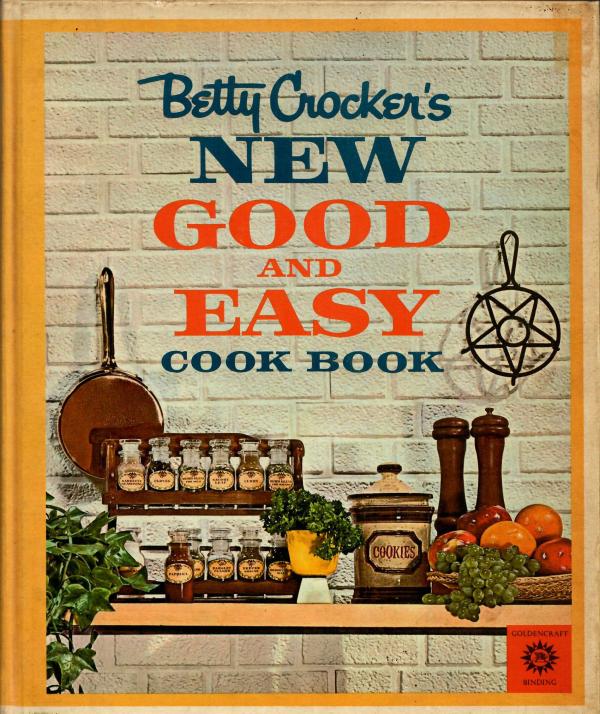 The original Betty Crocker's Good and Easy Cookbook was published in 1954 and was touted as "an entirely new kind of cookbook, to help homemakers speed up their cooking by using convenience foods". In 1962 Betty Crocker enlarged the original cookbook and published the NEW Good and Easy Cookbook, to bring the cookbook "up to the minute with the newest products and preparation methods". The original 1954 cookbook was reprinted in 2017, and available from Azazon.
The cookbook book is divided into four sections, "because we knew that you plan your cooking in terms of meals." The cookbook is divided into four sections Breakfast, Lunch, Dinner and "Fourth Meal", for those between-meal snacks. Wait a minute, I thought Taco Bell created the "Fourth Meal"!
Each category is broken down into sub-sections, and within the sub-sections, there are menu suggestions, sometimes accompanied by a photograph of the prepared menu.
Breakfast

Fruits and Juices
Cereals
Eggs
Pancakes and Waffles
Biscuits, Muffins, and Coffee Cakes
Coffee
Entertaining

Lunch

Soup
Sandwiches
Main Dishes
Salads
Breads
Fruit Desserts and Cookies
Meals-in-a-Box

Dinner

Appetizers
Meats and Fish
Stuffings, Gravies, and Sauces
Vegetables
Salads
Breads
Main Dishes
Cookies, Cakes, and Pies
Barbecues

Fourth Meal

Coffe Get-togethers
Dessert Parties
Open House
Birthday parties
Midnight Suppers
Stand-up Parties
Candies
Party Beverages
Treats for Tots and Teens
An example of menus include the following:
Favorite Fall Brunch

Autumn Fruit Cup – diced apple and melon balls
Soft-cooked Eggs
Pork Sausage Links
Caramel Buns

Man's Stick-to-the-Ribs Lunch

Cream of Chicken Soup
Two Corned Beef-Swiss Cheese Sandwiches
Assorted Relishes
Cherry Pie
Orange, Apple

So Easy, So Good Dinner

Marie's Boiled Meat Balls
Mashed Potatoes
Succotash
Old-fashioned Cabbage Slaw
Fresh Berry Pie

Perfect for a Cold Night Dinner

Creamed Ground Beef on Baked Potatoes
Buttered Peas and Carrots
Beet Salad
Peach Pie

Mother's Birthday Dinner

Hamburger Stroganoff on Buttered Noodles
Broccoli with Chopped Almonds
Raspberry Gelatin Salad with Peaches
Biscuits, Butter
Daisy Cake
The original owner of the cookbook highlighted three recipes on the back page – Sandwich Spread, Chicken ala King, and Lemon Sauce, so I will include those recipes for you.
Sandwich Spread – Chicken, Crabmeat, or Tuna
Ingredients
1 cup diced cooked chicken, or 1 can (6 1/2 ounces) crabmeat or tuna, flaked
1/2 cup finely chopped celery
1 12/ teaspoon lemon juice
Salt and pepper to taste
1 or 2 hard-cooked eggs, chopped
1/4 cup mayonnaise
Method
Combine all ingredients lightly. Spread on buttered bread or toast (cut in fancy shapes). Garnish with pimiento or top with another slice of bread or toast for a double sandwich.
Chicken A La King
Ingredients
1/3 cup mushrooms (2-oz can)
1/4 cup chopped green pepper
1/4 cup butter
1/4 cup Gold Medal Flour
1/2 teaspoon salt
1/8 teaspoon pepper
1 cup chicken broth
1 cup cream (20% butterfat)
1 cup diced cooked chicken
1/4 cup chopped pimiento
Method
Saute mushrooms and green peppers in butter. Blend in flour and seasonings. Cook over low heat, stirring until mixture is smooth and bubbly. Remove from heat. Slowly stir in broth and cream. Bring to boil over low heat, stirring constantly. Boil 1 minute. add chicken and pimiento. Continue cooking until meat is heated through. Serve hot in patty shells, pastry cases, biscuit rings, or timbale cases; or over toast points, noodles or fluffy rice.
4 servings.
Vanilla, Lemon or Nutmeg Sauce
Ingredients
1 cup sugar
2 tablespoons cornstarch
2 cups boiling water
1/4 cup butter
2 teaspoons vanilla, or 2 tablespoons lemon juice with 2 tablespoons grated lemon rind or 2 teaspoons nutmeg
Method
Mix sugar and cornstarch in saucepan. Gradually stir in water. Boil 1 minute, stirring constantly. Stir in butter and flavoring.
Serve hot over warm white or yellow cake. Makes 2 cups.
[view:volume_link=block_4]