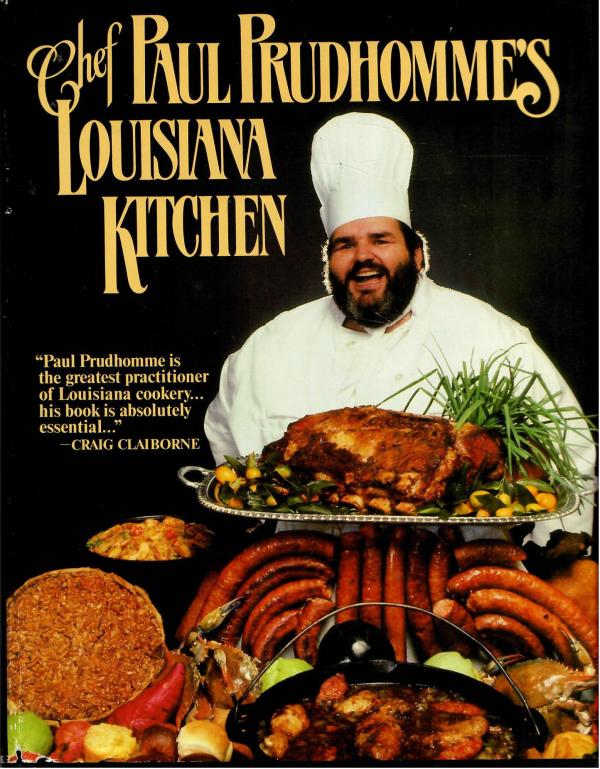 Chef Paul Prudhomme's Louisiana Kitchen is the cookbook that started the Cajun and Creole cooking frenzy in the 1980s.  Sure Justin Wilson, "The Cooking Cajun," was sharing his recipes on Public Broadcasting System. Still, Chef Paul Prudhomme took Cajun and Creole cooking to the next level, where it became respected and enjoyed by chefs across America.  
Prudhomme raised in a Cajun household in Opelousas, Louisiana, the youngest of thirteen children.  Prudhomme's love of cooking came early in life as has given the task of helping his mother in the kitchen after his youngest sister married.  Prudhomme explains the difference between Cajun and Creole cooking.  The Cajun culture came from the French-Acadians that settled in Louisiana and adapted their native recipes with local ingredients – bay leaves, file' powder, and a wide variety of peppers that grow in the Louisiana sub-tropical climate. Creole cooking, while similar to Cajun, originated in New Orleans as a mix of French, Spanish, Italian, American Indian, and African cuisine.  In New Orleans, the highest-paid house-servant was the cook.  Over time, as cooks moved from household to household and control of the territory changed from one country to another, the cooks applied different techniques and principles that eventually developed into Creole Cookery. 
Prudhomme, being Cajun and operating a Creole restaurant in New Orleans, wanted to pay tribute to both cultures with his first cookbook, so he titled the cookbook "Chef Paul Prudhomme's Louisiana Kitchen."  At 17 years of age, Chef Paul left Louisiana to travel across America and work at different restaurants along his journey.  Working in all aspects of the restaurant serving many types of food, he added a separate layer to his own Cajun flavor.  While traveling, Chef Paul was able to cook his native dishes for others.  He immediately recognized that other parts of the country fell in love with and enjoyed Cajun cooking.  Realizing how others enjoyed his native food, Chef Paul returned to Louisiana.  Once back in New Orleans, he eventually became the head chef at Commander's Palace.  When he left Commander's Palace in 1979 to start his own restaurant, K-Paul's Louisiana Kitchen, Emeril Lagasse took over as Executive Chef at Commander's.  Under Prudhomme's leadership, Commander's Palace became the world-class dining destination that it is today. 
Once on his own, Prudhomme and his wife "Mrs. K," began converting their favorite family recipes and the most popular dishes from K-Pauls into methods and measurements for the home kitchen.  After months of testing, tasting, and revising, "Chef Paul Prudhomme's Louisiana Kitchen" was finally published. 
Good Cooking, Good Eating, Good Loving
"Good Cooking, Good Eating, Good Loving" was a famous phrase of Paul Prudhomme.  He used this mantra to sign many of his cookbooks, including the one I own; he also signed off with these words at the end of many television segments that he recorded titled "The Majic of Chef Paul."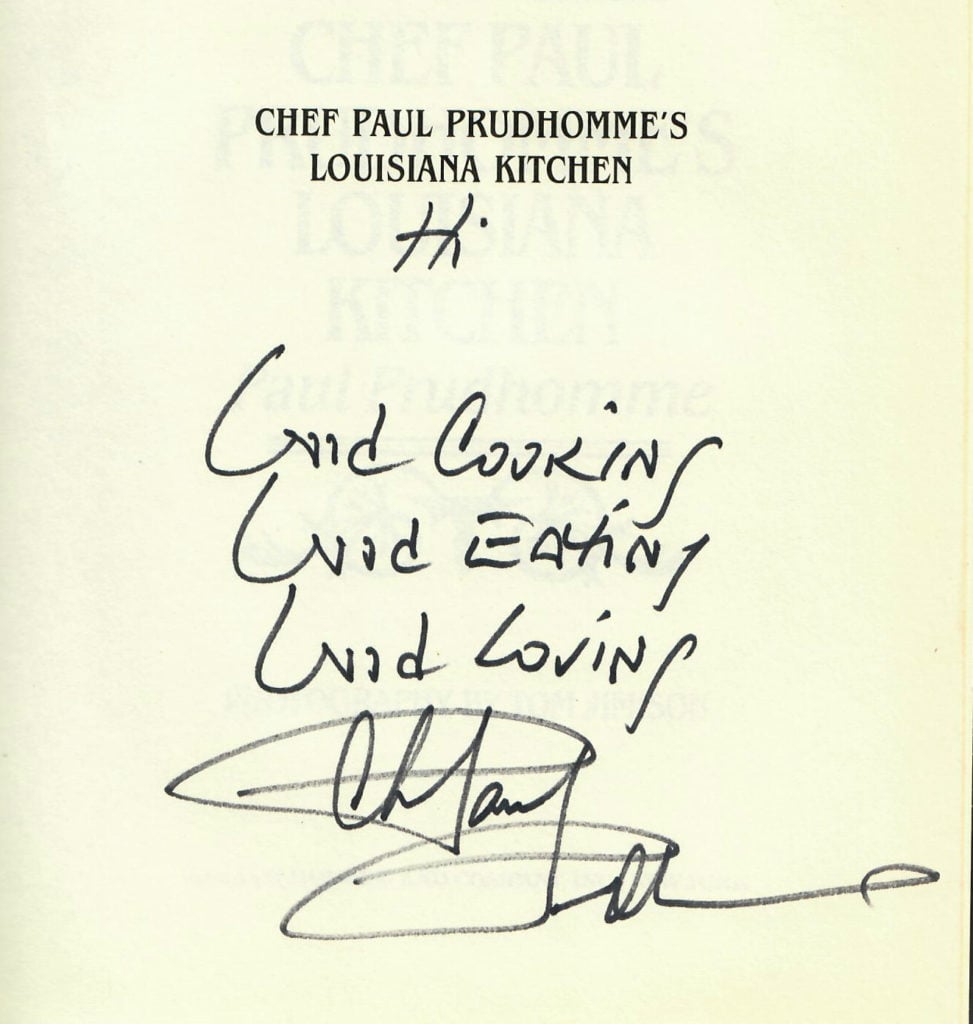 Chef Prudhomme dedicates this cookbook – "To my wife, K. Hinrichs Prudhomme, who made this book possible, and to the memory of my mother, Hazel Reed Prudhomme, who taught me so much." 
Cookbooks by Chef Paul Prudhomme
COVER IMAGE
COOKBOOK & LINK TO AMAZON
PUBLISHER & YEAR

 

Chef Paul Prudhomme's Louisiana Kitchen
William Morrow Cookbooks
1984

 

The Prudhomme Family Cookbook
William Morrow Cookbooks
1987

 

Chef Paul Prudhomme's Seasoned America
William Morrow Cookbooks
1991

 

Chef Paul Prudhomme's Fork in the Road
William Morrow Cookbooks
1993

 

Fiery Foods That I Love
William Morrow Cookbooks
1995

 

Chef Paul Prudhomme's Pure Magic
William Morrow Cookbooks
1995

 

Chef Paul Prudhomme's Louisiana Tastes: Exciting Flavors from the State that Cooks
William Morrow Cookbooks
2000
Seafood File Gumbo
This recipe is printed on pages 209, 210, and 211 of Chef Paul Prudhomme's Louisiana Kitchen, and the photograph appears on page 192.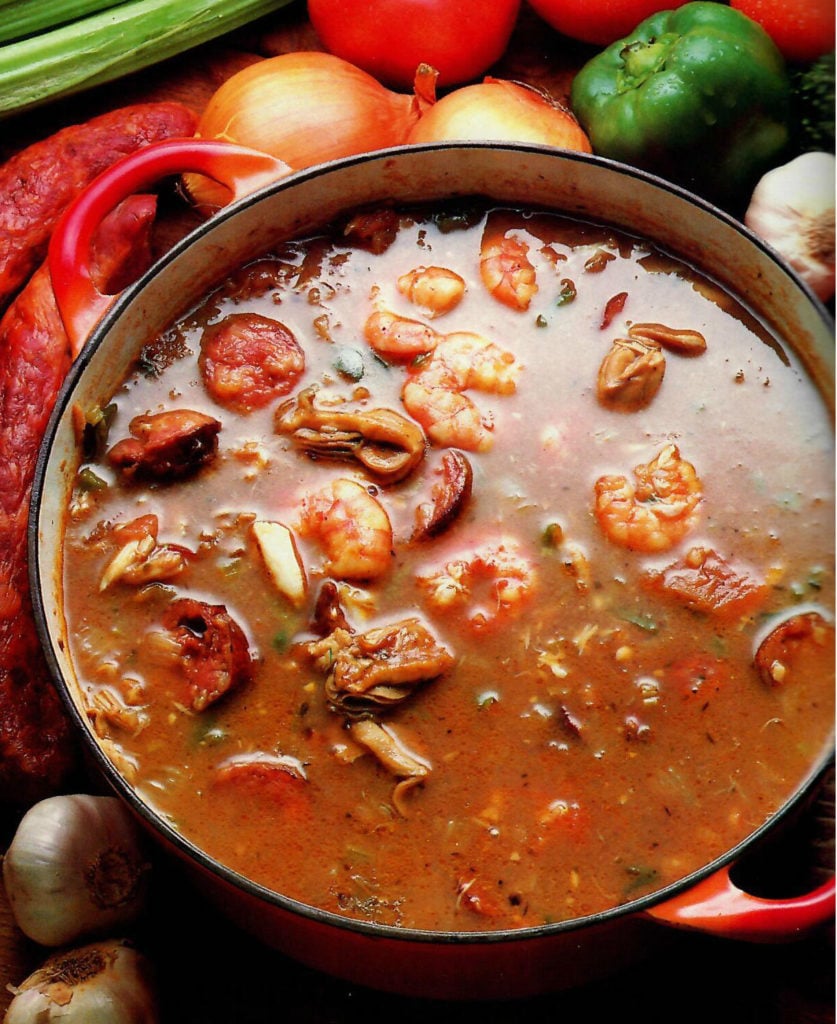 Makes 4 main-dish or 8 appetizer servings
You can substitute pieces of fish for any or all of the seafood in this recipe. Be sure to use margarine instead of butter; because margarine is oiler and seems to conduct more heat. The extra heat, plus the additional oil, develops the gumbo file to a more desirable taste, texture, and color. Upon reaching a temperature above 140-degrees, however, the oil separates out and rises to the surface. Some people prefer to skim the oil off before serving. 
If the gumbo is made in advance, do not add the seafood. When ready to serve, bring the gumbo to a rapid boil, lower the heat to a simmer and add the seafood. Immediately cover the pot, turn off the heat and let stand covered 6 to 10 minutes. 
Ingredients
1 pound medium shrimp with head and shells (see note)
6 cups Basic Seafood Stock (see below)
3/4 cup margarine (not butter)
2 cups chopped onions
2 cups chopped celery
2 cups chopped green bell peppers
3 tablespoons gumbo file (file powder)
1 tablespoon Tabasco sauce
1 teaspoon minced garlic
1 1/4 cups canned tomato sauce
1 1/2 cups packed, crabmeat (picked over), about 1/2 pound
1 dozen shucked oysters (about 1/2 pound), optional
1 1/3 cups hot cooked rice
Seasoning Mix:
1 1/2 teaspoons ground red pepper (preferably cayenne)
1 1/2 teaspoons sweet paprika
1 teaspoon salt
1/2 teaspoon white pepper
1/2 teaspoon black pepper
1/2 teaspoon dried thyme leaves
1/2 teaspoon dried oregano leaves
1 bay leaf, crumbled
Method
Note:  If shrimp with heads and shells are not available, use 1/2 pound shrimp without heads, but with shells and substitute other seafood ingredients for the shrimp heads in making the seafood stock. 
Peel the shrimp, rinse and drain well, and use the heads and shells to make the seafood stock; refrigerate shrimp until ready to use.
Combine the seasoning mix ingredients in a small bowl and set aside. 
In a 4-quart heavy soup pot, melt the margarine over medium heat. Add the onions, celery, and bell peppers. Turn the heat to high and stir in the gumbo file, Tabasco, garlic, and seasoning mix. Cook 6 minutes, stirring constantly. Reduce heat to medium and stir in the tomato sauce; continue cooking 5 minutes, stirring constantly. (During this time, the mixture will begin sticking to the pan bottom. As it does so, continually scrape pan bottom well with a spoon.  The scraping not only adds to the gumbo's flavor but also decrease the gumbo's file's ability to thicken.) Add the stock and bring gumbo to a boil; reduce heat and simmer 45 to 60 minutes, stirring occasionally.  Add the shrimp, crabmeat, and oysters (if desired); cover and turn off the heat. Leave the pot covered just until the seafood is poached, about 6 to 10 minutes. Serve immediately. 
For the main course, place about 1/3 cup of rice in each bowl and top with about 1 cup gumbo. For an appetizer, serve about half that amount. 
Chef Paul's Seafood Stock
This recipe appears on page 32.
1 1/2 to 2 pounds rinsed shrimp heads and/or shells, or crawfish heads and/or shells or crab shells (2 1/2 to 3 quarts), or rinsed fish carcasses (heads and gills removed), or any combination of these. (You can also substitute oyster liquor for all or part of seafood stock called for in a recipe.)
Always start with cold water – enough to cover the other stock ingredients. Place all ingredients in a stockpot or a large saucepan. Bring to a boil over high heat, then gently simmer at least 4 hours, preferably 8 (unless directed otherwise in a recipe), replenishing the water as needed to keep about 1 quart of liquid in the pan. The pot may be uncovered or set a lid on it askew. Strain, cool, and refrigerate until ready to use.  
Note: Remember that if you are short on time, using a stock simmered for 20 to 30 minutes is far better than using just water in any recipe. 
Publisher: William Morrow & Company; New York
Add a little RETRO to your Christmas…
The above items are available on Amazon.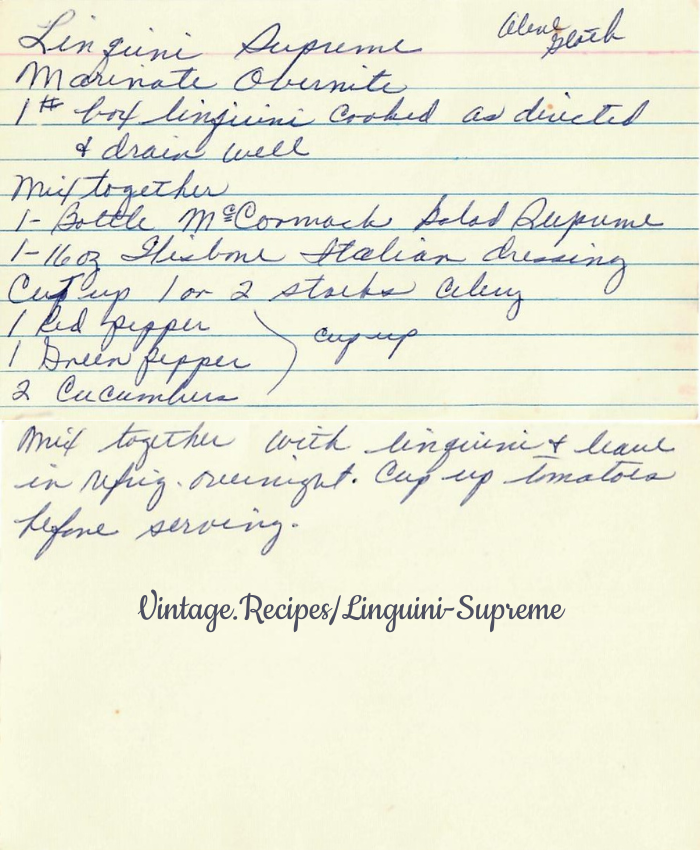 Jorgensen
A vintage recipe card for a Linguini Supreme, made with linguini, Salad Supreme, Italian Dressing, celery, red pepper, green pepper, cucumbers, and tomatoes.
Read More »