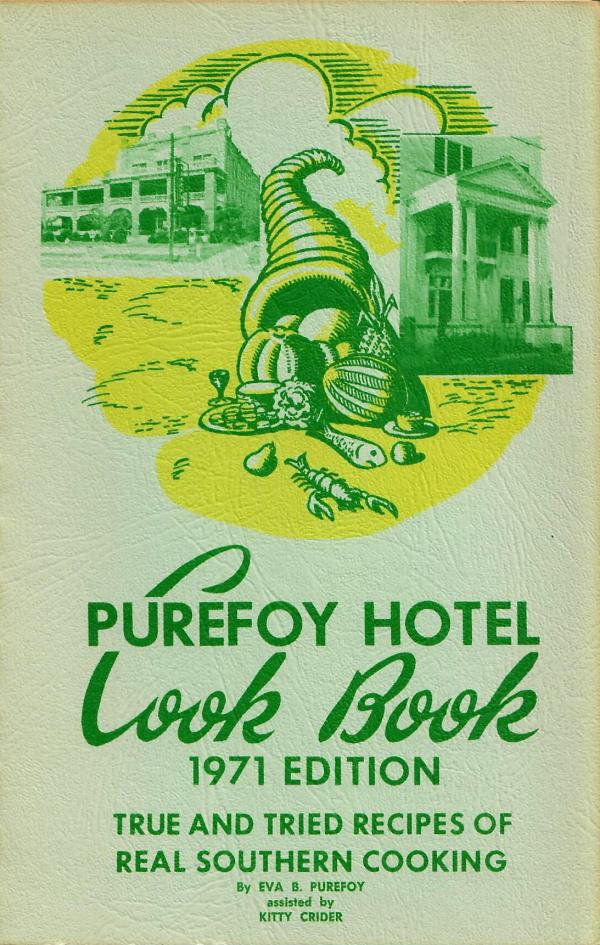 Purefoy Hotel Cookbook ~ True and Tried Recipes of Real Southern Cooking
The Purefoy Hotel found its beginning in MonAlabamaAlababama in 1916, the hotel quickly outgrew the location and moved to Talladega in 1920.  Located between Atlanta and Birmingham, I'm sure the Purefoy Hotel saw more than its share of traveling salesmen.  The hotel is known for being more than just a place to stay; the Purefoy became famous because of its dining room.  Travelers from near and far, as well as writers from well-known magazines, come to the Purefoy dining room to enjoy the dishes prepared by Eva Purefoy and her staff. 
Eva Purefoy tells us that as many as 525 people would come to the Purefoy for Sunday dinner, so many that her husband had to turn away customers.  At $2.10 for Sunday dinner or $1.65, if you were a hotel guest, I would think there would be more than 525 trying to find a seat at the table.  According to a patron, Sunday dinners were served family-style, with a lazy-susan in the middle of the table. 
Mr. Purefoy's health began to fail in the late 1930s so Edward Hyde, Mrs. Purefoy's brother-in-law was brought in to help run the hotel.  Mr. Hyde eventually purchased the hotel in 1944 and ran it until 1961 when he closed the hotel.  It was immediately sold and torn down for a bank building. 
Eva Purefoy originally wrote the Purefoy cookbook in 1937 which was copyrighted in 1941.   The volume is more than a cookbook as the last 60 pages of the cookbook are actual "A Collection of Household Hints" by Eva Purefoy.   As of 1971, the cookbook had been revised and reprinted six times – 1941, 1946, 1949, 1953, 1960 and finally in 1961 – with more than 125,000 copies printed and sold.  Additionally, a history of the Purefoy Hotel was published in 1971. 
Included in the cookbook is a sample menu of a Sunday Dinner:
Baked Chicken or Roasted Turkey
Rice, Dressing, Giblet Gravy
Peas, No. 2 Small Potatoes, Served Whole
Creamed Sweet Potatoes in Orange Cups or Candied Yams
Brussels Sprouts, Spinach, Our Special Mushrooms
Peach Salad, Large Stuffed Prunes
Stuffed Celery, Beets in Lemon Juice
Our Famous Raw Cranberry Sauce or Candied Cranberries
Our Home Baked Ham or Our Special Lamb Roast
Our Famous Macaroni and Cheese, Escalloped Oysters
Cheese Straws, Rolls, and Muffins
Choice of Homemade Ice Cream or Our Famous Date Pudding
Coffee, Tea, or Milk
We have featured the Purefoy Hotel's Thanksgiving Buffet Menu in our Cookery article featuring Traditional Thanksgiving Menus, we feature the Purefoy Hotel's French Bean Casserole, Candied Yams, and Escalloped Oyster recipes in this post.  Follow the link above to see more Thanksgiving menus and recipes. 
Sections of the cookbook include:
Facts to have at your fingertips
Purefoy Menus
Appetizers, Canapes, and Cocktails
Beverages
Soups
Poultry and Meats
Seafood
Eggs and Cheese
Vegetables and Fruits
Salads
Salad Dressings
Sauces and Relishes
Bread
Sandwiches
Pickles, Preserves, and Jellies
Desserts
Cakes and Icings
Cookies
Candies
Facts and Nutrition
Culinary Secrets
Household Hints
Topics covered in the "A Collection of Household Hints" include:
Cooking Secrets

General
Drinks
Eggs – Cheese
Meat – Fish – Poultry
Vegetables – Potatoes
Rice – Macaroni – Spaghetti
Sandwiches
Salads – Dressing
Desserts
Cake – Cookies
Pies
Candies
Box Lunches
Left-Overs
Food Preservation
Food Storage

Child Care
Housekeeping Maintenance

Buying
Cleaning Tricks
Care and Repair
Painting
Miscellaneous

Gardening
Clothing

Sewing Hints and Cautions
Tips on Care of Clothing
Personal

Laundering

Stain Removal
Washing
Knitted clothes and Gloves
Drying
Ironing

Safety
First Aid
---
Recipes 
The "Mrs. R. Collection" from Rhode Island included a copy of the Purefoy Hotel's Raw Cranberry Sauce.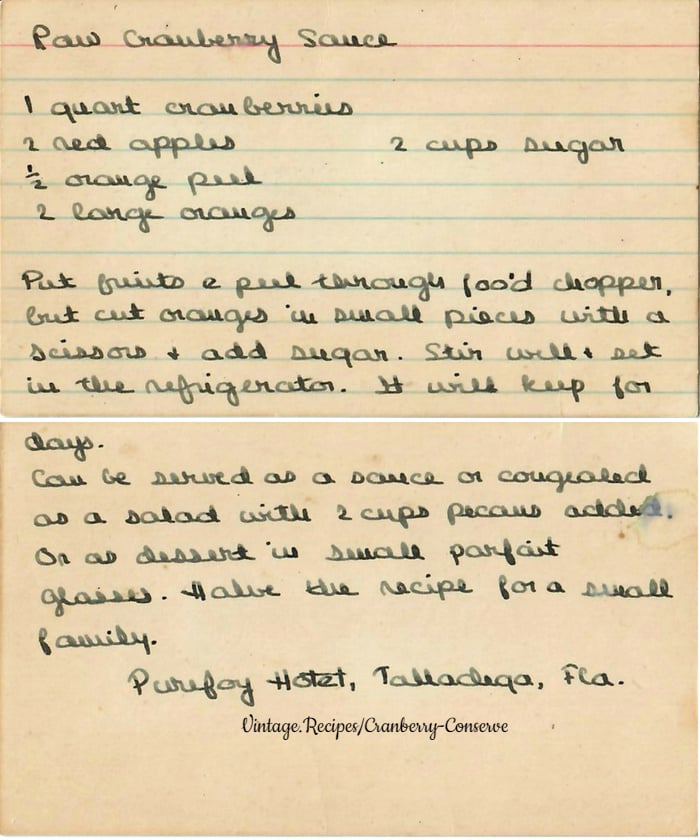 Although Mrs. R gives credit for Talladega being in Florida rather than Alabama, the recipe is almost as it appears on page 100 of the 1971 edition. 
Raw Cranberry Sauce – This is one of my most famous recipes
Ingredients
1-quart berries
2 large oranges
2 cups sugar
1/2 orange peel
2 delicious apples
Method
Put cranberries, apples, and orange peel through a food chopper (coarse knife).  Cut oranges into small sections with scissors.  Add sugar to fruits.  Stir well and set in the icebox.  Will keep for several days. 
This is nice to serve as a sauce or congealed as a salad adding 2 cups of pecans or served in little parfait glasses as a dessert.  Serves 8.  Half the recipe for a small family.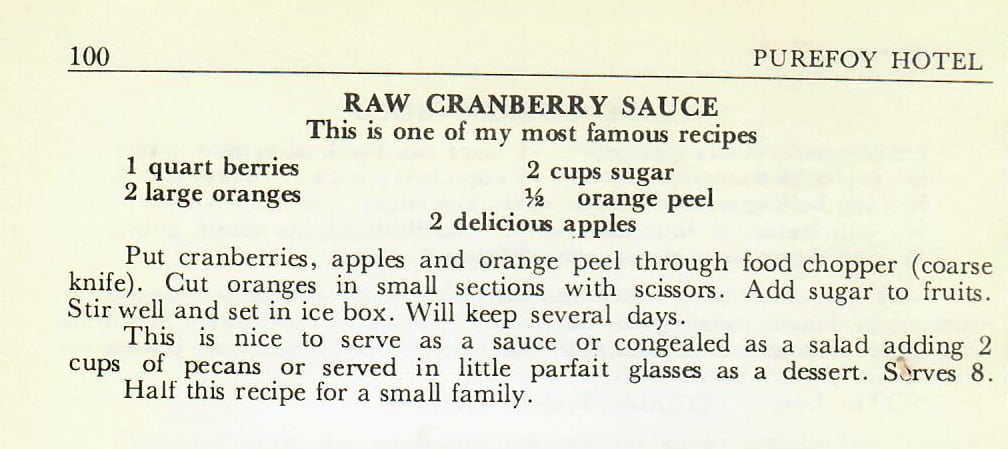 Purefoy Hotel Famous Macaroni and Cheese
This recipe appears on page 77 of the cookbook. 
Ingredients
Enough cooked macaroni (about 1 cup) to till a medium-sized casserole or baking pan one-third full
2 eggs well beaten
Salt and pepper to taste
Pint milk
1 pound to 1 1/4 pounds grated cheese (a good Wisconsin or a mild New York State cheese, use a very coarse grater)
 
Method
Mix cheese, macaroni, eggs, and milk.  Be sure to have enough cheese to cover the top well.  Bake in an oven (about 300-degrees) for about 30 minutes, until cheese milk, etc. is well set.  then on 400-degrees till brown on top.  
Serves 4. 
Author: Eva B. Purefoy, assisted by Kitty Crider
Add a little RETRO to your kitchen…
The above items are available on Amazon.