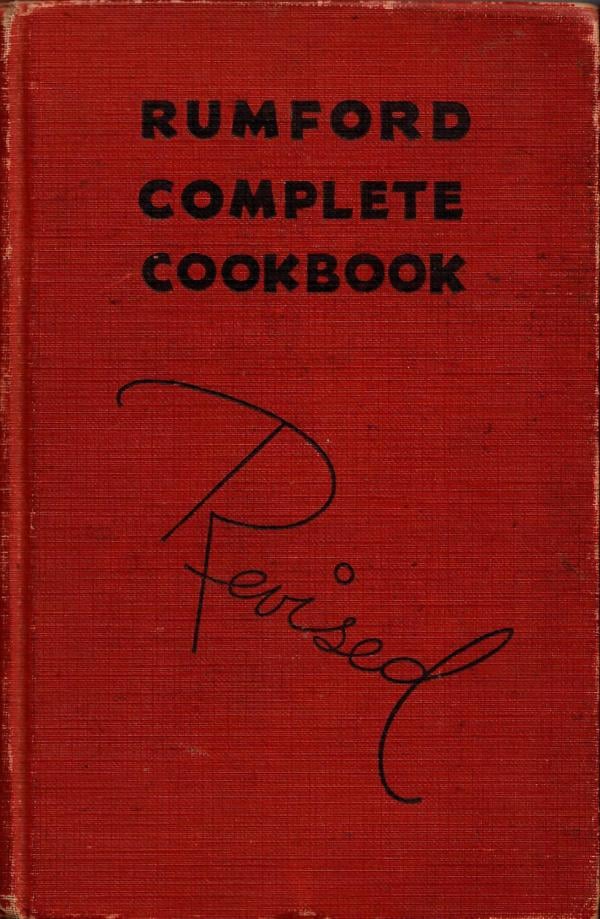 Pictured here is the revised (ninth) edition, printed in 1938 of the Rumford Complete Cookbook, originally published in 1908.  Published by Rumford Chemical Works in Rumford, RI, the authors incorporate Rumford Baking Powder whenever possible. The author states in the introduction "retaining all the best features of the original edition, the revised Rumford Cookbook covers many developments undreamed of when the first book was created."
Sections included in the cookbook are:
Definitions of Terms used in Cookery
Weights and Measures
Vegetable Time Table
Baking by Temperature
Soups
Fish
Meats
Frying
Poultry
Entrees, Cheese Dishes
Salads
Eggs
Puddings, Pudding Sauces
Pastry
Bread, Rolls, Muffins
Waffles, Griddle Cakes, Etc.
Cake
Gingerbread, Cookies
Ice Cream and Ices
Canning, Preserving
Recipes for Chafing Dish
Sandwiches
Confections
Beverages
Recipes for the Sick
Carving
Recipes for the sick? — yes the cookbook even included a section of recipes for the sick.  The authors claim "the food eaten by a sick person has in many cases as much to with rapid recovery as have drugs.  It must be remembered that the palate is more sensitive in sickness than in health, both to seasonings and temperatures so that less seasoning and more moderate degrees of heat and cold must be observed."  Recipes in this section include:
Lemonade
Barley Water
Toast Water — yes, two slices of toast, 1 cup of boiling water and 1/6 teaspoon of salt.  Cook the toast, boil the toast, then strain and server hot or cold.  "Some add milk, cream and sugar, and serve hot in place of tea or coffee". 
Eggnog
Junket Eggnog
Albumenized Milk – 1 egg white, 1/4 cup lime water, and 1 cup milk, shaken (not stirred). 
Sterilized Milk
Wine Whey
Acid Phosphate Whey (of course a Rumford product is used)
Beef and Tapioca Broth
Invalid's Tea – tea made with milk rather than water, sugar to taste
Clam Broth
Beef Tea
Oatmeal Gruel
Corn Meal Gruel
Arrowroot Gruel
Irish Moss
Savory Custard
Puffed Egg
Custard Souffle
Egg Cream
Dainty Pudding
Tapioca Jelly
Chicken Chartreuse
Sweetbreads a la Newberg
Beef Cakes
Scraped Beef Sandwiches
Author: Lily Haxworth Wallace
Publisher: Rumford Chemical Works – Oxford-Print, Boston, MA
Add a little RETRO to your Christmas…
The above items are available on Amazon.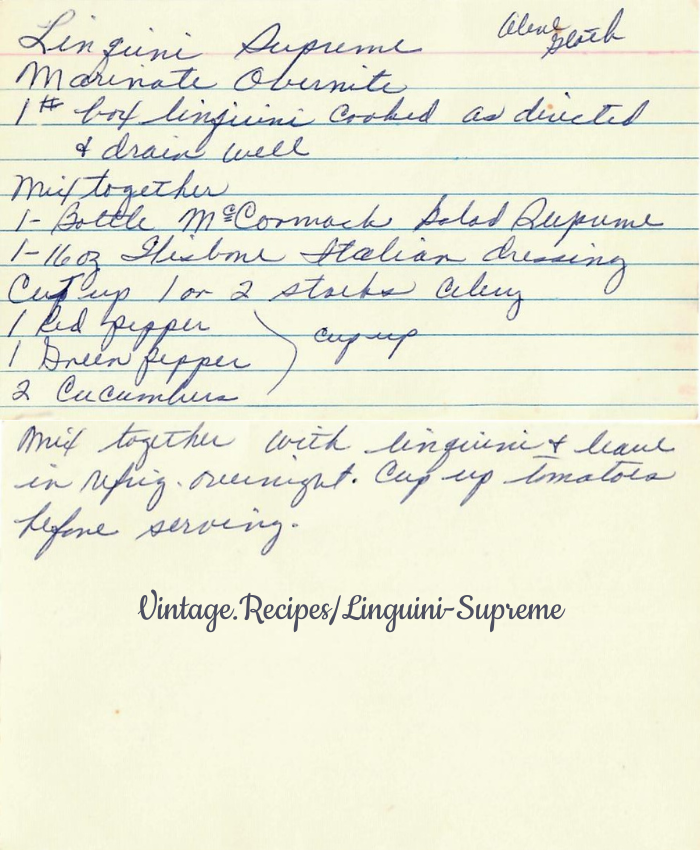 Jorgensen
A vintage recipe card for a Linguini Supreme, made with linguini, Salad Supreme, Italian Dressing, celery, red pepper, green pepper, cucumbers, and tomatoes.
Read More »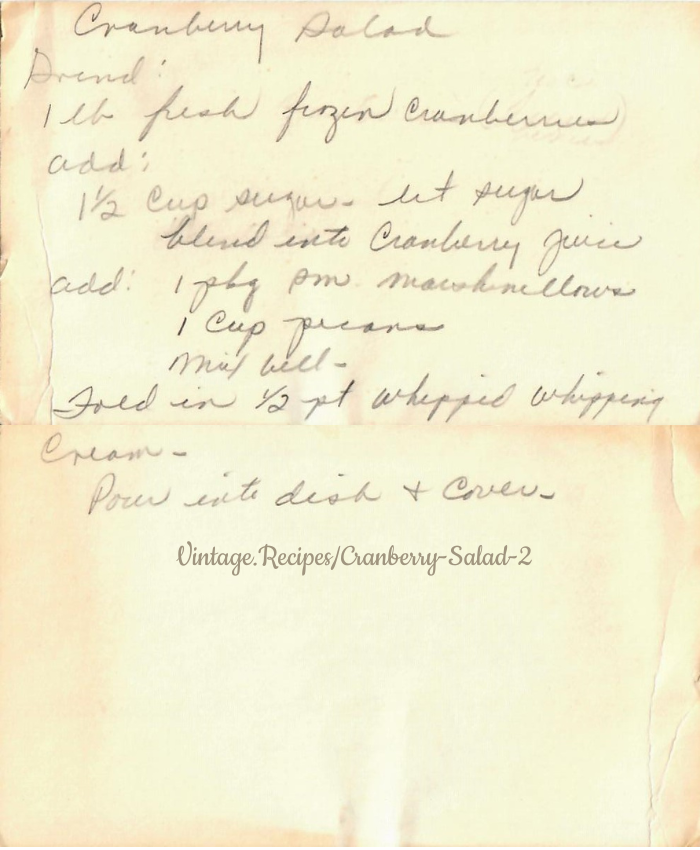 Jorgensen
A vintage recipe card for a Cranberry Salad made with fresh or frozen cranberries, sugar, miniature marshmallows, pecans, and whipped cream.
Read More »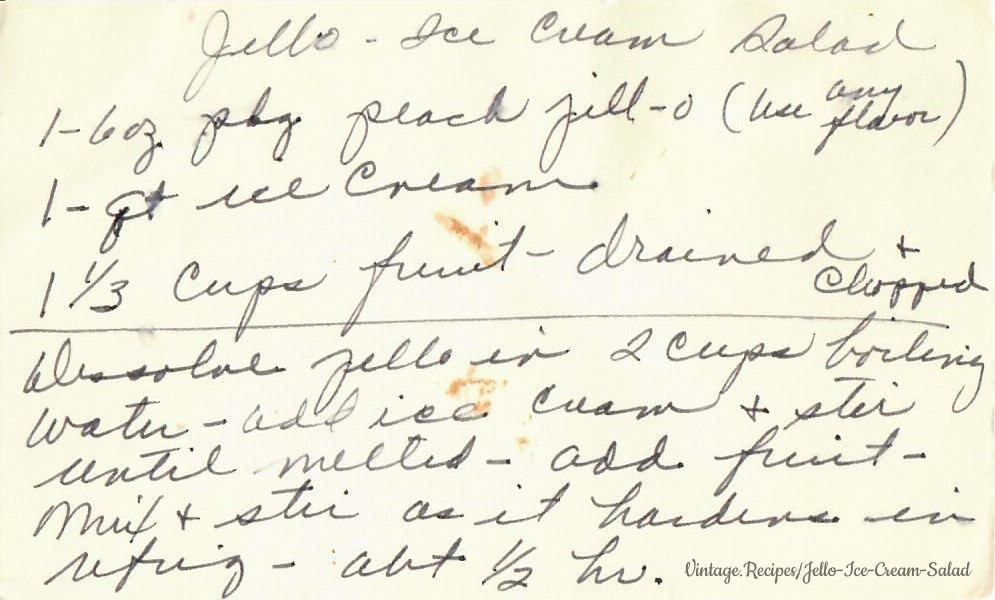 Jorgensen
A vintage handwritten recipe card for a Jell-O Ice Cream Salad, make this recipe with Jell-O, ice cream, and chopped fruit. This recipe is great with peaches.
Read More »
Pictured here is the revised (ninth) edition, printed in 1938 of the Rumford Complete Cookbook, originally published in 1908. Published by Rumford Chemical Works in Rumford, RI, the authors incorporate Rumford Baking Powder whenever possible. The author states in the introduction "retaining all the best features of the original edition, the revised Rumford Cookbook covers many developments undreamed of when the first book was created." Sections included in the cookbook are:
Definitions of Terms used in Cookery
Weights and Measures
Vegetable Time Table
Baking by Temperature
Soups
Fish
Meats
Frying
Poultry
Entrees, Cheese Dishes
Salads
Eggs
Puddings, Pudding Sauces
Pastry
Bread, Rolls, Muffins
Waffles, Griddle Cakes, Etc.
Cake
Gingerbread, Cookies
Ice Cream and Ices
Canning, Preserving
Recipes for Chafing Dish
Sandwiches
Confections
Beverages
Recipes for the Sick
Carving
Recipes for the sick? — yes the cookbook even included a section of recipes for the sick. The authors claim "the food eaten by a sick person has in many cases as much to with rapid recovery as have drugs. It must be remembered that the palate is more sensitive in sickness than in health, both to seasonings and temperatures so that less seasoning and more moderate degrees of heat and cold must be observed." Recipes in this section include:
Lemonade
Barley Water
Toast Water — yes, two slices of toast, 1 cup of boiling water and 1/6 teaspoon of salt. Cook the toast, boil the toast, then strain and server hot or cold. "Some add milk, cream and sugar, and serve hot in place of tea or coffee".
Eggnog
Junket Eggnog
Albumenized Milk – 1 egg white, 1/4 cup lime water, and 1 cup milk, shaken (not stirred).
Sterilized Milk
Wine Whey
Acid Phosphate Whey (of course a Rumford product is used)
Beef and Tapioca Broth
Invalid's Tea – tea made with milk rather than water, sugar to taste
Clam Broth
Beef Tea
Oatmeal Gruel
Corn Meal Gruel
Arrowroot Gruel
Irish Moss
Savory Custard
Puffed Egg
Custard Souffle
Egg Cream
Dainty Pudding
Tapioca Jelly
Chicken Chartreuse
Sweetbreads a la Newberg
Beef Cakes
Scraped Beef Sandwiches