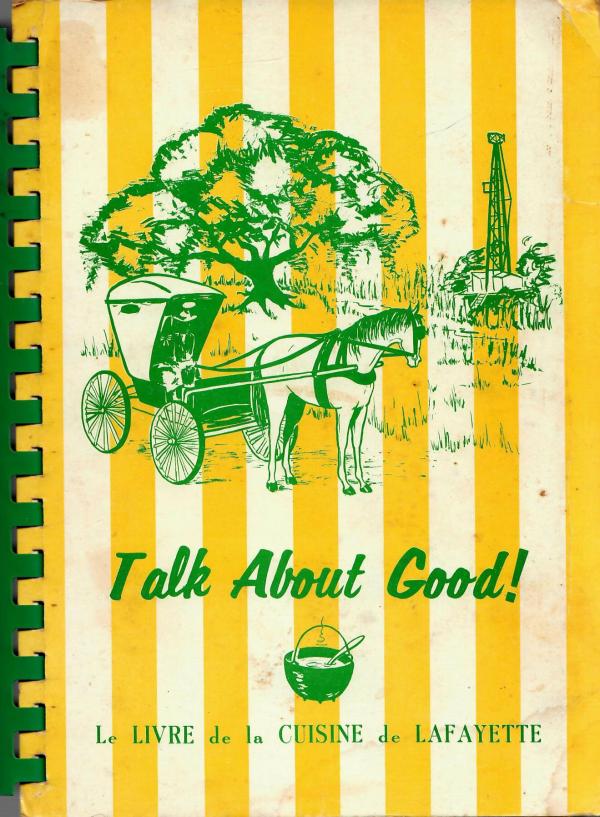 Le LIVRE de la CUISINE de LAFAYETTE
Talk About Good is one of the best-selling Junior League cookbooks out there.  Currently in its 30th printing, with over 775,000 copies out there, Talk About Good was originally published in 1967.  Pictured here is an original first edition from 1967.  The most current edition replaces the original plastic binding with a wire binding that allows the cookbook to lay flat when opened.  None of the 1,200 original recipes have been changed or removed!  
Talk About Good received the Walter S. McIllhenny Hall of Fame Award – a member of the inaugural class of the award (no surprise here since McIllhenny was from LaFayette), and the 2003 Favorite Recipes Press Sales Award. 
Sections of the cookbook include:
Mardi Gras

Beverages
Dips
Hors d'Oeuvres

Breads, Preserves, Jellies, Pickles
Gumbos, Soups, Salads, Salad Dressings
Eggs, Cheese, Grits, Rice
Vegetables and Vegetable Sauces
Seafoods, Fish, Seafood Sauces
Poultry, Game, Dressings
Beef, Ground Beef, Pork, Veal, Lamb Sauces
Comidas de Mexico
Desserts
Cakes and Trimmings
Cookies, Candies, Pies, Pastries
Author: The Service League of Lafayette, Louisiana
Publisher: The Service League of Lafayette, Louisiana