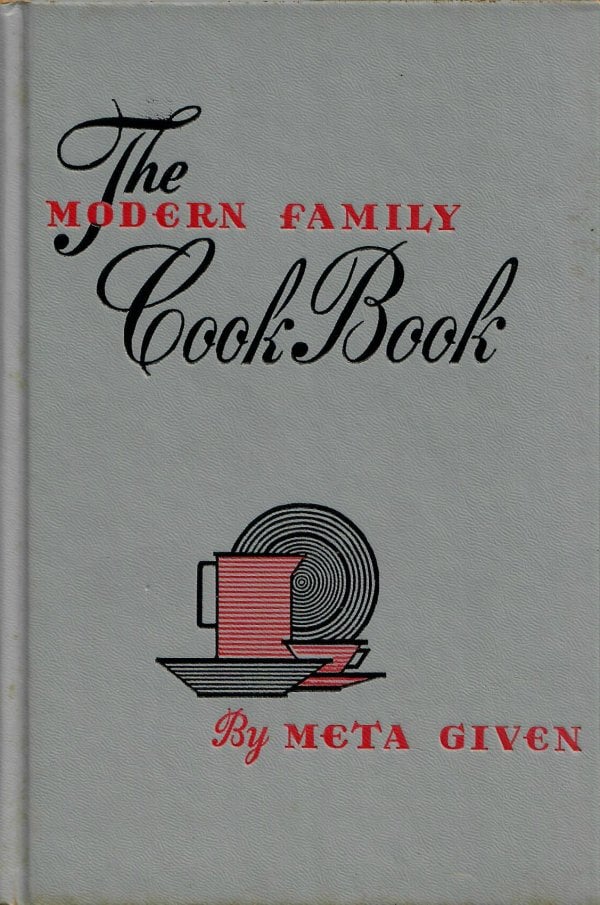 The Modern Family Cookbook by Meta Given, her first cookbook, was first published in 1942. When the "New Revised Edition" was published in 1961, which is shown above, there were "over 1,250,000 copies in print".  According to the biographical information in  Ms. Given's Modern Encylopedia of Cooking, she started cooking at a young age on her family's farm in Missouri. The appreciation for cooking and the practical farming methods she observed on the farm during her youth led her to study home economics and later teach home economics. The Modern Family Cookbook and her Encyclopedia of Modern Cooking which was published in two volumes in 1947 were all revised and reprinted during the 1950s, 1960s, and 1970s.  Ms. Given's works were influential in the lives and kitchens of many mid-century cooks and homemakers.
One can clearly see Ms. Given's background as a Home Economist as the first seventy pages of The Modern Family Cookbook are dedicated to topics of home economics – Altitude Cookery, Meal Planning, Diet Patters, Sample Menus, Food for Children, Stretching the Food Dollar, Tin Cans and Their Contents, Freezing Foods, Care of Food in the Home, Measurements, and the Cook's Creed. 
The Cook's Creed

 

The health of my family is in my care; therefore – 

I will preserve as far as possible the nutritive elements in the foods which are delivered to me. 

My family's enjoyment of food is in my care; therefore – 

I will preserve and enhance the attractive qualities of the foods with which I work.

Stretching the food dollar is part of my responsibility; therefore –

I will take such care of foods that none will spoil. I will use left-overs with thought and skill.

A well-prepared dish and an appetizing meal are a creative achievement; therefore –

I shall derive happiness from work itself.

Good food is prime importance to my family; therefore –

I shall take pride in doing an outstanding job of cooking. 
In the section in which Ms. Given makes menu suggestions, she creates for the reader a daily menu for a week, for each month.  Do the math, that is 3 meals a day – Breakfast, Luncheon, and Dinner for 7 days a week, for 12 months – that is 252 menus and a countless number of recipes which are referenced in the cookbook.  She indicates that the menu suggestion is "a week's guide using seasonal foods in thrifty balanced menus".  Here is a Saturday menu for the month of January:
Breakfast 

Tangerines
Whole Wheat Muffins with Butter
Fried Sliced Luncheon Meat
Jelly
Coffee for Adults, Cocoa for Children

Luncheon 

Macaroni with Cheese Sauce
Stewed Tomatoes
Celery Cabbage, Raw
Bread and Butter
Cupcakes
Tea for Adults, Milk for Children

Dinner

Quick-baked Pike
Parsley Buttered Potatoes
Green Beans with Onions
Bread and Butter
Peach Salad
Cocoa Puff
Coffee for Adults and Milk for Children
The Saturday menu for June is:
Breakfast

Sugared Strawberries with Cream
Prepared Cereal with Top Milk
Cinnamon Toast
Coffee for Adults and Milk for Children

Luncheon

Green Beans
Toast with Welch Rarebit
Radishes
Bread and Butter
Stewed Rhubarb
Tea for Adults and Milk for Children

Dinner 

Swiss Steak
Mashed Potatoes
Creamed New Cabbage
Lettuce with Russian Dressing
Whole Wheat Bread and Butter
Watermelon
Coffee for Adults and Milk for Children
An Easter Sunday Dinner Menu is also included with the March daily menu suggestions. 
Easter Sunday Dinner

Roast Leg-of-Lamb with Brown Gravy
Oven-Baked Potatoes
Broccoli, Buttered
Mint Jelly or Currant Jelly
Celery Curls, Pickles
Cloverleaf Rolls
Meringue-decorated Apple Pie
Decorated Easter Eggs to Fancy Up the Table
The sections of the cookbooks are as follows:
Beverages
Breads
Cake
Candy
Cereals
Cheese
Cookies
Desserts
Eggs
Fish
Meat
Meat Sundries
Pastry and Pies
Poultry
Preserving and Canning
Salads
Sandwiches
Sauces
Soup
Vegetables
Deep Fat Frying
Leftovers
Miscellaneous Recipes
Glossary of Terms Used in Cooking
Index
The cookbook has a few color photographs throughout the cookbook.  The listed ingredients of each recipe are printed in red ink and the method is printed in black ink. Below are a few selected recipes from the cookbook.
Bread Pudding
5 slices day-old bread
2 tablespoons butter or margarine
1/2 cup moist raisins
1/4 teaspoon salt
1/2 cup sugar
3 eggs, beaten
3 cups milk, scalded
1/4 teaspoon cinnamon
Method
Toast bread and spread with all the butter while hot. Arrange toast in a buttered baking pan (10.5 x 6.5 x 1.75 inches). Sprinkle with raisins. Stin salt and all but 2 tablespoons of the sugar into the eggs. Add milk and stir to mix well. Pour over the toast and let stand 10 minutes. Press toast slightly down into milk occasionally so it soaks up most of the milk mixture. Mix cinnamon with the remaining 2 tablespoons sugar and sprinkle over top. Place dish directly on oven rack. Bake in a moderate oven (350-degrees) about 25 minutes, or until knife inserted in center comes out clean and top is appetizing brown. Serve warm or cold. 5 to 6 servings. 
Note: The one recipe of my Grandmother's recipes that I do not have a copy of is her Bread Pudding recipe. She made it so often as to make good use of old bread, she more than likely made it from memory and taste.  My grandmother baked her Bread Pudding in a glass pyrex loaf pan, and this appears to be a close match.  I will be conducting a taste-test soon!
Apple Snow
4 medium-sized tart or cooking apples
3 egg whites
3/4 cup sugar
1 tablespoon lemon juice
Jelly 
Custard Sauce
Method
Pare, core, and slice apples in a saucepan; add 1/4 cup cold water, cover tightly, and cook slowly until mushy. Mash and whip until smooth and fluffy; there should be 3/4 to 1 cup stiff sauce. Chill. Beat egg whites until just fluffy, and gradually beat in the sugar and lemon juice until very stiff and smooth. Fold in the chilled apple sauce until thoroughly blended. Serve chilled with Custard Sauce and a spoonful of red jelly on top. 5 servings.
Custard Sauce 
2 cups of milk
2 egg yolks and 2 whole eggs or 5 egg yolks
1/4 cup sugar
1/8 teaspoon salt
1/2 teaspoon vanilla
Method
Scald milk in top of a double boiler. Beat eggs slightly, add sugar and salt, and slowly stir in scalded milk. Return to double boiler and cook over boiling water until mixture just coats a metal spoon. Remove from heat immediately, then stir in vanilla and chill. If overcooked, the custard will curdle. Curdled custard may often be restored by cooling immediately and beating with a rotary egg beater, but it will not be so thick. About 2 1/4 cups. 
Publisher: J. G. Ferguson Publishing Company, Chicago
Add a little RETRO to your kitchen…
The above items are available on Amazon.