This cookbook is a 1974 publication by the Restaurant and Inn Division of the Stouffer Corporation. The original price of the cookbook was $12.95.  According to the preface in the cookbook, the Stouffer Corporation had its beginnings in Cleveland, Ohio, some fifty years earlier.  The cookbook is a celebration of fifty years in business from a simple milk delivery operation to a lunch counter and, ultimately, a string of nation-wide hotels. The first Stouffer Hotel opened in Ft. Lauderdale in 1960, and by 1974 the Stouffer Corporation had hotels in most major cities in the United States. The Stouffer Corporation eventually sold the chain in the early 1990s to focus on its frozen food division, which was growing from its 1982 introduction of the "Lean Cuisine" line. 
In 1974, Vernon Stoffer stated that they offer "more than forty different restaurant recipes cook and frozen for home use, including some of our best-known menu items: Lobster Newburg, Macaroni and Cheese, Spinach Souffle, hearty soups, and thirty bakery items, such as cupcakes and French Crumb Cakes."
The Stouffer family thought that "the best birthday gift we could give would be the recipes that you have enjoyed."  The cookbook contains the following sections:
Hor d'oeuvers, Canapes, and Dips
May we suggest something to start? 
From the Dinner Menu
From the Late Supper Menu
Would you like a vegetable? 
A salad?
Or hot bread?
For dessert, we have…
And other good things
When company comes — for parties and the holidays
Something from the bar 
Some of the recipes, but not all, in the cookbook require a Stouffer Frozen Food item as an ingredient, many of which are no longer available. For example, the ingredients for "Bacon Tomoate Rarebit Dip" are a 10-ounce package Frozen Welsh Rarebit, can of tomato soup, bacon strips, and fresh parsley, oregano, and basil. The recipe ingredients for Spinach Ring with Noodles Romanoff are simply "four 12-ounce package Frozen Spinach Souffle and two 12-ounce package Frozen Noodles Romanoff." The instructions are just as simple, how to bake thawed Stouffer's Spinach Souffle in a ring mold and then how to assemble the Noodles Romanoff in the middle of the Spinach Ring.  Most of the recipes requiring products no longer produced by Stouffers are relatively simple dishes, and one can easily find "Non-Stouffer" substitutions for these ingredients.  
Below is the image that appears on the back cover of the cookbook.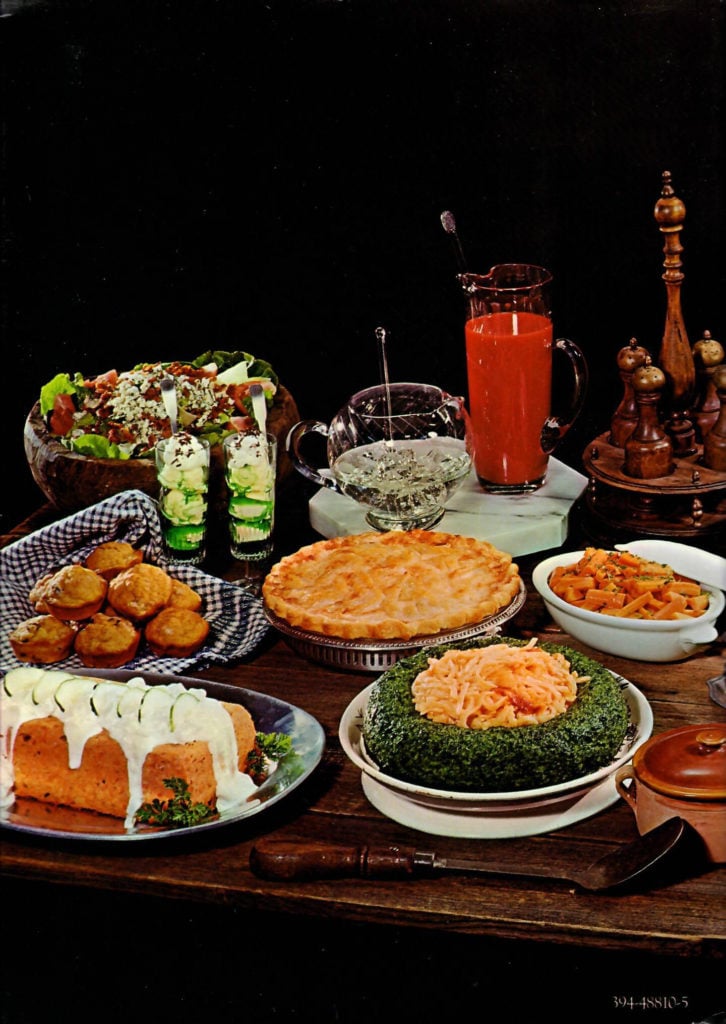 The dishes represented on the cover are:
Crab Stuffed Mushrooms
Quiche Lorraine
Green Goddess Dip with fresh vegetables
Bacon Tomato Rarebit Dip with Rye Chips
Fresh Fruit Supreme in a Brandy Snifter
French Onion Soup au Gratin
Salmon Loaf with Fresh Cucumber sauce
Breast of Chicken Jubilee with Rice Pilaf
Beef Tenderloin en Brochette
Carrots Vichy
Spinach Ring with Noodles Romanoff
Cataline Salad Bowl
Pumpkin Muffins
Wellesley Fudge Cake
Dutch Apple Pie
Grasshopper Parfait
Here are a few recipes from the dishes featured on the cover:
Wellesley Fudge Cake
"Stouffer cooks refer to this as the smart cake, but we have no idea whether Wellesley alumnae ever ate this cake. We do know millions of others have eaten it, and it is our most requested recipe. When making the cake, be sure you follow the directions to flour the nuts so they will not sink to the bottom of the batter."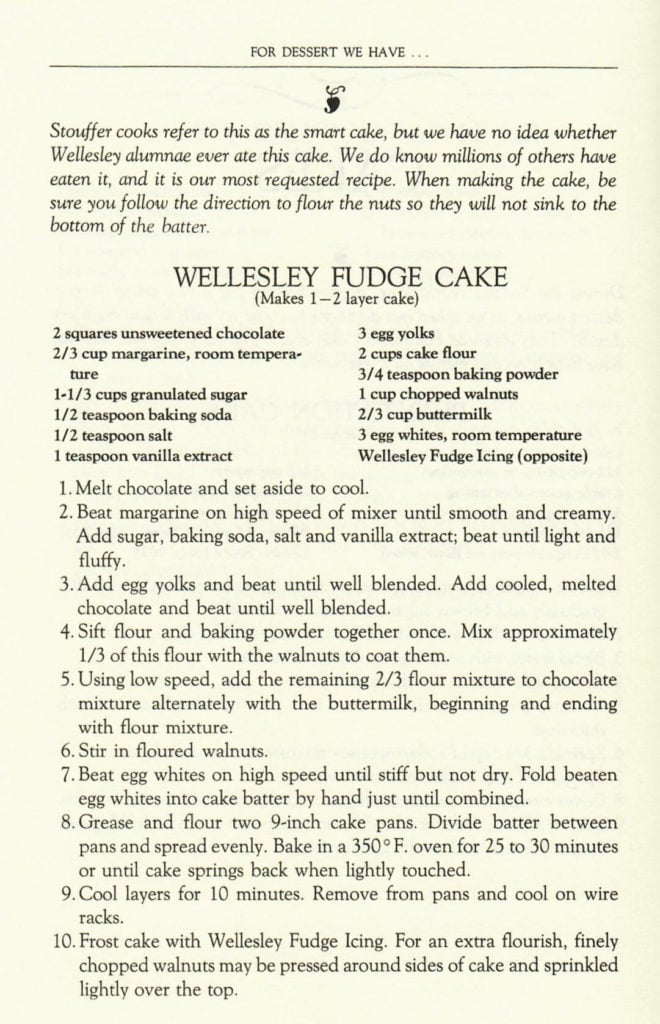 Ingredients
2 squares unsweetened chocolate
2/3 cup margarine, room temperature
1 1/3 cups granulated sugar
1/2 teaspoon baking soda
1/2 teaspoon salt
1 teaspoon vanilla extract
3 egg yolks
2 cups cake flour
3/4 teaspoon baking powder
1 cup chopped walnuts
2/3 cup buttermilk
3 egg whites, room temperature
Wellesley Fudge Icing
Method
Melt chocolate and set aside to cool.
Beat margarine on high speed of mixer until smooth and creamy. Add sugar, baking soda, salt, and vanilla extract; beat until light and fluffy.
Add egg yolks and beat until well blended. Add cooled, melted chocolate and beat until well blended. 
Sift flour and baking powder together once. Mix approximately 1/3 of this flour with the walnuts to coat them. 
Using low speed, add the remaining 2/3 flour mixture to chocolate mixture alternately with the buttermilk, beginning and ending with the flour mixture. 
Stir in the walnuts.
Beat egg whites on high speed until stiff but not dry. Fold beaten egg whites into cake batter by hand just until combined.
Grease and flour two 9-inch cake pans. Divide batter between pans and spread evenly. Bake in a 350-degree oven for 25 to 30 minutes or until cake springs back when lightly touched. 
Cool layers for 10 minutes. Remove from pans and cool on wire racks.
Frost cake with Wellesley Fudge Icing. For an extra flourish, finely chopped walnuts may be pressed around the sides of the cake and sprinkled lightly over the top.
Wellesley Fudge Icing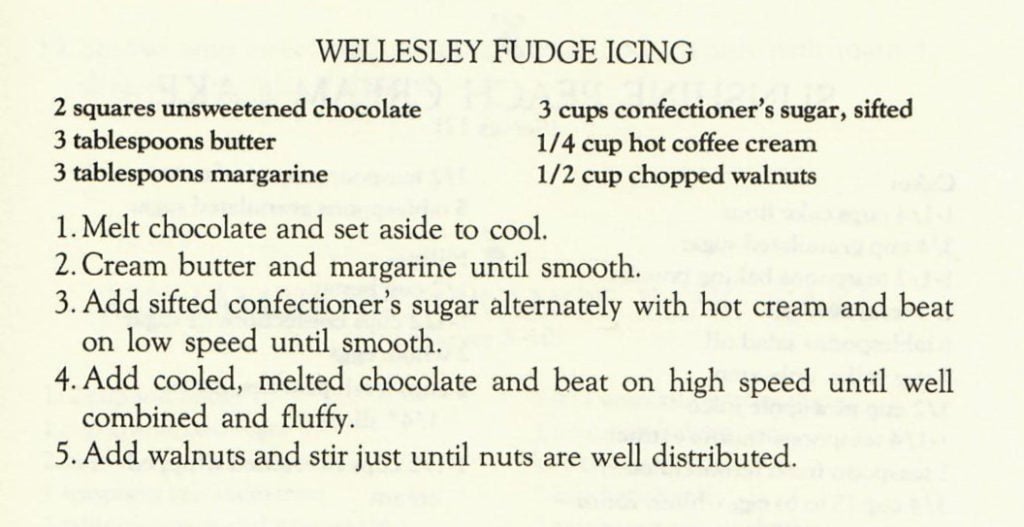 Ingredients
2 squares unsweetened chocolate
3 tablespoons butter
3 tablespoons margarine
3 cups confectioners' sugar, sifted
1/4 cup hot coffee cream
1/2 cup chopped walnuts
Method
Melt chocolate and set aside to cool.
Cream butter and margarine until smooth.
Add sifted confectioners' sugar alternately with hot cream and beat on low speed until smooth.
Add cooled, melted chocolate and beat on high speed until well combined and fluffy. 
Add walnuts and stir just until nuts are well distributed. 
Stouffer's Pumpkin Muffins
"There isn't a week that goes by that someone doesn't ask for this recipe."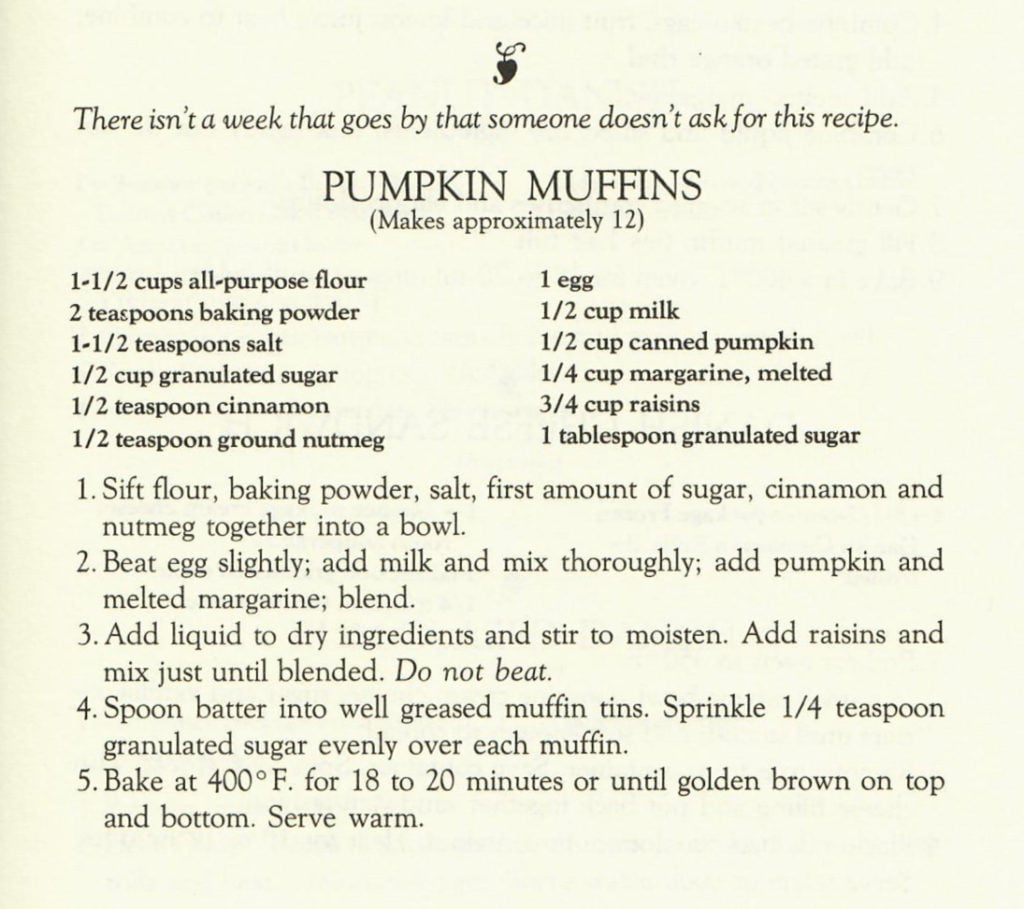 Ingredients
1 1/2 cups all-purpose flour
2 teaspoons baking powder
1 1/2 teaspoons salt
1/2 cup granulated sugar
1/2 teaspoon cinnamon
1/2 teaspoon ground nutmeg
1 egg
1/2 cup milk
1/2 cup canned pumpkin
1/4 cup margarine, melted
3/4 cup raisins
1 tablespoon granulated sugar
Method
Sift flour, baking powder, salt, the first amount of sugar, cinnamon, and nutmeg together in a bowl.
Beat egg slightly; add milk and mix thoroughly; add pumpkin and melted margarine; blend.
Add liquid ingredients to dry ingredients and stir to moisten. Add raisins and mix just until blended. Do not beat.
Spoon batter into well-greased muffin tins. Sprinkle 1/4 teaspoon granulated sugar evenly over each muffin.
Bake at 400-degrees for 18 to 20 minutes or until golden brown on top and bottom. Serve warm.
Carrots Vichy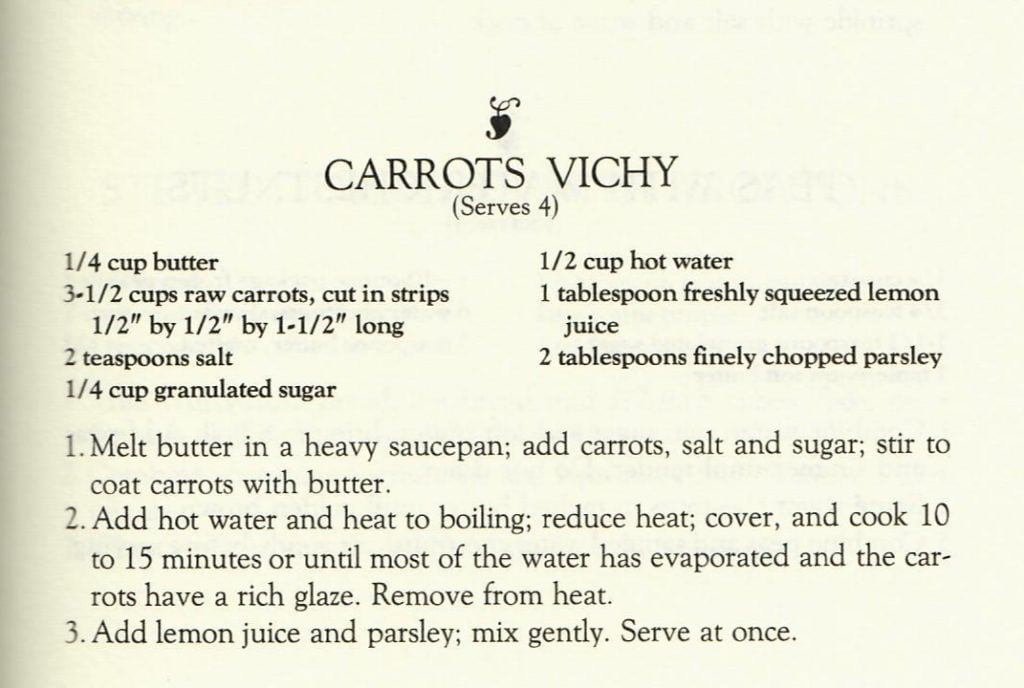 Ingredients
1/4 cup butter
3 1/2 cups raw carrots, cut in strips 1/2-inch by 1/2-inch by 1 1/2-inch long
2 teaspoons salt
1/4 cup granulated sugar
1/2 cup hot water
1 tablespoon freshly squeezed lemon juice
2 tablespoon finely chopped parsley
Method
Melt butter in a heavy saucepan; add carrots, salt, and sugar; stir to coat carrots with butter. 
Add hot water and heat to boiling; reduce heat; cover and cook 10 to 15 minutes or until most of the water has evaporated and the carrots have a rich glaze. Remove from heat. 
Add lemon juice and parsley; mix gently. Serve at once.
Make 4 servings. 
Grasshopper Parait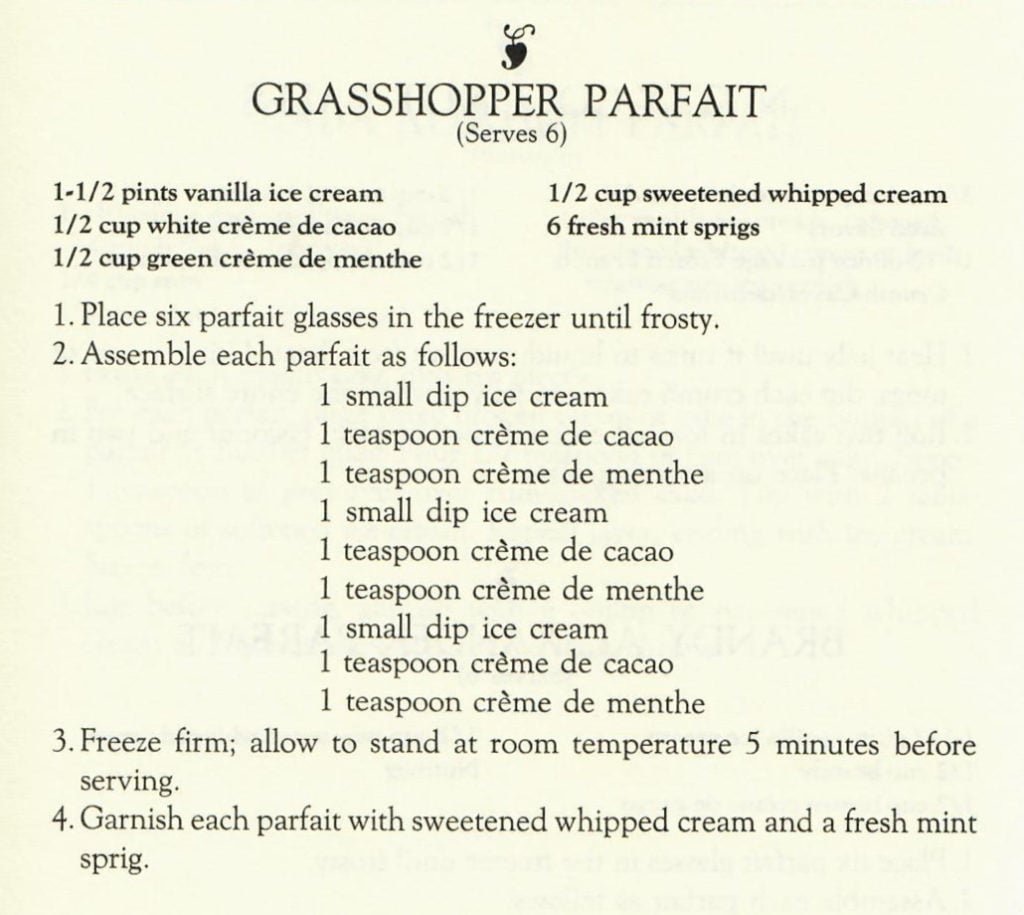 Ingredients
1 1/2 pints vanilla ice cream
1/2 cup white creme de cacao
1/2 cup green creme de menthe
1/2 cup sweetened whipped cream
6 fresh mint sprigs
Method
Place six parfait glasses in the freezer until frosty.
Assemble each parfait as follows:

1 small dip ice cream
1 teaspoon creme de cacao
1 teaspoon creme de menthe
1 small dip ice cream
1 teaspoon creme de cacao
1 teaspoon creme de menthe
1 small dip ice cream
1 teaspoon creme de cacao
1 teaspoon creme de menthe

Freeze firm; allow to stand at room temperature 5 minutes before serving.
Garnish each parfait with sweetened whipped cream and a fresh mint sprig.