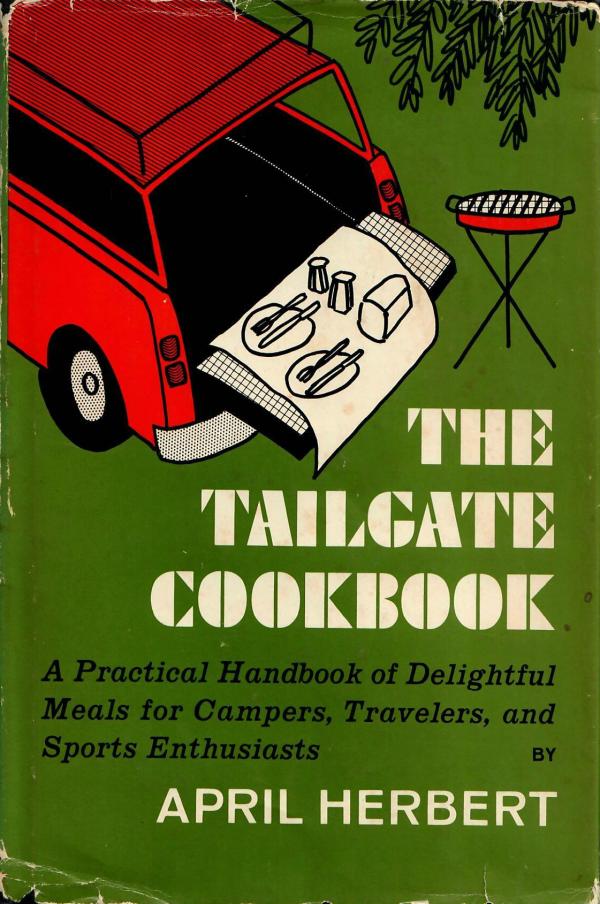 A Practical Handbook of Delightful Meals for Campers, Travelers, and Sports Enthusiasts
The Tailgate Cookbook, written by April Herbert in 1970 and published by Funk and Wagnalls.  
April Herbert states that the concept of The Tailgate Cookbook came to her "on a silver platter, or more accurately, on an aluminum grill".  Herbert's husband remarked on a camping trip that there must be something other than hamburgers to prepare, and The Tailgate Cookbook was born. Camping, skiing, sailing, and hiking were common activities of the Herbert family.
Herbert takes a different approach to the organization of the cookbook, the cookbook is organized by the activity the recipe would be useful cooked during rather than the type of food as a traditional cookbook.  These sections or activities include:
Stoves, Staples, and Serendipity ~ hints to simplify preparations, packing and cooking; suggested food and equipment lists
Haute Cuisine and Camping Out ~ camp stove cookery
The Red Glow of Coals ~ unusual recipes for the charcoal chef whether camping or on an outing
A Long Day's Journey ~ meals prepared at home to eat in the car or at a roadside picnic
The Sports Arena ~ from tailgate spreads for football games to hearty soups on ski slopes
The Enlightened Sandwich ~ new and nutritional combinations for people on the go
Friendly Sidekicks ~ hors-d'oeuvres, salads, vegetables, breads, and desserts for all occasions
Back to the Basics ~ marinades, sauces, dressings, and beverages
Herbert attempts to keep the recipes simple with staple ingredients. She also states that her family endured the development of the cookbook, "often dining on three or for of my 'theories' in one meal while I tested each recipe."  Some of the more intriguing recipes include:
Publisher: Funk and Wagnalls, New York