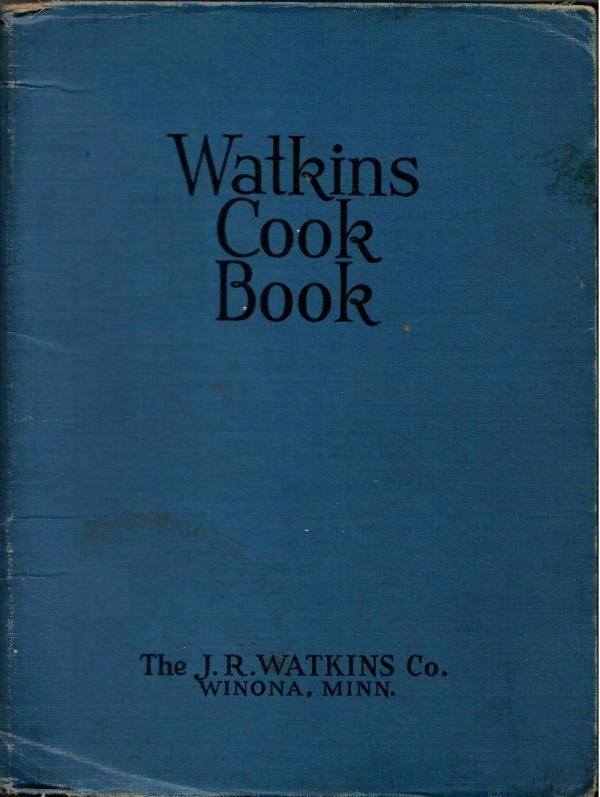 The Watkins New Cookbook – 1938
The Watkins New Cookbook originally published in 1936 found success with its first printing of 175,000 copies, and the second printing of 500,000 copies.  After significant praise and endorsements, the Watkins Company set out to publish an enlarged book with hundreds of new recipes; the result was the 1938 version of the cookbook.   After recommendations "from friends, from famous chefs, from extensive travels in this country and abroad, and from a host of helpful contributors … we offer you a Cook Book of practical, tested recipes and hope that you will get as much real pleasure and enjoyment in their use as we have in preparing and testing them for you and that you may become more enthusiastic than ever over the merits of the Watkins Products." 
As with any promotional cookbook published by a company, the idea is to sell more products.  No surprise that the recipes in the cookbook list Watkins Company products in the ingredients.  The introduction of the cookbook states there are over 10,000 Watkins Dealers delivering "300 Pure Food Products, Toilet Articles, Soaps and Cleansers, Household Medicines, and Stock and Poultry Preparations".  "Every Watkins Dealer is an independent merchant in business for himself.  He lives right in your own community and is a part of it.  He makes his money there and spends it there.  His children go to the schools and his taxes help maintain them, and other community enterprises."
Sections of the cookbook include:
Bread – Biscuits – Doughnuts – Griddle Cakes – Muffins – Toast
Soups
Cheese and Egg Dishes
Fish and Fish Sauces
Poultry and Game
Stuffing or Dressing
Meats
Meat Sauces
Vegetables and Sauces
Salads and Salad Dressings
Puddings
Pudding Sauces
Cakes – Shortcake
Frostings for Cake
Pastries – Pies
Frozen Desserts and Refrigerator Desserts
Sauces for Ice Cream or Dessert
Sandwiches – Canapes – Appetizers
Cookies
Canning – Preserving – Pickling
Beverages
Economy Meats and Salads
Economy Desserts
Food for Invalids
Candy
Diet Hints
Weights, Measures, and Oven Temperatures
The recipes in the Watkins Cookbook are printed in black ink, but throughout the cookbook, there are several pages of four-color advertisements that are printed on white glossy paper.   Images included in the cookbook include:
A picture of Watkins Vanilla, and other various liquid and dessert flavorings
A picture of Watkins spices and baking powders
An advertisement for Wakins Vanilla along with the story of "From Vine to Vanilla"
An image of "The Watkins City", a picture of the Watkins offices, plants, and warehouses in Winona, Minnesota
An advertisement for Watkins Cocoa – "Best for Children — Best for You"
An advertisement for Watkins Nectar Syrups – "Delicious Refreshing Thirst-Quenching Economical"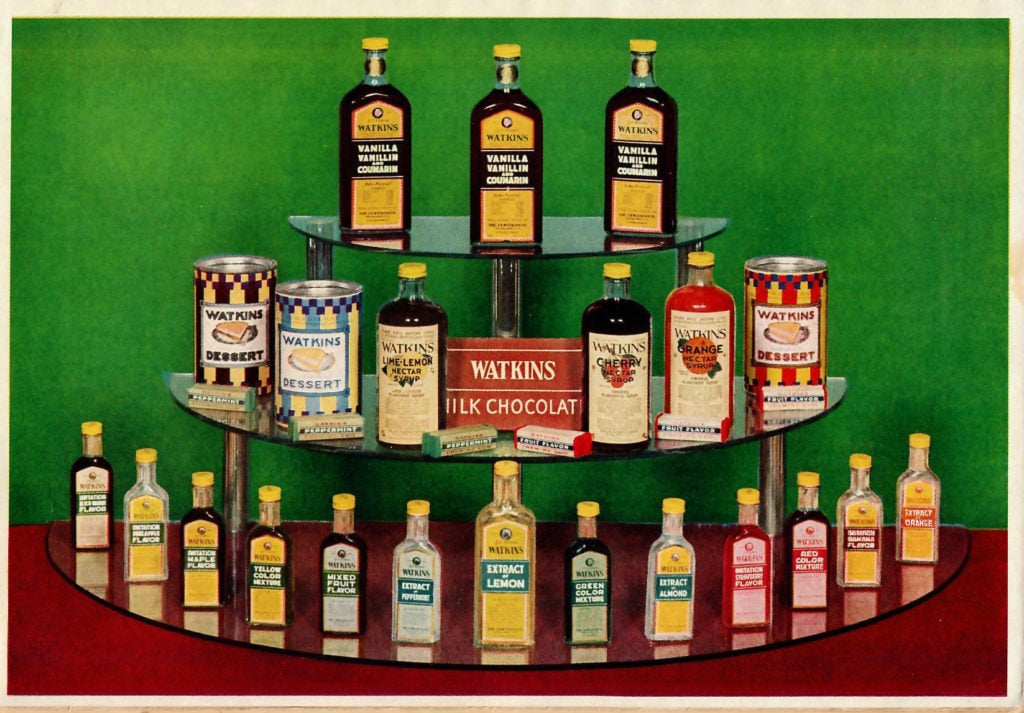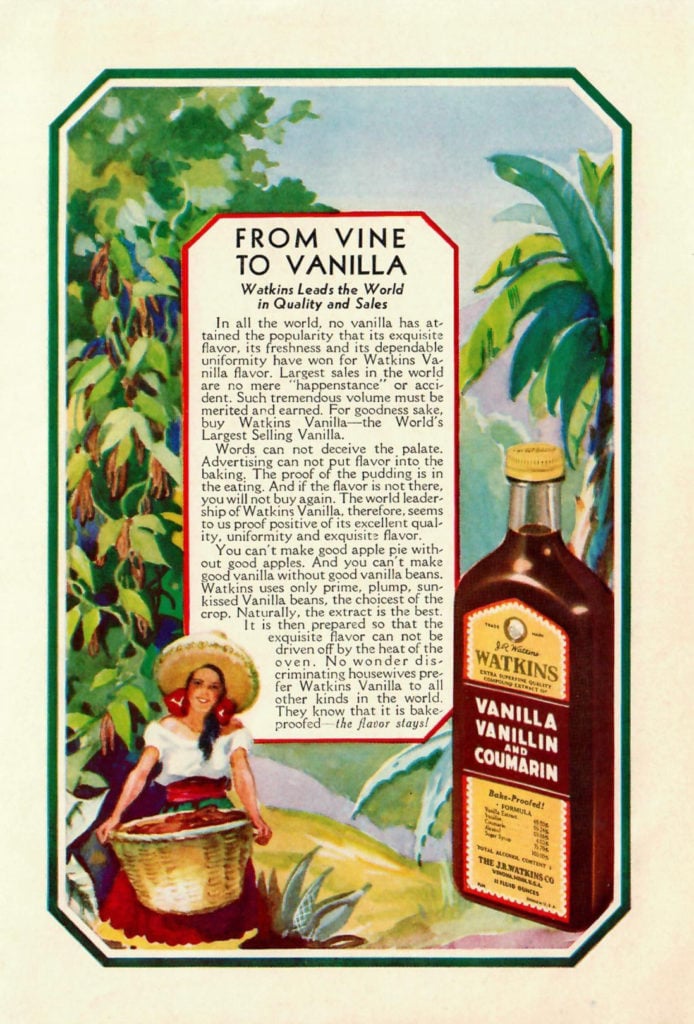 From Vine to Vanilla
Watkins leads the World in Quality and Sales
In all the world, no vanilla has attained the popularity that is exquisite flavor, its freshness and its dependable uniformity have won for Watkins Vanilla flavor. Larges sales in the world are no mere "happenstance" or accident. Such a tremendous volume must be merited and earned. For goodness sake, buy Watkins Vanilla – the World's Largest Selling Vanilla.
Words can not deceive the palate. Advertising can not put flavor into the baking. The proof of the pudding is in the eating. And if the flavor is not there, you will not buy again. The world leadership of Watkins Vanilla, therefore, seems to us proof positive of its excellent quality, uniformity, and requisite flavor. 
You can't make good apple pie without good apples. And you cant make good vanilla without good vanilla beans. Watkins uses only prime, plump, sunkissed Vanilla beans, the choicest of the crop. Naturally, the extract is the best. It is then prepared so that the exquisite flavor can not be driven off by the heat of the oven. No wonder discriminating housewives prefer Watkins Vanilla to all other kinds in the world. They know that it is baked-proofed – the flavor stays!
Watkins Nectar Syrups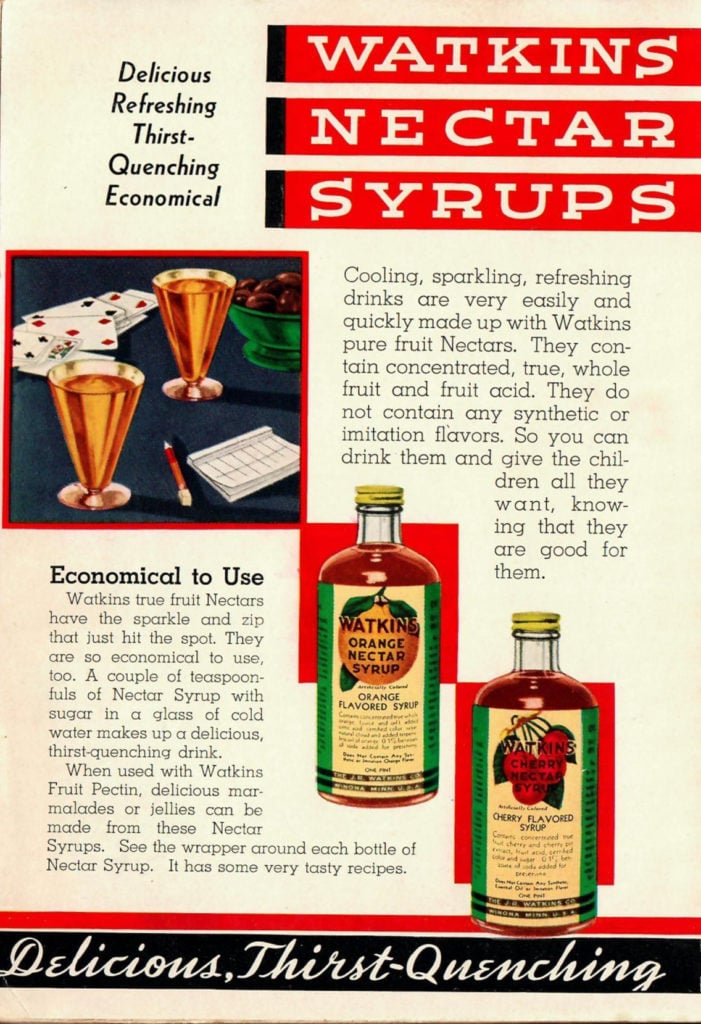 Delicious, Refreshing, Thirst-Quenching, Economical
Cooling, sparkling, refreshing drinks are very easily and quickly made up with Watkins pure fruit Nectars. They contain concentrated, true, whole fruit and fruit acid. They do not contain any synthetic or imitation flavors. So you can drink them and give the children all they want, knowing that they are good for them. 
Economical to Use
Watkins true fruit Nectars have the sparkle and zip that just hit the spot. They are so economical to use, too. A couple of teaspoonfuls of Nectar Syrup with sugar in a glass of cold water makes up a delicious, thirst-quenching drink. 
When used with Watkins Fruit Pectin, delicious marmalade or jellies can be made from these Nectar Syrups. See the wrapper around each bottle of Nectar Syrup. It has some very tasty recipes. 
Delicious, Thirst-Quenching
Watkins Meat Loaf

Ingredients
2 pounds round steak
1/2 pound veal
1/2 pound pork
1 pint milk (little more if necessary)
3 eggs, beaten well
1 cup tomato catsup
1 small onion chopped fine
1/2 cup chopped celery
1/2 green pepper
3 tablespoons cream
Watkins Pepper
Method
Put meat in a bowl and add ingredients in the order given. Round steak, veal, pork ground separately. Add more catsup if necessary. Bake in a slow oven and baste. 
Ice Cream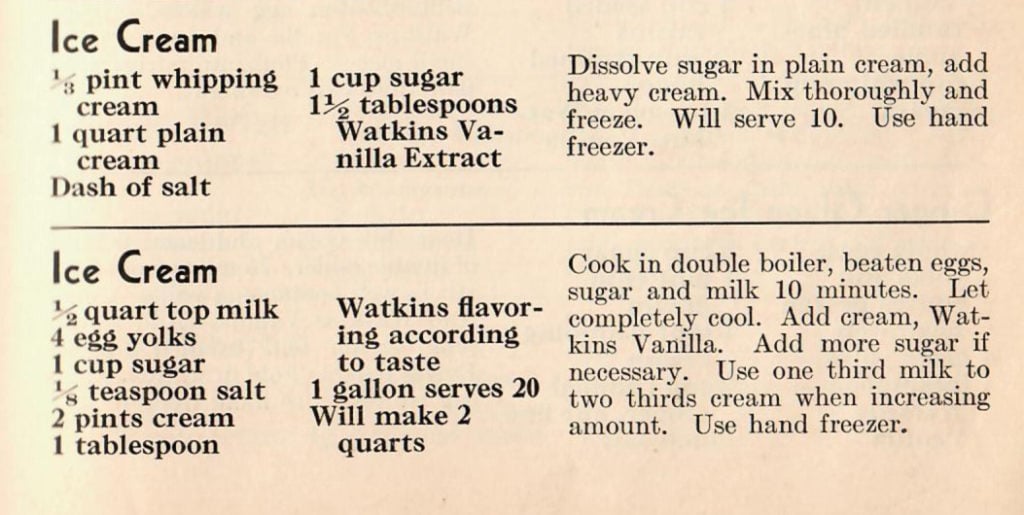 Ingredients
1/3 pint whipping cream
1 quart plain cream
Dash of salt
1 cup sugar
1 1/2 tablespoons Watkins Vanilla Extract
Method
Dissolve sugar in plain cream, and heavy cream. Mix thoroughly and freeze. Will serve 10. Use a hand freezer. 
Ingredients
1/2 quart top milk
4 egg yolks
1 cup sugar
1/8 teaspoon salt
2 pints cream
1 tablespoon Watkins flavoring according to taste
1 gallon serves 20, will make 2 quarts. 
Method
Cook in a double boiler, beaten eggs, sugar, and milk 10 minutes. Let completely cool. Add cream, Watkins Vanilla. Add more sugar if necessary. Use one-third milk to two-thirds cream when increasing amount. Use a hand freezer. 
Hermits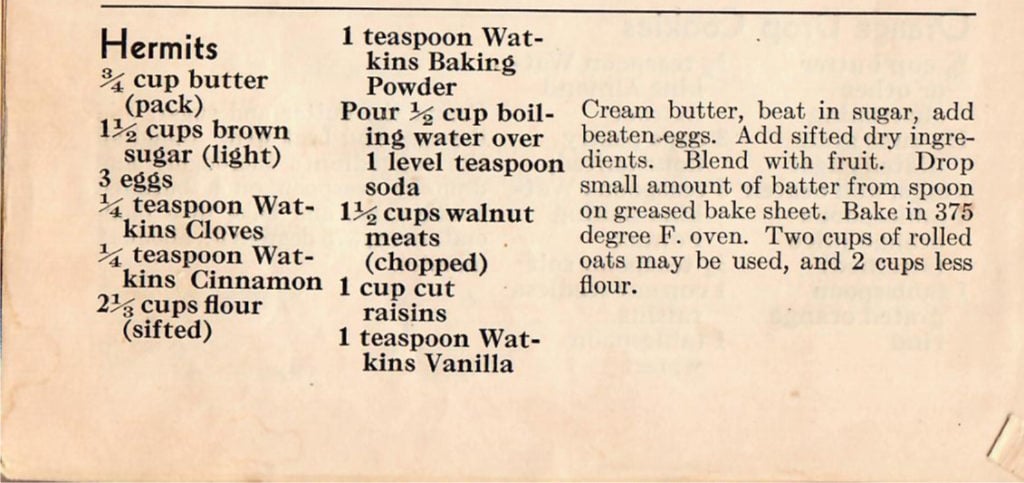 Ingredients
3/4 cup butter (pack)
1 1/2 cups brown sugar (light)
3 eggs
1/4 teaspoon Watkins Cloves
1/4 teaspoon Watkins Cinnamon
2 1/3 cups flour (sifted)
1 teaspoon Watkins Baking Powder
Pour 1/2 cup boiling water over 1 level teaspoon soda
1 1/2 cup walnut meats (chopped)
1 cup raisins
1 teaspoon Watkins Vanilla
Method
Cream butter, beat in sugar, add beaten eggs. Add sifted dry ingredients. Blend with fruit. Drop a small amount of batter from a spoon on greased bake sheet. Bake in 375-degree F. oven. Two cups of rolled oats may be used, and 2 cups less flour. 
Banana Cake
As a bonus, the original owner of this cookbook left an old type recipe for Barbara England's Banana Cake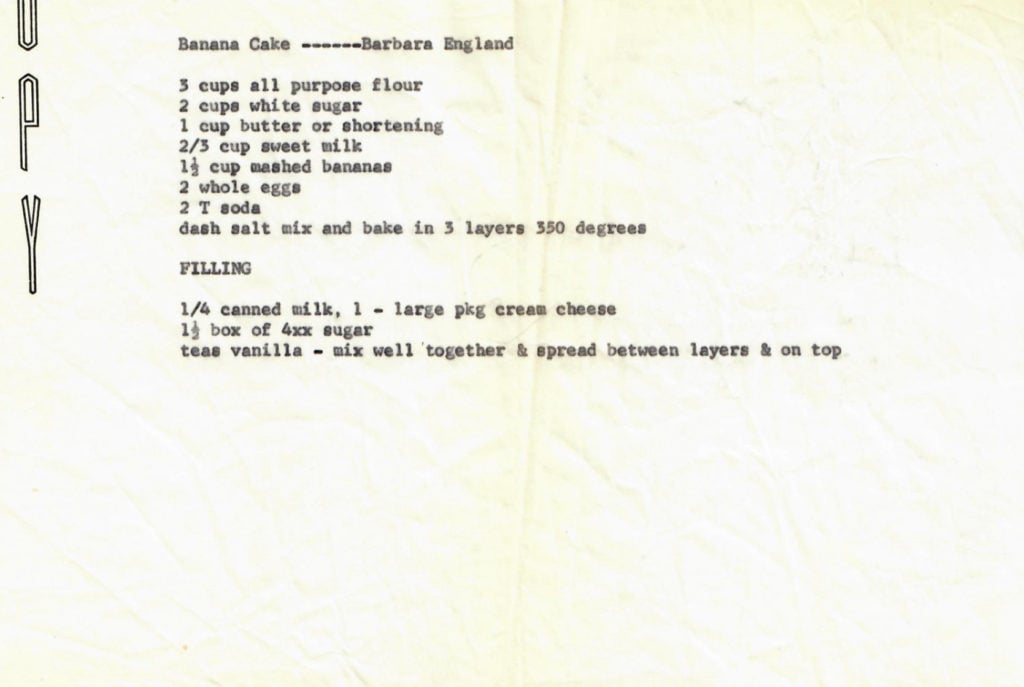 Ingredients
3 cups all-purpose flour
2 cups white sugar
1 cup butter or shortening
2/3 cup sweet milk
1 1/2 cup mashed bananas
2 whole eggs
2 tablespoons soda
Dash of salt
Method
Mix ingredients and bake in 3 layers at 350-degrees. 
Filling
1/4 canned milk
1 large package of cream cheese
1/2 box of 4XX sugar
1 teaspoon vanilla
Mix well together and spread between the layers and on top. 
Publisher: The J. R. Watkins Company
Add a little RETRO to your Christmas…
The above items are available on Amazon.