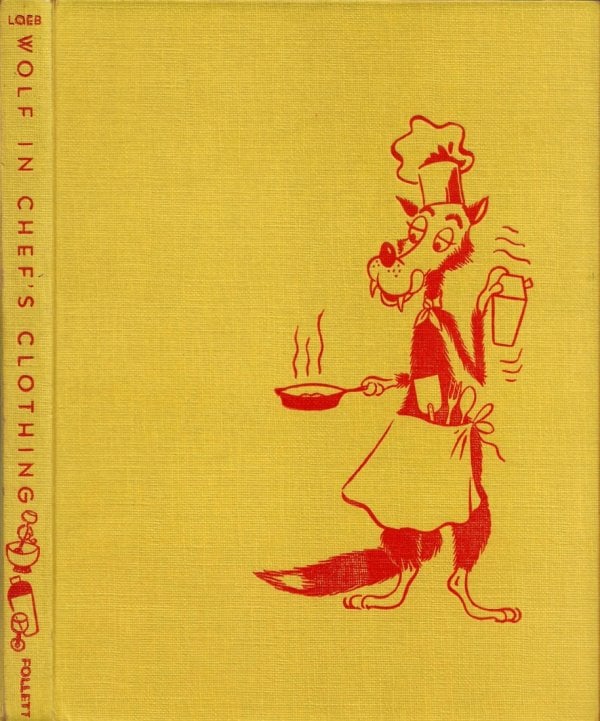 Written by Robert Loeb, Jr., former food and drink editor of Esquire Magazine, Wolf in Chef's Clothing is a self-proclaimed "Picture Cook and Drink Book for Men".  Originally written and published in 1950, there have been several publications since the original, including a paperback printing in September 2000.   Rather than using words to describe the steps for the recipes, the cookbook is filled with images by Jim Newhall to illustrate the cooking methods.  Loeb dedicates the cookbook "To my father, and my father's father, and my father's father's father, right back to Adam, all of whom spent their lives as the passive victims of feminine culinary caprice – from that first apple to apfelstrudel".   
Loeb states that the purpose of Wolf in Chef's Clothing is to "enfranchise the male, to unshackle him form the role of refrigerator vulture, icebox scavenger, from being a parasitic gourmet forced to feed on the leftovers of female cookery. Instead, he can become a gustatory eagle, king of the kitchen, and baron of the bar".  Loeb sets out to find simple, tasty, practical recipes that men can easily prepare for a variety of occasions and demonstrate how this can be done with pictures rather than complicated written cooking methods to prepare the dish. 
The cookbook is comprised of the following sections, and recipes; in true 1950's "Mad-Men" fashion there are chapters for Before, During, and After Dinner Drinks, along with Drinks that have "nothing to do with meals".
Part 1 – Cooking with Pictures
Part 2 – Breakfast for Two

Coffee and various methods of how to brew coffee – drip, percolate, or vacuolate
Orange Hawaiian
Oatmeal
Farnia
Eggs, scrambled, Easter scrambled, shirred, fried, eggs demi-benedict
Omelets – French, Spanish, American
Pancakes
le toast de Paris
Waffles

Part 3 – Sup-Her – a guide to preparing a meal for different types of women

Gastronomic foreplay

Tomato juice a l'ocean
Strawberry Loving Cup
Broiled Grapefruit
Sea Food Dorothea

Wolf-Fare – the Carnivore's Baedecker

Steak
Mignon et Bearnaise – a carnivore's opera
Lamb Chops
Poulet Mason Dixon

Un-American Activities

Spaghetti da Vinci
Shrimp Cobra
Hamburgers
Potatoes – baked, a l'onion, fried a la France

Salads

Walt Whitman
Roquefort
Asparagus Salad
Salad Subversive
Les Choux Froids – cole slaw to you

Salad Dressing Room

Part 4 – Midsupper's Night Dream 

Welsh Rabbit
Salmon Salad Marguerite
Hot Snack Marie
Follies Minuit
Casserole Chien Chaud – Franks and Beans to you
Spareribs
Crepes Suzettes

Part 5 – Fresh-Air Fodder – or Picnics and Barbecues

Delicatessen Special
Stuffed Eggs
Pickle-Beef Sandwich
Cheese Fingers
Salad Sandwich
Picnic Punch
Grilled Steak
Corn on the Coals
Bread Francais
Hot Banana
Barbecued Tomatoes

Part 6 – The Solid Teaser – The Cocktail Canape

C'est la vie Canape
Canape Fromage
Urged Sturgeon Canape
Shrimp a la Marx Canape
Canape Olive Chaud

Part 7 – Drinks – The Host's Liquid Assets

This section covers the basic liquors to stock your bar with, along with the basic containers and implements for a bar

Part 8 – Dissolving the Five O'Clock Shadow – or the cocktail hour

Horse's Neck
Whiskey Sour
Orange Blossom
Daiquiri
Sidecar
Piscolabis
Bluebell
Comin' Thro' the Rye
Rob Roy
Rum and Maple

Part 9 – Before-Dinner Drinks – aperitifs and cocktails

Bacardi Cocktail
Bamboo Cocktail
Brandy Cocktail
Bronx Cocktail
Delmonico Cocktail
Manhattan Cocktail
Martini
Subversive Martini
Martini Esoterica
Old Fashioned

Part 10 – Drinks with Meals

This section covers what type of wine to serve with different entrees and parts of a meal

Part 11 – After-Dinner Drinks

This section discusses a variety of liqueurs, brandies, and cognacs

Part 12 – Drinks That Have Nothing to Do with Meals

Beer
Bourbon
Brandy
Champagne Punch
Eggnog
Cuban Cola
French "75"
Mint Julep
Brandy Mash
Planter's Punch
Rum Collins
Tom Collins
Scotch and Soda
Rye Highball
Recipes
Welsh Rabbit
The recipe for Welsh Rabbit in a Wolf in Chef's Clothing is almost identical to a clipped recipe from Mrs. R's collection. 
The ingredients found in the Wolf in Chef's Clothing are American Cheese, Worcestershire Sauce, beer, dry mustard, red pepper, paprika, and toast; the clipped recipe from Mrs. R adds butter and egg yolks.  Here are images for both recipes: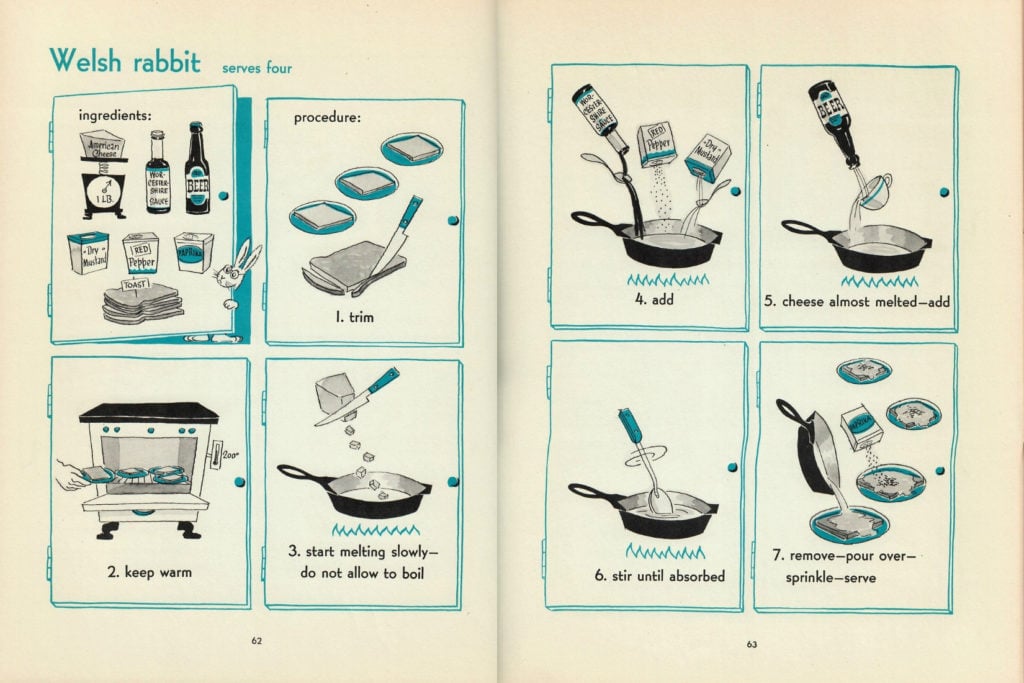 Martini Esoterica and Old Fashioned
Pictured below are recipes featured in the cocktail section for Martini Esoterica and Old Fashioned.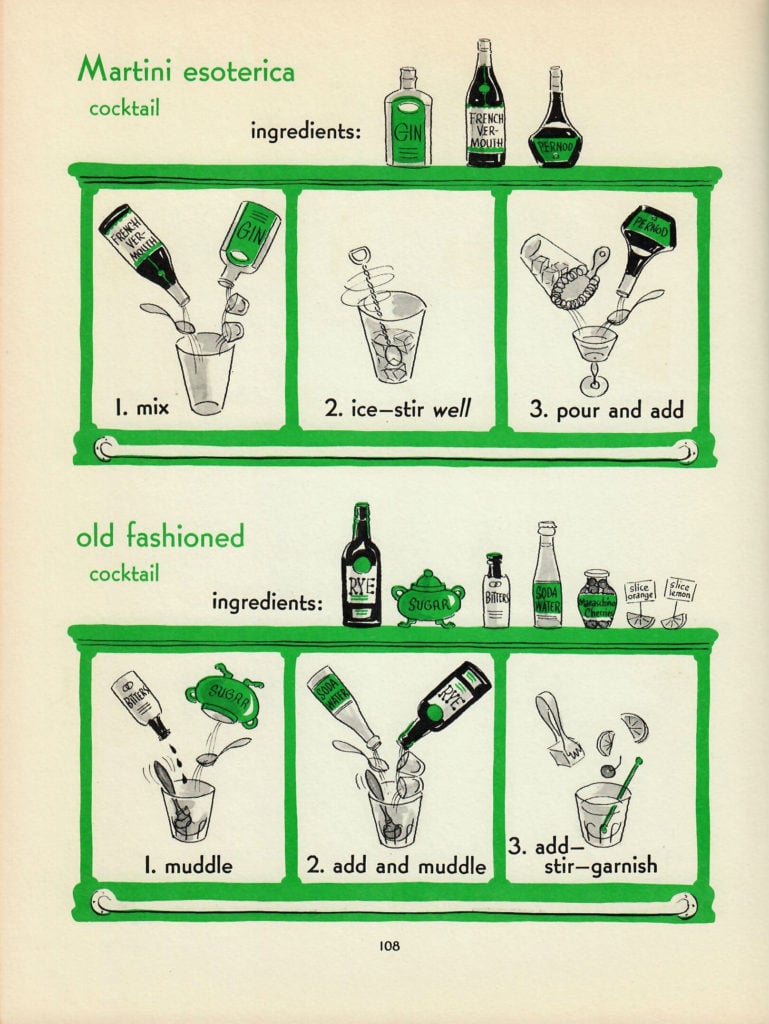 Wolf in Chef's Clothing is a unique Food and Drink Cookbook, with a lighter twist on the recipes contained in the cookbook and the methods for those recipes.  This is a great cookbook for the cook who likes a good laugh, and it would make a great gift for the novice cook, college student, or any confirmed old bachelor that you may know. 
Author: Robert H. Loeb, Jr.
Publisher: Wilcox and Follett, Company
Add a little RETRO to your Christmas…
The above items are available on Amazon.