Easter 2020 will be one for the history books as with world shuts down amidst the Coronavirus Pandemic.  If you are trying to plan an Easter Dinner for your family unit, we have searched our cookbook collection for Vintage Easter Menus and recipes to help you in your planning.  We hope these menus and recipes help inspire you to prepare a Traditional Easter Brunch or Dinner.  Even if you can't worship in your usual fashion on Easter Morning, hopefully, you can enjoy a traditional meal with your family. 
Stay Safe and Enjoy!
The Modern Family Cookbook
The Modern Family Cookbook by Meta Given was written in 1942, at the beginning of the cookbook Ms. Given gives several menu suggestions for each month of the year.  In March, a full-color picture (one of about six total in the entire cookbook) of an Easter Sunday Leg-Of-Lamb and menu are featured opposite page 24.  I love it that she suggests "Decorated Easter Eggs to Fancy-Up the Table"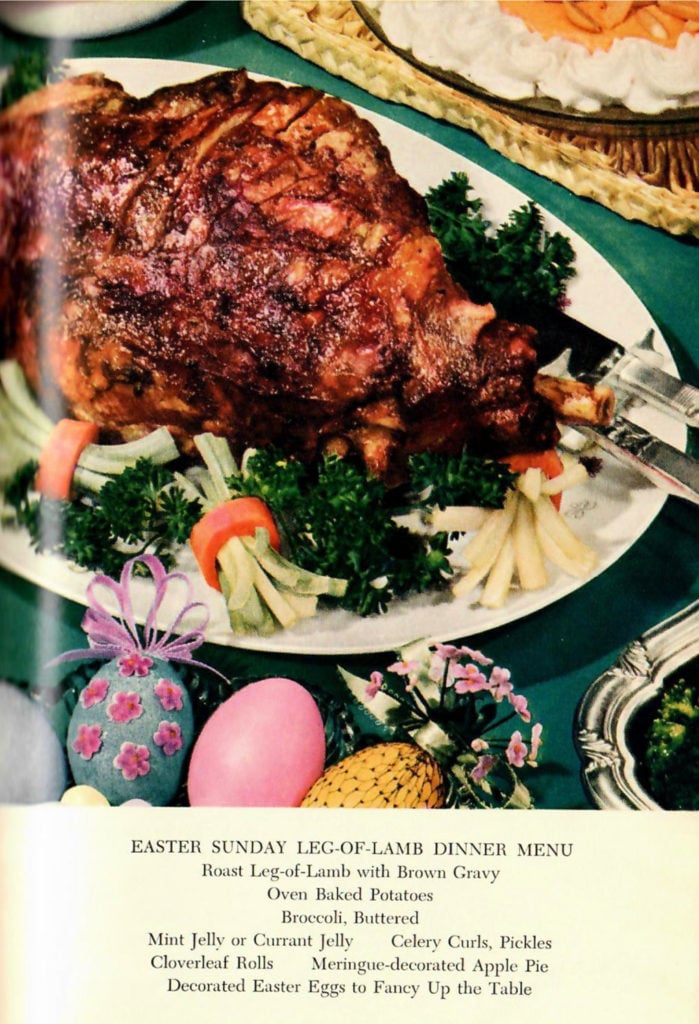 Easter Sunday Leg-of-Lamb Dinner Menu
Roast Leg-of-Lamb with Brown Gravy
Oven-Baked Potatoes
Broccoli, Buttered
Mint Jelly or Currant Jelly        Celery Curls, Pickles
Cloverleaf Rolls          Meringue-decorated Apple Pie
Decorated Easter Eggs to Fancy Up the Table
Roast Leg-of-Lamb
The Roast Leg-of-Lamb recipe is recipe number 520 and appears on page 330 in the Meat section of the cookbook:
Wipe the leg of lamb clean with a damp cloth; do not remove the fell. Cut a clove of garlic into four pieces. Make four equally spaced gashes on the fat side (underside) of the leg, and insert the pieces of garlic in these gashes (garlic may be omitted). Rub the leg all over with salt and pepper. Place on a trivet or small rack in an open roasting pan, fat side up; in lamb the fat layer is on the inside of the leg rather than on the outside or skin side. Insert meat thermometer in the thickest part of the leg so the bulb is at the center of the roast, touching neither bone nor fat. Place in moderately slow oven (325-320-degree) and cook 30 to 35 minutes to the pound, or until thermometer registers 180-degrees. Transfer to hot platter and cover to keep hot. Drain off excess fat from roasting pan and make gravy from savory brown reside. Lamb should be well-done and should be served very hot. Garnish with parsley or fresh mint and serve with Mint Jelly or Mint Sauce. A 6 to 6.5-pound leg of lamb will serve five at one meal with hot sliced roast lamb and with enough left over for Lamb Scallop the following day.
Mint Sauce
The Mint Sauce recipe is recipe number 913, featured on page 506 of the cookbook:
Ingredients
1/4 cup chopped mint
1/3 cup cider vinegar
4 tablespoons sugar
Pinch of baking soda
Method
Chop mint finely by putting leaves in a glass and snipping with scissors. Heat vinegar and sugar to boiling and pour over the chopped mint. Mix in soda, let cool, and serve with any cut of lamb. Five servings. 
Culinary Arts Institue Encyclopedic Cookbook
The Culinary Arts Institue Encyclopedic Cookbook was initially published in 1950, and the menu and recipes below are in the 1965 edition.  The cookbook includes monthly menu suggestions for both dinners and luncheons; the Easter Sunday Dinner Menu appears in the March Dinner section.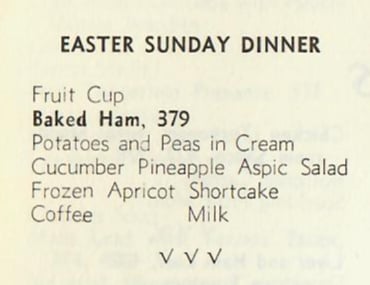 Sunday Dinner Menu
Fruit Cup
Baked Ham
Potatoes and Peas in Cream
Cucumber Pineapple Aspic Salad
Frozen Apricot Shortcake
Coffee                                    Milk
Baked Ham
This recipe, along with the image below appears on page 379 of the cookbook.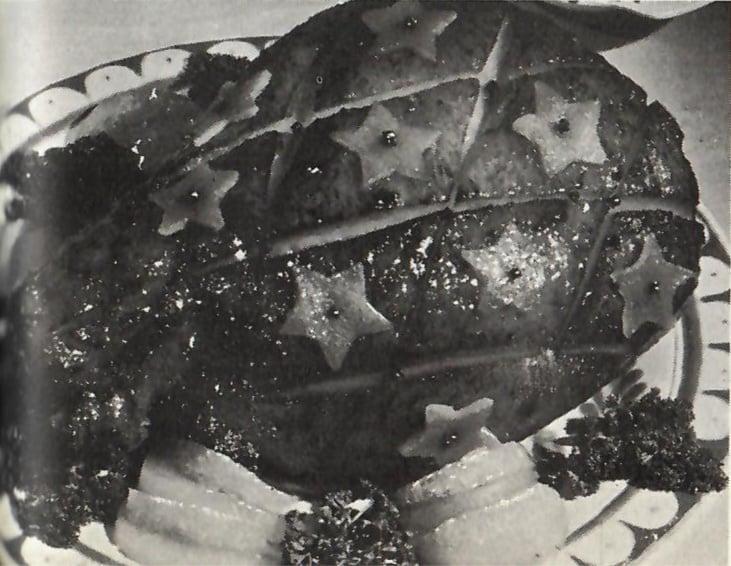 1 smoked ham
Glaze
Whole Cloves
Have ham warmed to room temperature and bake according to directions given by the packer, or as follows. Wipe ham down with a clean cloth, wrap loosely in one of the papers wrapped around ham or in clean wrapping paper and place fat side up on the rack of shallow pan. Do not cover the pan or add water. For baking allow 15 minutes per pound for hams, 12 pounds or over; allow 18 minutes per pound for hams, under 12 pounds; allow 22 minutes per pound for half hams; or bake to an internal temperature of 150-degrees, being sure bulb of the thermometer is inserted into the center of the thickest part of the meat and does not touch bone. Bake in a slow oven (325-degrees) until within 45 minutes of total baking time. Remove paper and rind from ham, make a series of shallow cuts across fat to cut into squares or diamonds, spread with the desired glaze, and insert 1 clove into each square of fat. Bake uncovered in a 325-degree oven for the remaining 45 minutes. 
Ham Glazes:
One cup brown sugar, juice and rind of 1 orange. 
One cup brown or white sugar and 1/2 cup maraschino cherry juice, cider or sweet pickle juice from pickled fruit.
One cup honey
Once up brown sugar,  1 tablespoon mustard. 
One cup pureed apricots, rhubarb or applesauce.
One glass currant jelly, melted. 
Use maraschino cherries and mint cherries fastened with pieces of toothpicks instead of cloves. 
Three-fourths cup pineapple juice, 3/4 cup strained hone and 1/2 teaspoon mustard cooked until thick.
One-half cup maple syrup, 1/2 cup cider or apple juice, and 2 tablespoons mustard. 
One-half cup orange marmalade.
cook 1/2 pound fresh cranberries with 1 cup maple syrup until skins pop open. Press mixture through a sieve and spread over ham. 
Helen Corbitt Cooks for Company
Helen Corbitt Cooks for Company was published in 1974 as a follow-up to her first cookbook, which is a Texas Culinary Classic, Helen Corbitt's Cookbook, which was first published in 1957.   Helen Corbitt Cooks for Company contains menus and entertaining suggestions for various social functions, holidays, and special occasions. Lucky for us Ms. Corbitt included a menu for her Easter Sunday Dinner.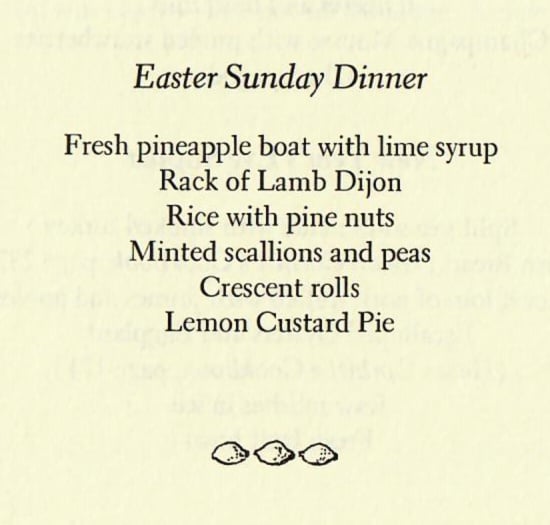 Helen Corbitt's Easter Sunday Dinner Menu
Fresh pineapple boat with lime syrup
Rack of Lamb Dijon
Rice with pine nuts
Minted scallions and peas
Crescent roll
Lemon Custard Pie
Rack of Lamb Dijon
Ingredients
3 tablespoons Dijon mustard
3 teaspoons salt
2 cloves garlic, minced
1/3 cup olive oil
3 single racks of lamb, trimmed for the oven
1 1/2 cups dry red wine
2 tablespoons honey
Method
Mix mustard, salt, garlic, and oil.  Rub over the racks and let stand for several hours. Roast at 375-degrees for 40 minutes, basting with the wine and honey. Serve with juices. Cook longer for well done, but I think you will enjoy lamb pink – at least give it a try.
Lemon Custard Pie 
"The very best pie I ever ate. I made it for a crusty friend who said, "It was so good I'd fight my Daddy for it."
Ingredients
4 large eggs
1 cup sugar
2 teaspoons flour
1 cup Karo
Grated rind and juice of 1 lemon
4 teaspoons butter, just softened
1 9-inch unbaked pie shell
Method
Beat eggs, add sugar mixed with the flour. Add the rest of the ingredients. Pour into shell and bake at 350-degrees for 60 minutes or until knife test shows it is done. Do not refrigerate. 
Gourmet's Menu Cookbook
Published in 1963 by Gourmet magazine, Gourmet's Menu Cookbook is "a collection of epicurean menus and recipes".  The first 121 pages of the cookbook are menu suggestions for various social functions, and special occasions. The cookbook includes menus for both an Easter Dinner and an Easter Buffet, along with suggested wine pairings.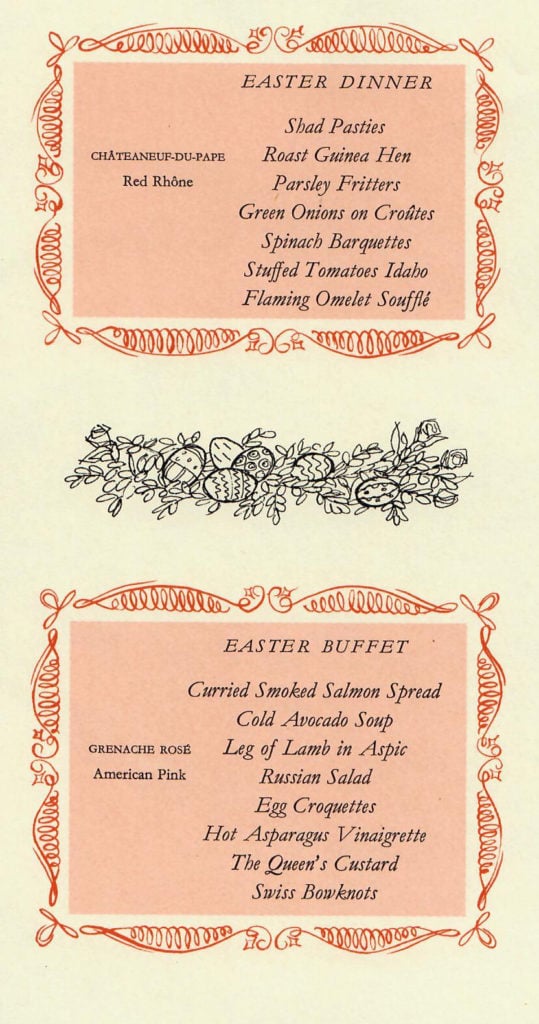 Gourmet's Easter Dinner
Shad Pasties
Roast Guinea Ham
Parsley Fritters
Green Onions on Croutes
Spinach Barquettes
Stuffed Tomatoes Idaho
Flaming Omelet Souffle
Chateauneuf-Du-Pape
Red Rhone
Gourmet's Easter Buffett
Curried Smoked Salmon Spread
Cold Avacado Soup
Leg of Lamb in Aspic
Russian Salad
Egg Croquettes
Hot Asparagus Vinaigrette
The Queen's Custard
Swiss Bowknots
Grenache Rose
American Pink
Hot Cross Buns
Although none of the menus above feature Hot Cross Buns, as they are traditionally served on Good Friday, we felt obliged to include a recipe for them. This recipe comes from Mother Anderson's Favorite Recipes, which was published in 1948 to feature the favorite recipes from The Hotel Anderson in Louisville Kentucky. 
Ingredients
1 cup milk, scalded
1/2 cup shortening
1 teaspoon salt
1/2 cup sugar
2 yeast cakes
2 eggs, beaten
4 3/4 cups sifted flour
Melted butter
1/2 cup seedless raisins
1 teaspoon cinnamon
1 egg yolk
1 tablespoon milk
Method
Combine the milk, shortening, salt, and sugar. Cool to lukewarm. Add the crumbled yeast cakes and stir until dissolved. Add the eggs. Gradually add the flour. Then knead on a floured board for five minutes. Place in a greased bowl, grease the surface of the dough and let rise until doubled in bulk. Then knead in the raisins and cinnamon until they are well distributed. Pinch off pieces of dough, about one inch in diameter, press flat with the hands, and place in rows on a greased baking pan. Brush with the egg yolk diluted with the milk and let rise until a little more than double in size. Bake in a hot oven, 425-degrees, for about fifteen minutes, or until well done. Remove from the oven and brush again with the diluted egg yolk. Makes twenty-four buns. When buns are cool, make a cross on each one with the following icing.
Bun Icing
Ingredients
1 cup powdered sugar
2 tablespoons boiling water
1/4 teaspoon vanilla
Method
Blend the sugar, boiling water, and vanilla in the top of a double boiler and cook until of good spreading consistency. Add a few more drops of water if necessary.