Crabmeat Imperial: A Culinary Delight from the Chesapeake Bay
Emerging from the heart of Maryland's Chesapeake Bay, Crabmeat Imperial is a culinary gem that has captivated palates for generations. This delectable dish showcases the finest lump crabmeat, delicately blended with a symphony of flavors to create an unforgettable dining experience.
A Symphony of Flavors
The culinary journey begins with a vibrant medley of finely diced vegetables. Crisp bell peppers, tender celery, and aromatic onions provide a refreshing crunch and subtle sweetness that complements the richness of the crab meat. Parsley flakes add a touch of herbaceousness, while a hint of Tabasco sauce introduces a zesty spark.
A creamy sauce forms the foundation of this exquisite dish. The sauce is then seasoned with a touch of sherry, a splash of lemon juice, and a dash of Tobasco sauce, adding layers of complexity and depth of flavor.
The Star of the Show
The star of this dish is undoubtedly the lump crabmeat, carefully picked from the finest Chesapeake Bay blue crabs. Each bite bursts with the tender sweetness of the crabmeat, its delicate texture contrasting beautifully with the creamy béchamel sauce.
An Elegant Delight
Crabmeat Imperial is a dish that is both elegant and approachable. It is perfect for a special occasion or a casual family dinner. The dish can be served hot or at room temperature, and it pairs beautifully with various side dishes, such as roasted vegetables, wild rice, or a simple salad.
Whether you are a seasoned seafood enthusiast or a novice to the culinary delights of the Chesapeake Bay, Crabmeat Imperial is a dish that will tantalize your taste buds and leave you craving more.
Crabmeat Imperial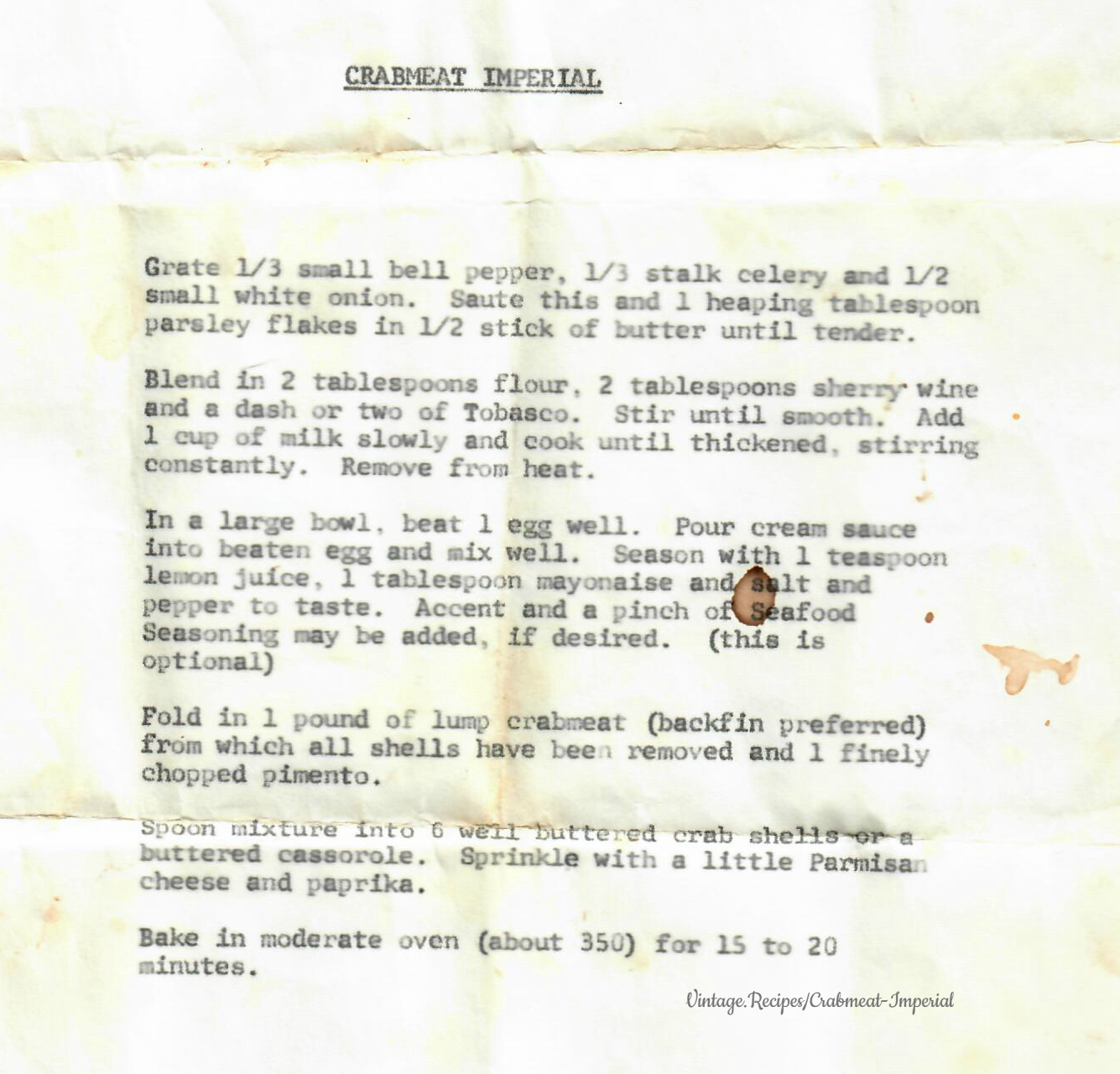 Print Recipe
Ingredients
1/3

small bell pepper

1/3

stalk celery

1/3

small white onion

1

tablespoon

parsley flakes

1/2

stick butter

2

tablespoons

flour

2

tablespoon

sherry wine

Dash Tobasco

1

cup

milk

1

egg

1

teaspoon

lemon juice

1

tablespoon

mayonnaise

Salt and pepper to taste

1

pound

lump crabmeat

backfin preferred
Method
Grate 1/3 small bell pepper, 1/3 stalk celery, and 1/2 small white onion.

Saute this and one heaping tablespoon parsley flakes in 1/2 stick of butter until tender.

Blend in 2 tablespoons flour, 2 tablespoons sherry wine and a dash or two of Tobasco.

Stir until smooth.

Add 1 cup of milk slowly and cook until thickened, stirring constantly.

Remove from heat.

In a large bowl, beat 1 egg well.

Pour cream sauce into beaten egg and mix well.

Season with 1 teaspoon lemon juice, 1 tablespoon mayonnaise and salt and pepper to taste.

Accent and a pinch of Seafood Seasoning may be added if desired, (this is optional).

Fold in 1 pound of lump crabmeat (backfin preferred) from which all shells have been removed and 1 finely chopped pimento.

Spoon mixture into 6 well-buttered crab shells or a buttered casserole.

Sprinkle with a little Parmesan cheese and paprika.

Bake in moderate oven (about 350-degrees) for fifteen to twenty minutes.
Print Recipe
Share by Email
Pin Recipe