Giblet Pate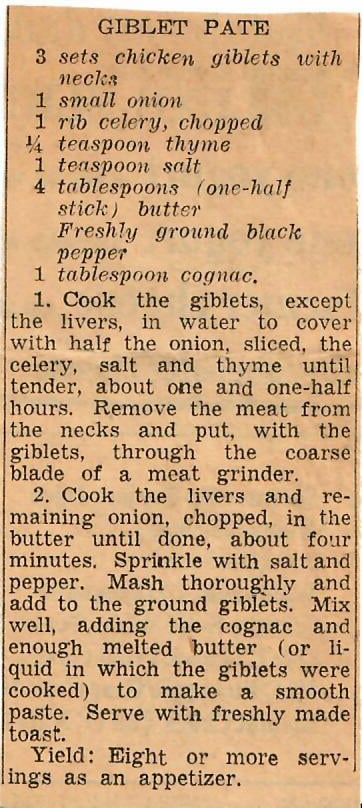 A vintage clipped newspaper recipe for Giblet Pate, make this pate with chicken giblets with necks, onions, celery, thyme, salt, butter, ground pepper, and cognac. A perfect addition to your Thanksgiving meal.
Print Recipe
Ingredients
3

sets chicken giblets with necks

1

small onion

1

rib celery

chopped

1/4

teaspoon

thyme

1

teaspoon

salt

4

tablespoons

one-half stick butter

Freshly ground pepper

1

tablespoon

cognac
Method
Cook the giblets, except the livers, in water to cover with half the onion, sliced, the celery, salt and thyme until tender, about one and one-half hours.

Remove the meat from the necks and put, with the giblets, through the coarse blade of a meat grinder.

Cook the livers and remaining onion, chopped in the butter until done, about four minutes.

Sprinkle with salt and pepper.

Mash thoroughly and add to the ground giblets.

Mix well, adding the cognac and enough melted butter (or liquid in which the giblets were cooked) to make a smooth paste.

Serve with freshly made toast.
Print Recipe
Share by Email
Pin Recipe
Notes
Yield: Eight or more servings as an appetizer.