Lemon Meringue Pie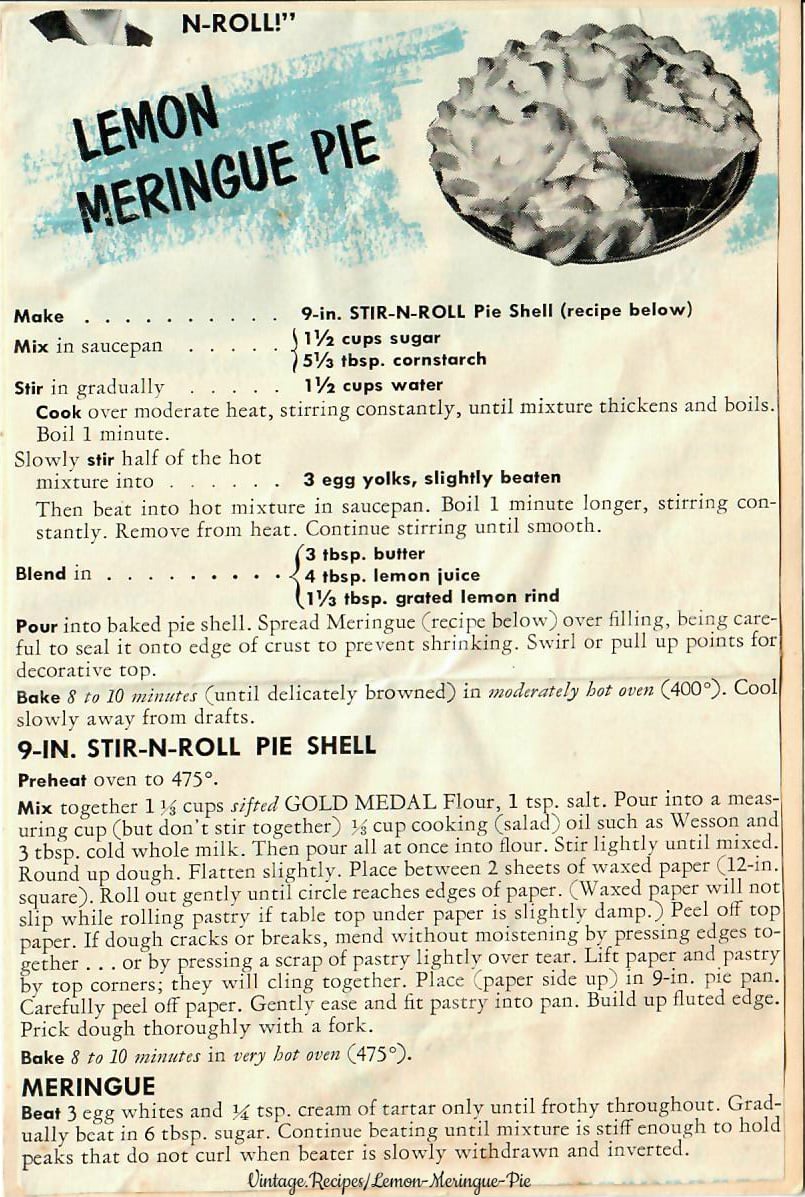 A vintage clipped recipe from Gold Metal Flour for a Lemon Meringue Pie, make this classic Lemon Meringue Pie with
Print Recipe
Method
Lemon Meringue Pie
Make – 9-inch Stir-In-roll Pie Shell (recipe below)

Mix in a saucepan 1 1/2 cups sugar and 5 1/3 tablespoons cornstarch; stir in gradually 1 1/2 cups water.

Cook over moderate heat, stirring constantly until mixture thickens and boils. Boil 1 minute.

Slowly stir half of the hot mixture into 3 egg yolks, slightly beaten. Then beat into hot mixture in saucepan. Boil 1 minute longer, stirring constantly. Remove from heat. Continue stirring until smooth.

Blend in 3 tablespoons butter, 4 tablespoons lemon juice, and 1 /3 teaspoons grated lemon rind.

Pour into baked pie shell. Spread Meringue (recipe below) over filling, being careful to seal it onto the edge of the crust to prevent shrinking. Swirl or pull up points for a decorative top.

Bake 8 to 10 minutes (until delicately browned) in a moderately hot oven (400-degrees). Cool slowly away from drafts.
9-Inch Stir-N-Roll Pie Shell
Preheat oven to 475-degrees.

Mix together 1 1/3 cups sifted Gold Medal Flour and 1 teaspoon salt. Pour into a measuring cup (but don't sift together) 1/3 cup cooking (salad) oil such as Wesson and 3 tablespoons cold whole milk. Then pour all at once into flour. Stir lightly until mixed. Round up the dough. Flatten slightly. Place between 2 sheets of waxed paper (12-inches square). Roll out gently until circle reaches edges of the paper. (Waxed paper will not slip while rolling pastry if table top under paper is slightly damp.) Peel off top paper. If dough cracks or breaks, mend without moistening by pressing edges together, or by pressing a scrap of pastry lightly over the tear. Lift paper and pastry by top corners; they will cling together. Place (paper side up) in 9-inch pie pan. Carefully peel off the paper. Gently ease and fit pastry into pan. Build up a fluted edge. Prick dough thoroughly with a fork.

Bake 8 to 10 minutes in very hot oven (475-degrees).
Meringue
Beat 3 egg whites and 1/4 teaspoon cream of tartar only until frothy throughout. Gradually beat in 6 tablespoons sugar. Continue beating until mixture is stiff enough to hold peaks that do not curl when beater is slowly withdrawn and inverted.
Print Recipe
Share by Email
Pin Recipe