New Orleans Pralines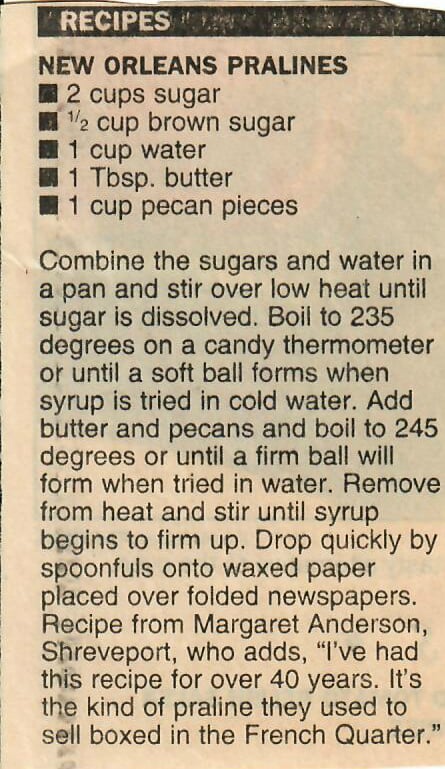 A vintage newspaper recipe for New Orlean's Pralines; make these pralines with sugar, brown sugar, water, butter, and pecans. This recipe is from Margaret Anderson of Shreveport who adds, "I've had this recipe for over 40 years, it is the kind of praline they used to sell boxed in teh French Quarter."
Print Recipe
Ingredients
2

cups

sugar

1/2

cup

brown sugar

1

cup

water

1

tablespoon

butter

1

cup

pecans
Method
Combine the sugars and water in a pan and stir over low heat until sugar is dissolved.

Boiled to 235-degrees on a candy thermometer or until a soft ball forms when syrup is tried in cold water.

Add butter and pecans and boil to 245-degrees or until a firm ball will form when tried in water.

Remove from heat and stir until syrup begins to firm up.

Drop quickly by spoonfuls onto waxed paper placed over folded newspapers.
Print Recipe
Share by Email
Pin Recipe
Additional Authentic Vintage Praline Recipes
After several Pinterest users made comments that this recipe did not turn out well for them, I thought I would update this post with some additional recipes. Here is a link to the Pinterest Pin if you are interested in the comments – Pinterest New Orleans Pralines.
This a cookbook published by Grace Episcopal Church in St. Francisville, LA; there is no date on the publication but it appears to be from the 1940s. The Praline recipe published on page 19 has the same ingredients (with the addition of a pinch of salt) as the newspaper clipping, but in different proportions:
1 cup white sugar
1 tablespoon brown sugar
1 tablespoon butter
1 pinch of salt
1/4 cup water
1 cup pecans
Cook all together until syrup spins a thread. Beat until creamy. Drop on wax paper.
The Plantation Cookbook was published by the Junior League of New Orleans in 1972. The recipe included in this cookbook on page 209 adds cream to the ingredients and excludes brown sugar. This recipe also calls for using two separate pans during the cooking process.
2 1/2 cups sugar
1 cup half-and-half cream
1 tablespoon butter
2 cups pecan halves
In a heavy iron pan, combine 2 cups sugar with cream and butter and bring to a boil. In a separate heavy saucepan, melt 1/2 cup sugar until it is caramel color. Add the cream, butter, and sugar mixture to the caramel mixture. Add pecan and cook to the soft-ball stage (235-degrees on a candy thermometer). Remove from heat and beat until it thickens. Drop onto wax paper to harden.
Yields 2 dozen pralines 2.5 to 3 inches in diameter.
Talk about Good! – Le LIVRE de la CUISINE de LAFAYETTE
Talk about Good is a 1967 Junior League Cookbook published by the Junior League of Lafayette, LA. This cookbook is considered a classic Junior League cookbook, having been reprinted over 30 times with over 775,000 copies in print. The cookbook had the honor of being in the inaugural class of the Walter S. McIllhenny Hall of Fame Awards – a distinction given to cookbooks that have sold over 100,000 copies and are considered culinary classics. Three traditional Praline recipes appear in Talk about Good, along with a recipe for Butterscotch Pralines.
Pecan Pralines I
1 cup white sugar
1 cup brown sugar (1/2 light, and 1/2 dark)
1 dash salt
1/2 cup milk
2 tablespoons white Karo syrup
2 tablespoons butter
1 teaspoon vanilla
1 1/2 cup pecan halves
Mix sugar, salt, milk, and Karo syrup in a heavy 3-quart pan and cook to soft-ball stage. Add butter and vanilla. Beat until cool. Add pecans and drop by the tablespoon onto wax paper. When firm, store in a closed container. Makes approximately 2 dozen pralines.
Mrs. LaVerne Temple; Texarkana, Texas
Pecan Pralines II
3 cups sugar
1 scant c. milk
1/2 stick butter or oleo
2-3 cups pecan halves
Measure one cup of sugar in black iron or heavy aluminum pot and caramelize. At the same time, bring milk and the remaining 2 cups of sugar to boil in a saucepan. Add milk mixture to the caramelized sugar and cook together for about 2 minutes. (be careful when adding milk to caramel as the mixture bubbles up.) Remove from fire, add 1/2 stick butter, and beat until melted. Add 2 to 3 cups of pecans, continue beating until thick and ready to drop. Drop by spoonfuls onto waxed paper. Makes about 2 dozen.
Mrs. Hardy J. Durand
Creamy Pralines
3 cups packed light brown sugar
1/8 teaspoon salt
2 tablespoons butter
2 1/4 cups pecan halves
1/4 teaspoon cream of tartar
1 cup milk
1 teaspoon vanilla
Check your barometric pressure, it must be 30-inches or above. Combine sugar, cream of tartar, salt, and milk. Stir over low heat until sugar dissolves. Wipe crystals from the side of the pan with a cloth or rubber spatula; cook to 236 – 238 degrees. Cool to 220 degrees. Add butter, vanilla, and pecans. Beat until creamy (do not use an electric beater). Drop-in spoonfuls onto a buttered surface of marble, Formica, or plain waxed paper. Yields 1.5 to 2 dozen.
Alice Evelyn Wallace
A Cooks Tour of Shreveport
A Cooks Tour of Shreveport was first published by the Shreveport Junior League in 1964. The original newspaper clipping came from a collection originating from Shreveport, and I assume was published in the Shreveport paper since my research shows that the owner was the editor of the "Women's Page" for a number of years. There are three praline recipes included in the cookbook, I have included all three recipes for reference.
Creamy Pralines
1 cup brown sugar
2 cups white sugar
3 tablespoons white corn syrup
1 cup milk (whole or evaporated. The latter makes richer pralines.)
1/2 stick butter
2 or 3 cups pecan halves
2 teaspoons vanilla
In a heavy pot blend together well the sugars, corn syrup, and milk. Cook slowly, stirring constantly. Add half the butter when the candy first comes to a boil, then continue to cook until it reaches 236-degrees. Remove from heat, add remaining butter, using about 150 strokes. Add vanilla and pecans and continue beating until the candy becomes slightly lighter in color and is more creamy. this is the most important step. While the candy is still hot, drop it onto buttered waxed paper so that it will form smooth, creamy pieces. This will make approximately 18 pralines, depending on size.
Mrs. Paul E. Sipple, Jr.
Old Mississippi Pralines
2 cups light brown sugar
1/3 cup water
1/2 stick butter
1 1/2 cups pecan meats
1 teaspoon vanilla
Bring sugar and water to a quick boil over high heat. Add butter and pecan meats. Stir constantly. Cook until a candy thermometer reaches 246-degrees, or the mixture forms a soft wall when tested in a cup of water. Remove from fire. Beat slightly and add vanilla. Drop on greased foil or buttered cookie sheet.
Mrs. Jackson B. Davis
Mama's Pralines
3 cups sugar
1 cup buttermilk
1 teaspoon baking soda
1/2 stick butter
1 teaspoon vanilla
3 cups pecans
Put all ingredients except pecans into a big boiler and boil until the mixture turns brown and forms a soft ball in cold water. Add one teaspoon vanilla and beat a little. Stir in pecans and drop on waxed paper.
Mrs. J. B. Haynes, Jr.