Strawberry Shortcake made with new 'n' easy stir-n-roll biscuit recipe; make rich, tender, crusty biscuits every time!
A Vintage Delight: Strawberry Shortcake with Stir-n-Roll Biscuits
Step back in time and savor the nostalgic flavors of a vintage strawberry shortcake, a dessert that has graced tables for generations. This classic recipe, featuring Gold Medal flour, delivers tender, flaky biscuits that perfectly complement the sweetness of fresh strawberries and whipped cream. The unique "Stir-n-Roll" method ensures effortless biscuit preparation, making this dessert a breeze to create even for novice bakers.
Golden, Flaky Biscuits: The Foundation of a Timeless Treat
The heart of this strawberry shortcake lies in its golden, flaky biscuits, made with the finest Gold Medal flour. The simple yet effective "Stir-n-Roll" method eliminates the need for messy kneading and cutting, resulting in consistently tender and flaky biscuits. The combination of baking powder, salt, and sugar balances the flavors perfectly, creating a biscuit base that is both light and satisfying.
A Symphony of Sweetness: Strawberries and Whipped Cream
Fresh strawberries, the epitome of summer's bounty, take center stage in this classic dessert. Their vibrant red hue and sweet, juicy flesh provide a burst of freshness that perfectly complements the richness of the biscuits. A generous dollop of whipped cream adds a touch of indulgence, its light and airy texture providing a delightful contrast to the biscuits and strawberries.
An Effortless Creation for Bakers of All Skill Levels
Whether you're a seasoned baker or a novice in the kitchen, this vintage strawberry shortcake recipe will become a favorite. The "Stir-n-Roll" method for the biscuits is simple, and the dessert assembly is straightforward. With just a few ingredients and minimal preparation time, you'll create a delicious and visually appealing dessert.
A Culinary Treasure Passed Down Through Generations
This vintage strawberry shortcake recipe passed down through generations, is a testament to the enduring appeal of simple, classic desserts. Its timeless flavors and effortless preparation have captivated bakers and dessert enthusiasts, making it a cherished tradition in many homes.
Embrace Culinary Nostalgia and Create a Memorable Dessert
As you create this vintage strawberry shortcake, let the nostalgic aromas of baking biscuits and the vibrant hues of fresh strawberries transport you back to simpler times. With each bite, savor the harmonious blend of textures and flavors, a testament to the enduring legacy of this classic dessert.
Strawberry Shortcake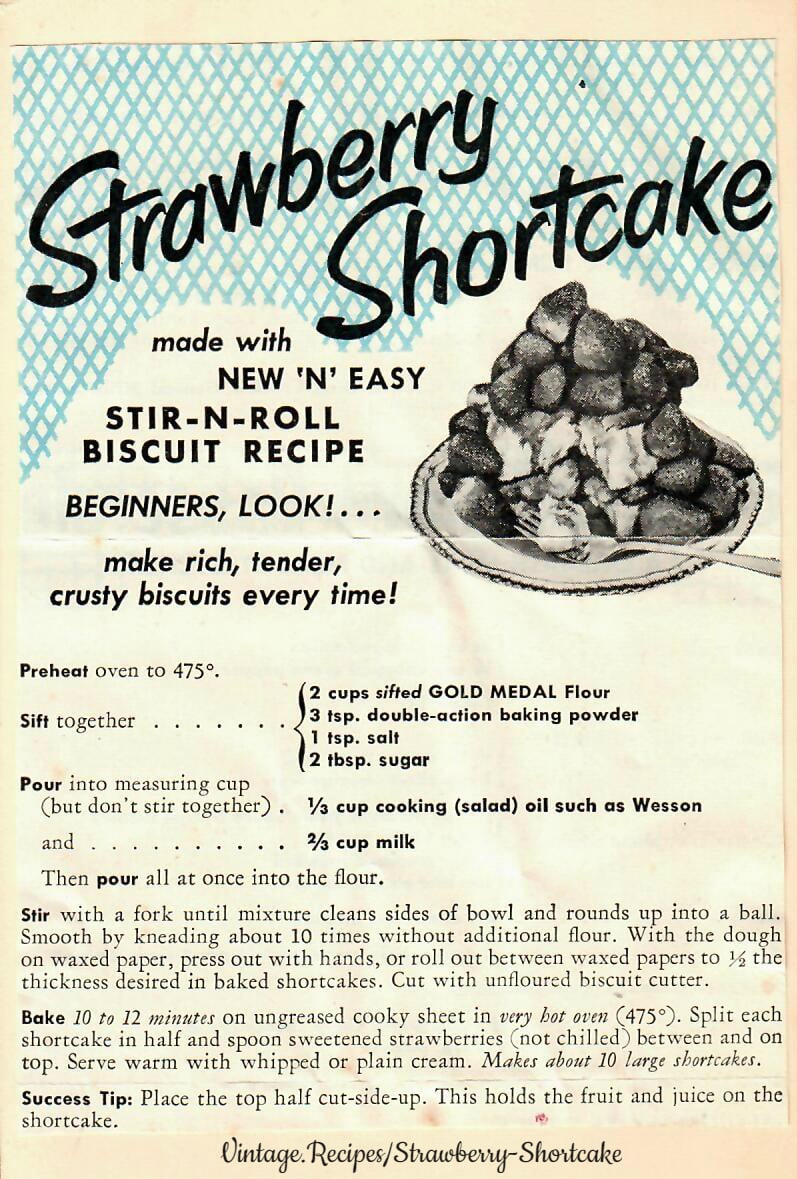 A vintage clipped reipce for Strawberry Shortcake from Gold Medal flour. Make this recipe with Gold Medal flour, baking powder, salt, sugar, cooking oil, and milk.
Print Recipe
Ingredients
2

cups

sifted Gold Medal flour

3

tablespoons

double-acting baking powder

1

teaspoon

salt

2

tablespoons

sugar

1/3

cup

cooking oil

salad oil such as Wesson

2/3

cup

milk
Method
Preheat over to 475-degrees.

Sift together 2 cups sifted Gold Medal flour, 3 teaspoons double-acting baking powder, 1 teaspoon salt, and 2 tablespoons sugar.

Pour into a measuring cup (but don't stir together) 1/3 cup cooking (salad) oil such as Wesson and 2/3 cup milk.

Then pour all at once into the flour.

Stir with a fork until mixture cleans sides of the bowl and rounds up into a ball.

Smooth by kneading about 10 times without additional flour.

With the dough on waxed paper, press out with hands, or roll out between waxed papers to 1/2 the thickness desired in baked shortcakes.

Cut with unfloured biscuit cutter.

Bake 10 to 12 minutes on an ungreased cooky sheet in very hot oven (475-degrees).

Split each shortcake in half and spoon sweetened strawberries (not chilled) between and on top.

Serve warm with whipped or plain cream.
Print Recipe
Share by Email
Pin Recipe
Notes
Makes about 10 large shortcakes.
Success Tip: Place the top half cut-side-up. This holds the fruit and juice on the shortcake.