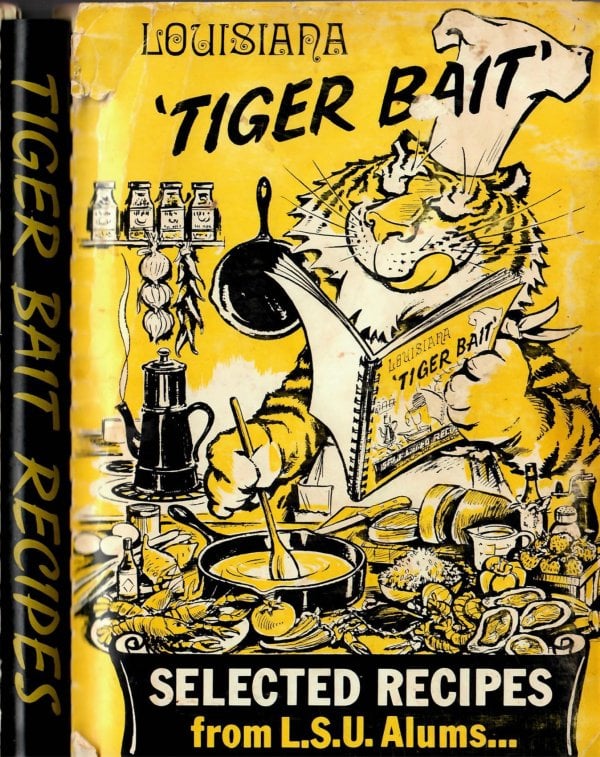 This cover image is from the first edition of the Louisiana Tiger Bait – Selected Recipes from L.S.U. Alumns Cookbook published by the LSU Alumni Federation in cooperation with the LSU Home Economics Alumni Association in 1976 with recipes contributed by Alumni and friends of LSU.  There were 10,000 copies originally printed, but the cookbook is in re-print and available from the LSU Alumni Association Gift Shop for $19.95.  The original price of the cookbook was $5.75, plus $.75 postage and handling for each book ordered.
This is a great cookbook, chopped full of everyday dishes as well as regional specialties.  I would recommend adding a copy to your cookbook library.  One of the unique features of the original cookbook is the addition of Metric measurements; since the cookbook was first published during a time the world was trying to get the United States to adopt the Metric System, the recipe measurements are given in Imperial and Metric units. 
The idea of the cookbook started in 1972 when Frances and Jay Jalenak began collecting recipes from LSU Alumni.  They soon had over 1,500 recipes in hand and then partnered with the LSU School of Home Economics Alumni Association to help test and edit the cookbook.  The name Tiger Bait, was adopted from the cheer that can be heard at LSU sporting events as the fans belt out their intimidating war-chat "Tiger Bait! Tiger Bait!" at the opposing fans. 
The cookbook contains the following sections:
Appetizers, Dips and Beverages
Soups and Gumbos
Salads and Salad Dressings
Meats and Main Dishes
Casseroles and One-Dish Meals
Seafood
Poultry and Game
Vegetables
Breads and Sandwiches
Cakes and Icings
Pies
Cookies and Candies
Desserts
Relishes, Preserves and Condiments
Tigers Around the World 
The Tigers Around the World section contains recipes with international origins. Recipes in this section include Cochon de Lait, Hamburger Stroganoff, Borscht, Hungarian-Styled Stuffed Cabbage, Hasenpefeffer: German Rabbit, Round Steak Sauerbraten, Sauerbraten with Potato Dumplings, Kartoffel Klosse: Potato Dumplings, German Salad Dressing, among others. 
The original owner of this cookbook highlighted two recipes – 
Ingredients
1 tablespoon grated onion
1 teaspoon Worcestershire Sauce
1/2 teaspoon garlic powder
1/2 pint sour cream
2/3 cup mayonnaise
1 tablespoon chopped green onion tops
1 tablespoon chopped parsley
Red pepper and salt to taste
1 pound fresh-picked crabmeat
Method
Combine the first eight ingredients. Add crabmeat and thoroughly mix. Serve with crackers. Makes approximately two cups (500 ml)
Mrs. William B. Bates
Baton Rouge, LA
OH So Good Chicken
Ingredients
8 meaty pieces of frying chicken, salted and peppered
Flour for coating chicken
1/2 cup margarine or butter
SAUCE:
1/2 cup canned onion soup, undiluted
1/2 cup tomato juice
1 four-ounce can mushroom stems and pieces, with liquid reserved
2 tablespoons dry sherry, more if desired
Method
Salt, pepper, and flour chicken. Brown in a heavy skillet in margarine. While chicken browns, make the sauce by combining onion soup, tomato juice, mushrooms, and sherry. When chicken is brown, add sauce and simmer covered until tender. Mushroom juice may be added if needed. 
Hint: To prepare in a casserole, place browned chicken with sauce in the casserole and bake at 350-degrees until tender. 
Pansy Hebert Wright (Mrs. A. S.)
Baton Rouge, LA
Other Recipes
Some of the most-searched-for recipes on our site are cajun/creole in flavor, so here are the recipes for Jambalaya, Gumbo, and Red Beans and Rice that are included in Tiger Bait. 
Jambalaya
This is a recipe for your basic Jambalaya, also included in Tiger Bait are recipes for Crawfish Jambalaya, Seafood Jambalaya, Shrimp and Sausage Jambalaya, and Shrimp Jambalaya. 
Ingredients
1 large fryer, cut up
1 pound smoked sausage, sliced in 1/4 inch slices
3 tablespoons vegetable oil
1 cup chopped green pepper
1 cup chopped onion
1 clove garlic, minced
1 tablespoon salt
Pepper to taste
2 teaspoons Worcestershire sauce
1 quart chicken broth
1 cup tomato sauce
2 1/2 cups uncooked long-grain rice
Method
In a large Dutch oven, brown meat in oil. Remove meat, reduce heat, and saute vegetables until onions are clear. Add seasonings, Worchestershire sauce, broth, and tomato sauce; simmer for about 15 minutes. Add meat rice; stir well. Cover and cook over medium heat for about 30 minutes, stirring occasionally to prevent sticking. Cook an additional 20 minutes over very low heat, without stirring.  Serves eight. 
Editors note: If chicken broth is prepared from chicken bouillon cubes, reduce salt. 
Vigie Vicaro Brousssard (Mrs. Marion P.)
Laplace, LA
Creole Gumbo
In addition to the Creole Gumbo recipe, Tiger Bait also contains a recipe for Bayou Teche Chicken-Oyster Gumbo and Shrimp Okra Gumbo. 
Ingredients
1/4 cup vegetable oil
2 tablespoons flour
1 cup chopped celery or celery leaves
1 large onion, chopped
1 green pepper, chopped
1 16-ounce can of tomatoes
3 cups chicken broth
1 bay leaf
1/4 teaspoon thyme
2 cups sliced okra
2 tablespoons chopped parsley
Salt to taste
1/4 teaspoon Tobasco, more if desired
3 cups coarsely cut cooked chicken
1 pound shrimp, raw or cooked
1 pint oysters
Method
Heat oil in a large saucepan; add flour and stir until dark brown. Add celery, onion, and green pepper; continue stirring until tender. Add all remaining ingredients, except chicken, shrimp, and oysters; simmer covered for approximately 45 minutes. Add chicken and shellfish; adjust seasonings. Simmer ten minutes. Serve in large flat bowls over hot rice. Yields six to eight servings. 
Mary Belle Smith
Baton Rouge, LA    
Red Beans and Rice
Ingredients
2 pounds dried red beans
1 meaty ham bone or 1 1/2 pounds ham chunks
2 large onions, chopped
4 cloves garlic, minced
1 bay leaf, optional
Tobasco to taste
Salt and pepper to taste
Method
Wash dried beans. Remove any foreign matter, such as stems, etc. Place in a large four to a six-quart saucepan or Dutch oven. Add four to five quarts of water, ham onion, garlic, and seasonings. Simmer slowly for about three hours until beans are soft and gravy is thick. Serve over cooked rice with Tabasco sauce. Serves ten. 
Joyce Hoyt Lyford
Baton Rouge, LA
Author: LSU Alumni Federation
Publisher: LSU Alumni Federation
Add a little RETRO to your kitchen…
The above items are available on Amazon.