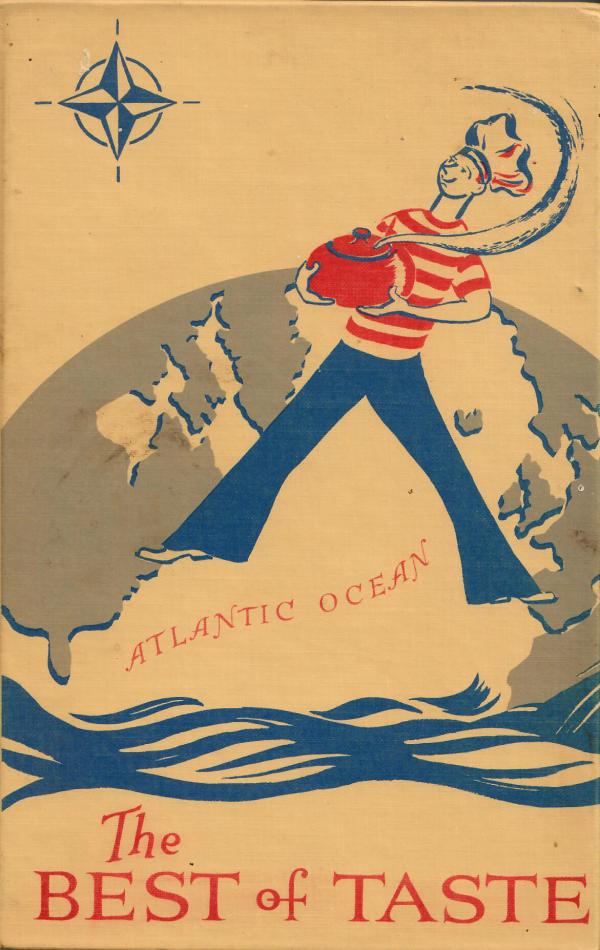 The Best of Taste  – the finest food of fifteen nations
The Best of Taste is a cookbook published by SACLANT-NATO – the Supreme Allied Command Atlantic division of NATO, based in Norfolk, Virginia.  On the many occasions and events hosted by the member nations, native cuisines and customs were shared with allied partners.  The idea of documenting these recipes and menus from the fifteen member nations resulted in The Best of Taste. 
The cookbook was first published in 1957, with a second printing in 1960 and a third in 1962 – pictured here is a copy of the 1962 edition.  In addition to recipes from the member nations, a recipe from each nation's leader is included, and each country has submitted various menus for parties, formal banquets, family dinner, and holiday menus.  The country of origin is attributed to each recipe, the English name of the dish is given, along with the name of the recipe in the country's native language if the dish originates from a non-English speaking country. 
The cookbook contains the following sections:
Foreward/Acknowledgements
Wines
Heads of State
Menus
Hors d'Oeuvres and Canapes
Soups
Seafood
Meats
Fowl and Game
Vegetables and Salads
Breads
Dishes en Casserole
Desserts ~ Pastries, Pies, Cookies, and Cakes
Outdoor
Miscellaneous – Luncheon dishes, Preserves, Sauces 
Old Fashioned Beef Stew
Dwight David Eisenhower, President of the United States of America
The recipe from the United States is Old-Fashioned Beef Stew, submitted by President Dwight D. Eisenhower. 
Ingredients
2 pounds stewing beef (prime round)
1 pound small Irish potatoes
1 bunch small carrots
3/4 pound small onions
2 fresh tomatoes
2 1/2 pints beef stock
Salt and pepper
Monosodium Glutamate
Assorted spices – (thyme, bay leaves, garlic, etc.); in a cloth bag
Method
Stew meat until tender, add vegetables and spices.  cook until vegetables are done, strain off one cup of stock from the stew, thicken slightly with beef roux mixture.  Pour back into the stew and let simmer until ready to serve (about one-half hour).  For six portions. 
Menus
Every member nation submitted sample menus for occasions and holidays, here are a few samples
Canada
Snack Luncheon Menu
Sherry or Martinis
Celery and Olives
Hot Cheese Biscuits
Sausage Rolls
Creamed Chicken and Mushrooms in Tiny Patty Shells
Lobster Sandwiches
Minced Chicken Salad Sandwiches
Brownies
Toll House Cookies
Tea or Coffee
"Editor's Note: Actually this is not a menu but a new idea for easy, informal entertaining.  It is becoming very popular in Canada, especially around Toronto.  No plates are used as the saucer suffices."
Formal Dinner Menu
Consomme with Sherry
Cold Boiled Salmon with Spice Sauce, Imported White Wine
Beef Tenderloin with Mushroom Stuffing, Oven-Browned Potatoes, Green Beans, Crusty Curls, Imported Red Wine
Rhubarb Ice Cream, Date Bars
Savory – Port
Coffee – Liqueurs
Family Dinner Menu
Pork Chops with Ham Stuffing, Candied Tomato Sauce
Corn and Lima Beans
Apple Dumplings
Coffee
"Note:  The complete dinner is cooked in a 350-degree oven so that you can have that hour before dinner free."
United States
Patio Party Menu
Mint Julep Bowl
Hawaiian-Style Teriyaki Steaks
Raw Vegetables – Supreme Mustard Sauce
Shallowbrook Broilers
Tossed Geen Salad
Garlic Bread in Foil
Persimmon Delight
Coffee
Thanksgiving Dinner Menu
Relish Tray – Carrot Sticks, Celery, Radishes, Green and Ripe Olives
Consomme with Sherry and Avocado
Roast Turkey – Oyster Stuffing
Cranberry-Orange Relish
Sweet Potato Casserole
Spinach Ring with Creamed Mushrooms
Corn Sticks
Pumpkin Pie
Assorted Fruits and Nuts
Coffee
Dry White Wine, Champagne
Author: SACLANT-NATO Cookbook Committee
Publisher: George Banta Company; Menasha, Wisconsin
Add a little RETRO to your kitchen…
The above items are available on Amazon.