We have searched some of our favorite vintage cookbooks to assemble a collection of Thanksgiving Menus to assist you in making your Thanksgiving Dinner a success. Once you have your menu selected, check out our assortment of Thanksgiving Recipes.
The first menu that we feature is from the 1922 edition of Fannie Merritt Farmer's The Boston Cooking-School Cook Book. The menu featured is a "Menu for New England Thanksgiving Dinner"; we have included the recipes for Sterling Sauce and Oyster Soup from The Boston Cooking-School Cook Book.  The second menu that we feature is from the 1940 edition of Sunset Magazine's Host and Hostess Book.
Menu for New England Thanksgiving Dinner – 1922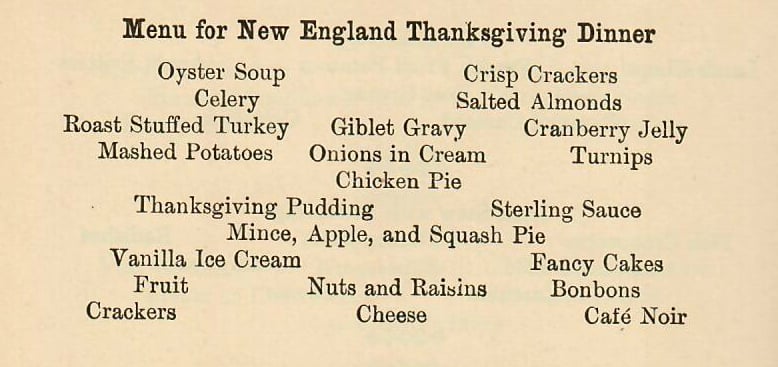 Menu for New England Thanksgiving Dinner
Oyster Soup
Crisp Crackers
Celery
Salted Almonds
Roast Stuffed Turkey
Giblet Gravy
Cranberry Jelly
Mashed Potatoes
Onions in Cream
Turnips
Chicken Pie
Thanksgiving Pudding
Sterling Sauce
Mince, Apple, and Squash Pie
Vanilla Ice Cream
Fancy Cakes
Fruit
Nuts and Raisins
Bonbons
Crackers
Cheese
Cafe Noir 
Sterling Sauce 
This recipe appears on page 409 of the 1922 edition of "The Boston Cooking School Cook Book."
1/2 cup butter
1 cup brown sugar
1 teaspoon vanilla or 2 tablespoons wine
4 tablespoons cream or milk
Cream the butter, add sugar gradually, and milk and flavoring drop by drop to prevent separation. 
Oyster Soup
This recipe appears on page 130 of the 1922 edition of "The Boston Cooking School Cook Book."
1-quart oysters
4 cups milk
1 slice onion
2 stalks celery
2 blades mace
Sprig of parsley
Bit of bay leaf
1/3 cup butter
1/3 cup flour
Salt and pepper
Clean and pick over oysters as for Oyster Stew; reserve liquor, add oysters slightly chopped, heat slowly to a boiling point, and let simmer for twenty minutes. Strain through cheesecloth, reheat liquor and thicken with butter and flour cooked together. Scald milk with onion, celery, mace, parsley, and bay leaf; remove seasonings, and add to oyster liquor. Season with salt and pepper. 
Good Housekeeping Thanksgiving Dinners – 1930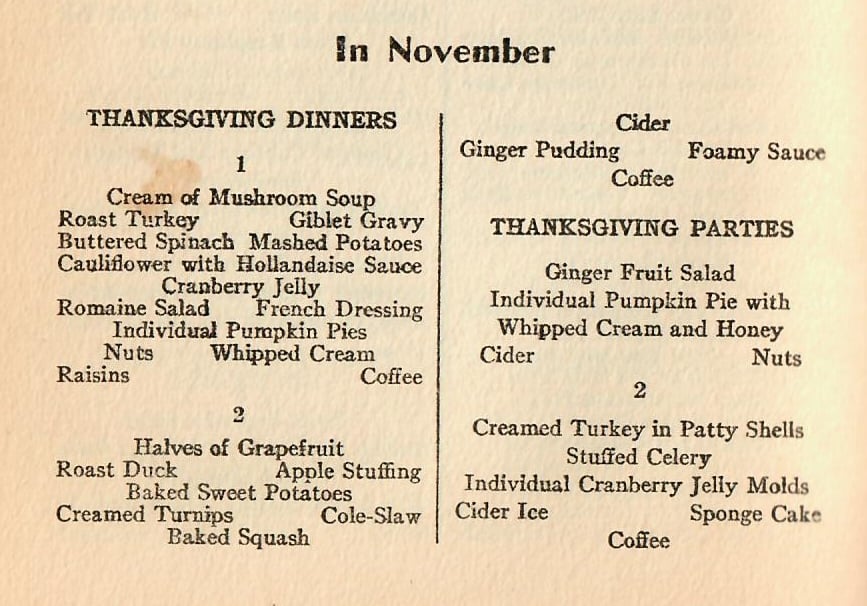 First published in 1930, Good Housekeeping Institute's Meals Tested, Tasted and Approved, Favorite Recipes and Menus from Our Kitchens to Yours, features various menus for every day, holidays, and other special occasions. Included in the November section are two menus suggestions for Thanksgiving Dinner and two menu suggestions for a Thanksgiving Party. 
Thanksgiving Dinner Menu 1
Cream of Mushroom Soup
Roast Turkey
Giblet Gravy
Cauliflower with Hollandaise Sauce
Cranberry Jelly
Romaine Salad with French Dressing
Individual Pumpkin Pies
Nuts
Whipped Cream
Raisins
Coffee
Giblet and Mushroom Gravy
This recipe appears on page 120.
Cook chicken or turkey giblets until tender, drain, and cut into small pieces, saving liquor.  Saute sliced mushrooms caps from 1 pound of mushrooms until golden brown, in the fat left in the roasting pan, as in gravy. Add an equal amount of flour, blend, and add liquid as in gravy, using giblet liquor as a part of it. Add the chopped giblets. If desired, cook mushroom stems in 2 cups water for 20 minutes. Strain, and use liquor in gravy. 
French Dressing
This recipe appears on page 55 of the Good Housekeeping Institute's cookbook, and the recipe is very similar to Elizabeth's French Dressing from the Eidson Collection. 
Rub a mixing bowl or salad bowl with a cut clove of garlic held on the tines of a fork. Pour in the salad oil, measuring the same. Add 1/2 as much vinegar or lemon juice as oil. Add salt and pepper to taste and enough paprika to make the dressing pink. Add a dash of dry mustard and a few drops of Worcestershire Sauce. You may wish to add just a trace of sugar too. Beat with an egg beater until the oil and acid form a smooth mixture. 
Lime French Dressing – Add bottled lime juice and powdered sugar to taste to French Dressing.
Roquefort dressing – Add crumbled Roquefort Cheese in any desired amount to French Dressing. 
Thanksgiving Dinner Menu 2
Halves of Grapefruit
Roast Duck
Apple Stuffing
Baked Sweet Potatoes
Creamed Turnips
Cole-Slaw
Baked Squash
Ginger Pudding
Foamy Sauce
Coffee
Chestnut Stuffing
Sorry, the Apple Stuffing recipe is included in the cookbook, but there is a recipe for Chestnut Stuffing on page 102.
1 pound chestnuts
5 tablespoons melted butter or margarine
1 teaspoon salt
2 cupfuls bread crumbs
1 teaspoonful minced parsley
1 teaspoonful minced onion
1/8 teaspoonful pepper
Cut a slit in each chestnut, pour 1 tablespoon of oil over all and bake in a hot oven of 450-degrees for 10 minutes. Then remove, slip off the shells and inner skin, and cook in boiling salted water to cover until tender. Drain and press through a potato ricer. Add the melted butter, salt, pepper, bread crumbs, minced parsley, and onion. Sufficient for a 5-pound chicken. 
Thanksgiving Party Menu 1
Ginger Fruit Salad
Individual Pumpkin Pie with Whipped Cream and Honey
Cider
Nuts
Thanksgiving Party Menu 2
Creamed Turkey in Patty Shells
Stuffed Celery
Individual Cranberry Jelly Molds
Cider Iced
Sponge Cake
Coffee
Sunset's Thanksgiving Dinner – 1940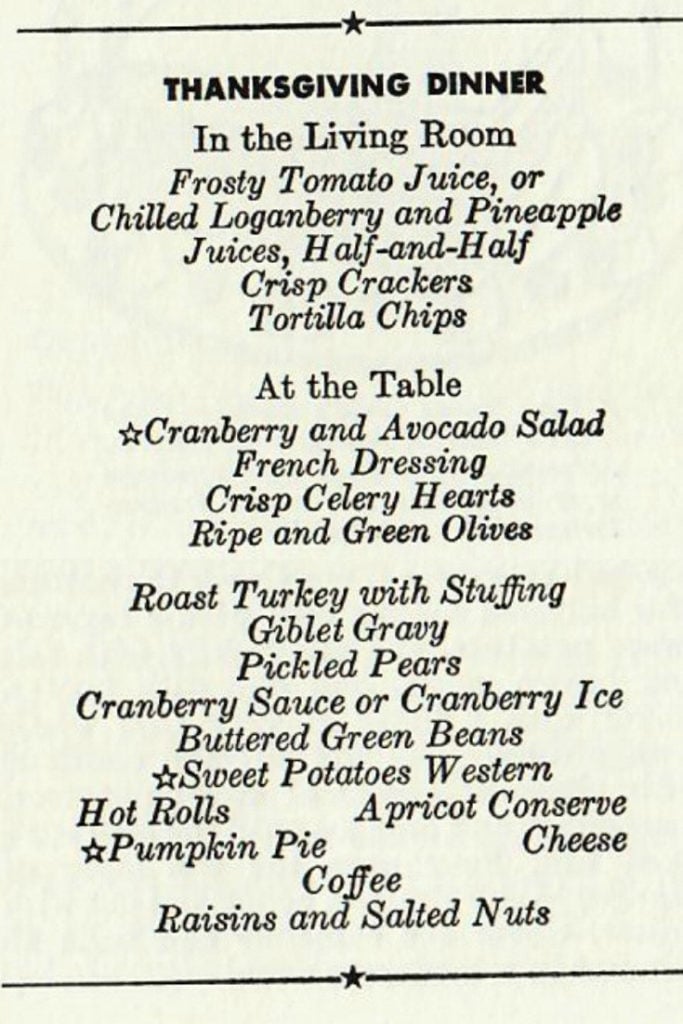 Sunset Magazine's Host and Hostess Book has a "Holidays" section, the first holiday featured is Thanksgiving.  While the Sunset book contains recipes, the book also gives entertaining tips for various events and holidays. The menu featured does not "stray too far away from the old-fashioned Thanksgiving Dinner menu, but it is nice to give a new twist to some of the old favorites."  The three menu items they feature are Cranberry and Avocado Salad, Sweet Potatoes Western, and Pumpkin Pie; you can find the recipes below – enjoy!
Thanksgiving Dinner
In the Living Room
Frosty Tomato Juice
Chilled Loganberry and Pineapple Juices
Half-and-Half
Crisp Crackers
Tortilla Chips
At the Table
Cranberry and Avacado Salad
French Dressing
Crisp Celery Hearts
Ripe and Green Olives
Roast Turkey with Stuffing
Giblet Gravy
Pickled Pears
Cranberry Sauce or Cranberry Ice
Buttered Green Beans
Sweet Potatoes Western
Hot Rolls
Apricot Conserve
Pumpkin Pie
Cheese
Coffee
Raisins and Salted Nuts
All three of these featured recipes appear on page 82 of Sunset's Host and Hostess Book, first printed in 1940. 
Cranberry and Avocado Salad
2 cups washed cranberries
1 cup of water
1 1/2 cups sugar
1 tablespoon (1 envelope) plain unflavored gelatine
1/4 cup cold water
1/2 cup diced celery
1/2 cup chopped walnuts
Watercress
Avocado
Cook washed cranberries with one cup of water over low heat for 15 minutes. Just before removing from heat, add the sugar and the gelatine which has been softened in the 1/4 cup cold water. When the mixture is cool, fold in the diced celery and chopped walnuts. Pour into small molds and chill. 
Arrange crips watercress on individual salad plates. Pare an avocado, remove the pit, and cut it into thin slices. Place 3 or 4 slices in the form of a crescent on each plate, and unmold a cranberry salad with the curve of each crescent. Pass fruit dressing or mayonnaise separately. 
Sweet Potatoes Western
Cook 4 or 5 large sweet potatoes in their jackets until tender.  Cool, peel, and cut in one-inch crosswise slices. Cover the bottom of a buttered baking dish with a layer of sweet potatoes, sprinkle lightly with salt and brown sugar, and dot with butter. Cover with a layer of very thin whole orange slices (peel and all) and continue with alternate layers of sweet potatoes, seasonings, and oranges until the dish is almost full. Pour over the top layer of oranges 1/2 cup strained honey and dot with butter. Cover the casserole and bake for 45 minutes in a moderate oven (350-degrees). 
Pumpkin Pie Par Excellence
1 cup cooked pumpkin
1 cup cream or evaporated milk
2 eggs, well beaten
1/2 to 3/4 cup brown sugar
1/2 teaspoon cinnamon
1/2 teaspoon ginger
1/4 teaspoon ground cloves
Dash nutmeg
1/2 teaspoon salt
Mix all ingredients until smooth and uniform, and pour into a single crust; bake 15 minutes at 450-degrees, then reduce the heat to 350-degrees and bake until firm when tested with a knife blade. This makes one medium-sized pie. 
Serve the pie with whipped cream flavored with syrup from preserved Chinese ginger, and sprinkled with grated or finely chopped preserved ginger; or serve it plain, with generous pieces of cheese. 
Purefoy Hotel Cookbook's One of Our Thanksgiving Dinners – 1941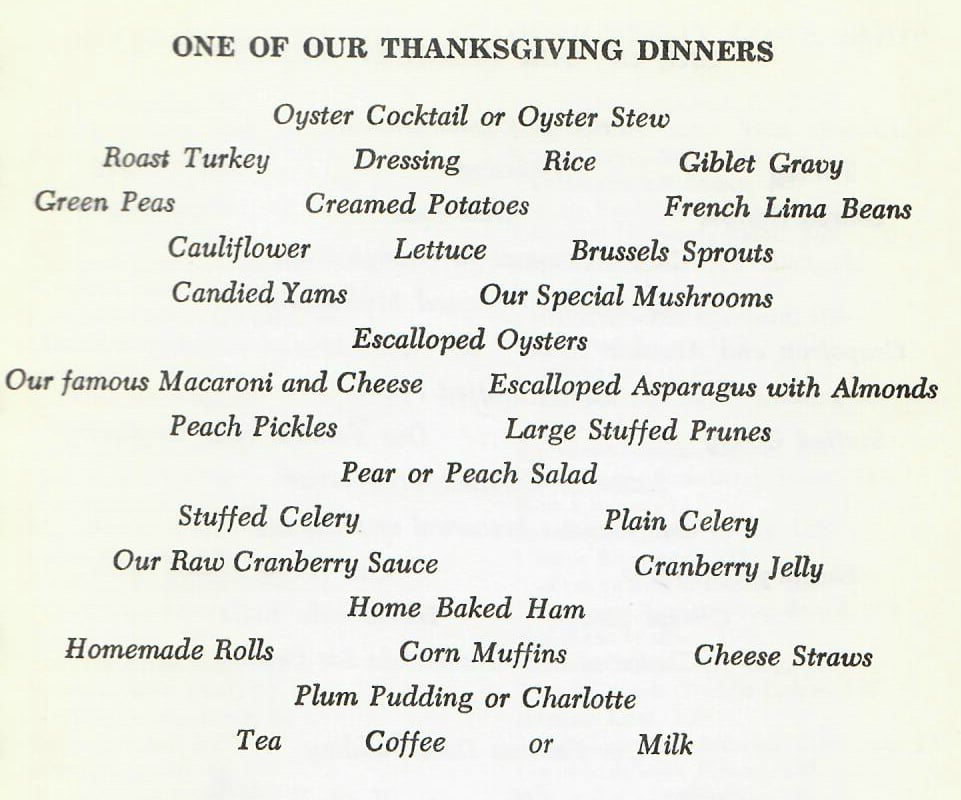 The Purefoy Hotel Cookbook was first published in 1941, and the cookbook starts with a few menu suggestions for various special events hosted at the hotel. Of course, an extensive menu for a Thanksgiving Day Buffet at the Purefoy Hotel is included.  The recipe for the Purefoy Hotel's Raw Cranberry Sauce was a part of Mrs. R's collection, and feature the recipes for French Bean Casserole (there is no "French Lima Bean" recipe in the cookbook, only French Bean Casserole), Candied Yams, and Escalloped Oysters. 
Purefoy Hotel's Thanksgiving Dinner 
Oyster Cocktail or Oyster Stew
Roast Turkey, Dressing, Rice, Giblet Gravy
Green Peas, Creamed Potatoes, French Bean Casserole
Cauliflower, Lettuce, Brussel Sprouts
Candied Yams, Our Special Mushrooms
Escalloped Oysters
Our Famous Macaroni and Cheese, Escalloped Asparagus and Almonds
Peach Pickles, Large Stuffed Prunes
Pear or Peach Salad
Stuffed Celery, Plain Celery
Our Raw Cranberry Sauce, Cranberry Jelly
Home Baked Ham
Homemade Rolls, Corn Muffins, Cheese Straws
Pulm Pudding or Charlotte
Tea, Coffee, or Milk 
French Bean Casserole
The menu has "French Lima Beans" listed, but there is no such recipe included in the cookbook.  French Bean Casserole is included on page 84 of the Purefoy Hotel Cookbook, so one can only assume a misprint on the menu. 
2 packages French Beans
1 cup water
1 cup water chestnuts
1 can bean sprouts
1 can cream of mushroom soup
1 bud garlic
1/2 stick butter
1 small package Velveeta or Blue Cheese
1 can onion rings
1 small onion, chopped
Cook beans in the water for 15 minutes. Season with the butter. have a casserole ready greased with butter and rubbed with garlic. Put about half the beans in the bottom of the casserole; over this put a layer of sprouts and a layer of chestnuts. Sprinkle with onion and garlic chips. Pour over cream of mushroom soup. Top with grated cheese. Cook in 400 degrees oven for 15 minutes, remove and sprinkle onion rings over top and run into the oven again for 10 minutes. This is delicious. Serves about 20. 
It is optional whether you use onion rings or not. Use a cup of blanched slivered almonds on top if onions are omitted. 
Candied Yams
This recipe is found on page 90 of the Purefoy Hotel Cookbook. 
4 medium-sized sweet potatoes
1 tablespoon nutmeg
1 cup hot water
3/4 cup sugar
4 tablespoons butter
Peel and slice potatoes. Arrange in layers in a baking dish, sprinkle each layer with sugar and nutmeg and dotting over with butter. Add the hot water, cover, and bake slowly until tender and candied. Uncover during the last quarter of the time. Serves 4. 
Purefoy Escalloped Oysters
This is one of the Purefoy Hotel's featured recipes; the recipe can be found on page 71 of their cookbook.
1 pint standard oysters (small)
1/2 to 3/4 stick butter or margarine
2 envelopes Premium crackers, less if desired
Rich boiling broth (chicken)
1 egg
Break about 1/2 of the crackers into the bottom of a large casserole. Pour in half the oysters. Mix thoroughly with fingertips. Break another third of the crackers and pour in the rest of the oysters. Mix lightly and put a layer of broken crackers on top. Cover with rich BOILING chicken broth and dot with 1/2 to 3/4 stick butter, amount depending upon the richness of the broth. Cook at 350 degrees until lightly browned, about 30 minutes. Then beat the egg thoroughly and pour over top. Return to oven and brown to a nice crusty brown. Serve piping hot. Will serve 4-6. 
NOTE: for a flavorful chicken brown, use a can of concentrated chicken soup and add a chicken bouillon cube. Pour over oysters boiling hot. Use enough broth to make the crackers well moistened and soggy. 
James Beard's Thanksgiving Dinner – 1965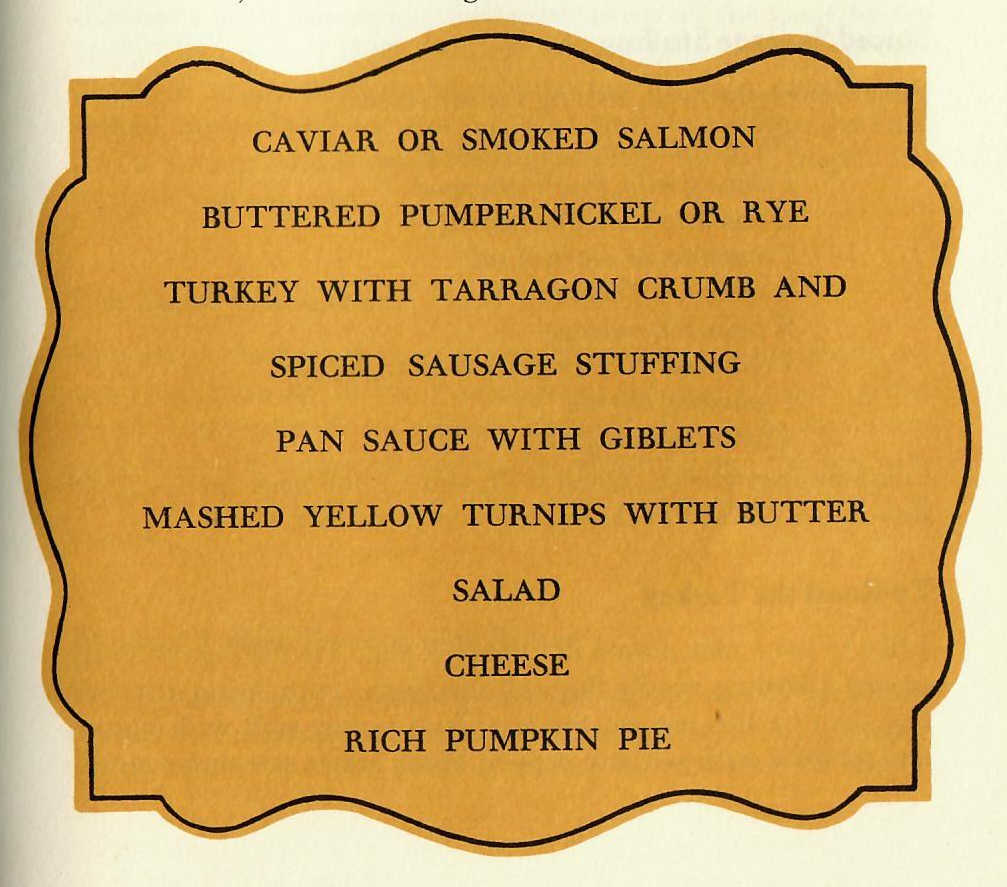 In James Beard's Menus for Entertaining cookbook, which was published in 1965, he includes a section for recipes and menus for celebrations.  In the section for Thanksgiving, Mr. Beard tells us "I bow to tradition inasmuch as I usually have a turkey, but the meal is relatively simple. I always serve champagne, accompanied by nuts and celery or other raw vegetables, or perhaps olives flavored with olive oil and finely chopped garlic." 
Thanksgiving Dinner
Caviar or Smoked Salmon
Buttered Pumpernickel or Rye
Turkey with Tarragon Crumb and Spiced Sausage Stuffing
Pan Sauce with Giblets
Mashed Yellow Turnips with Butter
Salad
Cheese
Rich Pumpkin Pie
Tarragon Crumb Dressing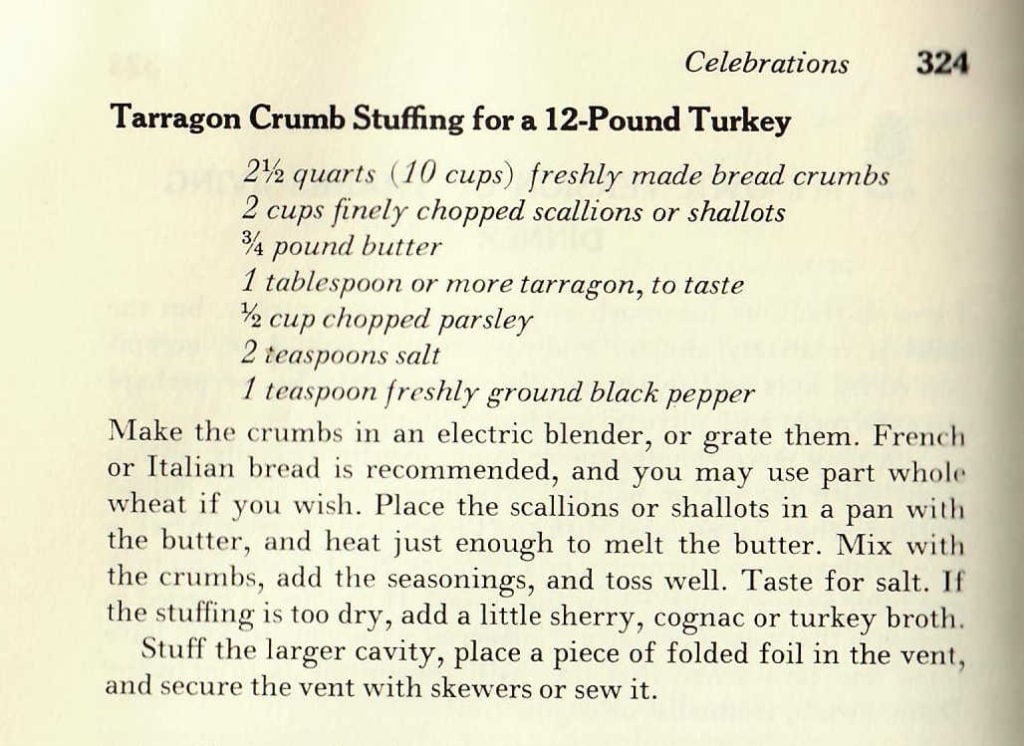 Ingredients
2.5 quarts (10 cups) freshly made bread crumbs
2 cups finely chopped scallions or shallots
3/4 pound butter
1 tablespoon or more tarragon, to taste
1/2 cup chopped parsley
2 teaspoon salt
1 teaspoon freshly ground black pepper
Method
Make the crumbs in an electric blender, or grate them. French or Italian bread is recommended, and you may use part whole wheat if you wish. Place the scallions or shallots in a pan with the butter, and heat just enough to melt the butter. Mix with the crumbs, add the seasonings and toss well. Taste for salt. If the stuffing is too dry, add a little sherry, cognac, or turkey broth. 
Stuff the large cavity, place in a piece of folded foil to vent, secure the vent with skewers, or sew it. 
Spiced Sausage Stuffing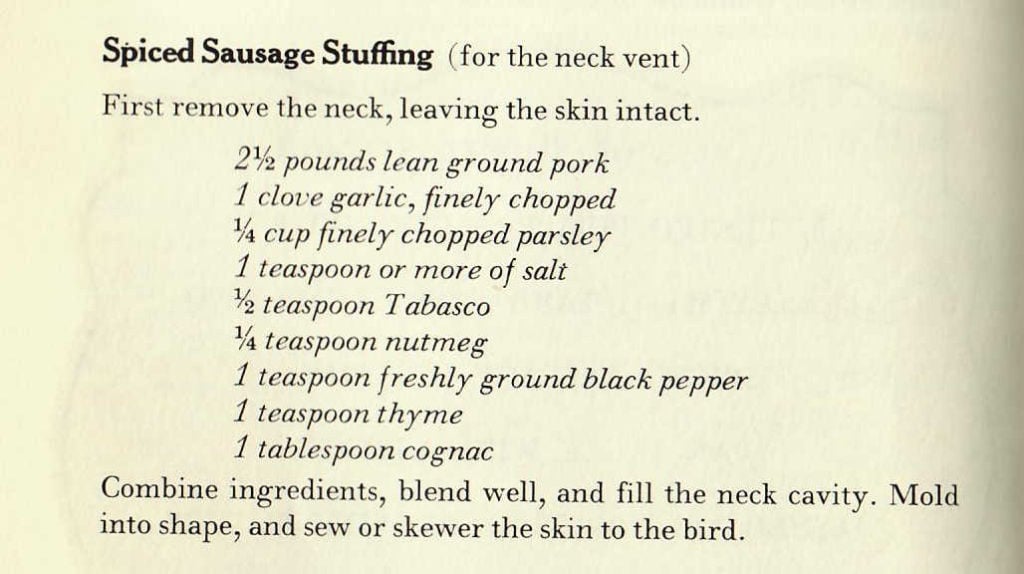 Ingredients
2.5 pounds lean ground pork
1 clove garlic, finely chopped
1/4 cup finely chopped parsley
1 teaspoon or more of salt
1/2 teaspoon Tabasco
1/4 teaspoon nutmeg
1 teaspoon freshly ground black pepper
1 teaspoon thyme
1 tablespoon cognac
Method
Combine ingredients, blend well, and fill the neck cavity. Mold into shape, and sew or skewer the skin to the bird. 
Helen Corbitt's Thanksgiving Dinner – 1974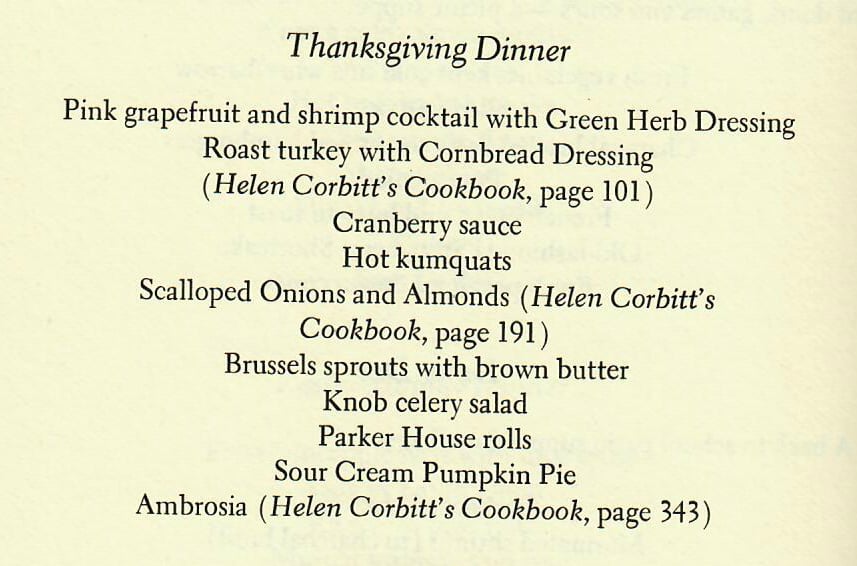 In Helen Corbitt Cooks for Company, Helen provides a traditional Thanksgiving menu, and she suggests "although turkey is a year-round bird, you ought to serve it on Thanksgiving if only to keep alive a tradition." Her suggested Thanksgiving Dinner menu features recipes from Helen Corbitt's Cookbook, Cornbread Dressing, Scalloped Onions and Almonds, and a traditional Ambrosia. 
Thanksgiving Dinner
Pink grapefruit and shrimp cocktail with Green Herb Dressing
Roast turkey with Cornbread Dressing (HCCB, page 101)
Cranberry Sauce
Hot Kumquats
Scalloped Onions and Almonds (HCCB, page 191)
Brussels sprouts with brown butter
Knob celery salad
Parker House Rolls
Sour Cream Pumpkin Pie
Ambrosia (HCCB, page 343)
Cornbread Dressing
This recipe comes from Helen Corbitt's Cookbook, page 101.
1/2 cup onion, chopped fine
1/2 cup green pepper, chopped fine
1/2 cup celery, chopped fine
2/3 cup butter
2 quarts cornbread crumbs (be sure cornbread is well browned)
6 hard-cooked eggs, chopped
1/2 cup chopped pimento
Salt and pepper
Chicken or turkey stock (or canned consomme)
Saute the onions, green peppers, and celery in the butter; add cornbread, hard-cooked eggs, and pimento. Season with salt and pepper, and moisten with chicken or turkey stock, or canned consomme. Turn into a shallow well-buttered casserole and bake at 350-degrees until brown on top. 
Half cornbread dressing and half-cooked wild rice make a delightful dressing. 
We have already featured the recipe for Helen Corbitt's Texas Cornbread in our review of Helen Corbitt's Cookbook, follow the link to check out the review and the recipe. 
Scalloped Onions and Almonds
This recipe can be found on page 191 of Helen Corbitt's Cookbook
12 small boiling menus
1 cup diced cooked celery
4 tablespoons butter
3 tablespoons flour
1 teaspoon salt
1/8 teaspoon pepper
1 cup milk
1/2 cup light cream
1/2 cup blanched almonds
Paprika
Wash and peel onions and cook in boiling salted water until tender. Drain. Prepare the celery the same way. Make a cream sauce: melt butter in a saucepan, add flour, salt, and pepper; cook over low heat until bubbly; add milk and cream and cook until thick. Place in layers n bettered casserole, the onions, celery, and almonds. Cover with the cream sauce, sprinkle with paprika and bake at 350-degrees until bubbly and brown. Add Parmesan cheese grated, too, if you like. 
Ambrosia
This simple recipe for classic Ambrosia can be found in Helen Corbitt's Cookbook, page 343.
1 ripe pineapple
6 oranges
2 cups freshly grated coconut
Peel and prepare the pineapple, and slice it into thin slices. Peel the oranges and cut them into sections. Place in layers in a bowl, with 1/2 cup of powdered sugar, cover with the fresh coconut and chill. You may or may not pour over 1/3 cup of sherry or 1/4 cup of apricot brandy – or mix the two. Anyway, it is a wonderfully sweet ending to any kind of meal.