Chocolate peppermint cupcakes are a delicious and festive holiday treat. They are perfect for Christmas parties, gift-giving, or simply enjoying on a cold winter day.
The cupcakes are made with a rich chocolate cake batter. They are then topped with a creamy buttercream frosting flavored with peppermint. Finally, the cupcakes are garnished with crushed candy canes for a festive touch.
These cupcakes are sure to be a hit with everyone who tries them. They are easy to make, and the flavor is simply irresistible.
Chocolate Peppermint Cupcakes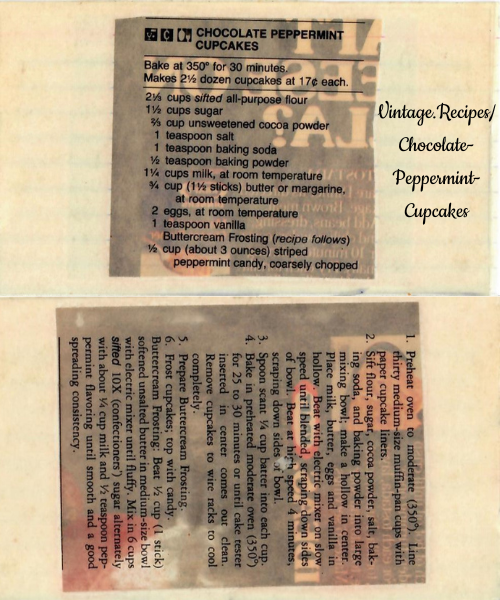 A vintage clipped recipe for Chocolate Peppermint Cupcakes, topped with Buttercream Frosting
Print Recipe
Ingredients
2 1/2

cups

Sifted All-Purpose Flur

1 1/2

cups

Sugar

2/3

cup

Unsweetened Cocoa Powder

1

tsp

Salt

1/2

tsp

Baking Powder

1 1/4

cups

Milk, at room temperature

3/4

cup

(1 1/2 sticks) Butter or Margarine, at room temperature

2

Eggs, at room temperature

1

tsp

Vanilla

Buttercream Frosting (Recipe Follows)

1/3

cup

(about 3 canes) Striped Peppermint candy, coarsely chopped
Method
1. Preheat oven to moderate (350-degrees). Line thirty medium-sized muffin pan cups with paper cupcake liners.

2. Sift flour, sugar, cocoa powder, salt, baking soda, and baking powder into a large mixing bowl; make a hollow in center; place milk, butter, eggs, and vanilla in hollow. Beat with electric mixer on slow speed until blended, scraping down sides of bowl. Beat at high speed four minutes, scraping down sides of bowl.

3. Spoon scant 1/4 cup butter into each cup.

4. Bake in preheated moderate oven (350 degrees) for 25 to 30 minutes or until cake tester insered to center comes out clean. Remove cupcakes to wire racks to cool completely.

5. Prepare Buttercream Frosting.

6. Frost cupcakes, top with candy.

Buttercream Frosting: Beat 1/2 cup (1 stick) softened unsalted butter in medium size bowl with electric mixer until fluffy. Mix in 6 cups sifted 10X (confectioners') sugar alternately with about 1/4 cup milk and 1/2 teaspoon peppermint flavoring until smooth and a good spreading consistency.
Print Recipe
Share by Email
Pin Recipe